This post contains affiliate links. See disclosure in sidebar.
Have you read Ernest Cline's Ready Player One? The movie version is coming to theaters in just a few days! My husband, me, and my teenage son have all ready the book and are absolutely thrilled to see the movie!
It's about a teenage boy, Wade aka Parzival who's very poor in the year 2045 when life basically is horrible in the real world and amazing in the virtual world known as the Oasis. The creator of the OASIS was a Gen Xer computer genius, and he died a few years prior to 2045.
When he died it was revealed he created a quest hidden throughout the virtual OASIS universe that would give the winner his fortune, which is billions of dollars and ownership of the OASIS. He hid 3 keys and 3 gates, and for years and years millions of people known as "Gunters" (short for Egg Hunters) have been trying to solve his riddle to find the first key.
Then, Parzival finds the first key….the Copper Key. And, the adventure begins!
This movie is going to be like an 80s pop culture Indiana Jones style movie. My teenager and I decided to create a drink in honor of the movie. One favorite thing in 80s pop culture is Back to the Future with the DeLorean and its Flux Capacitor. In fact, when Parzival gets all his sponsors for finding the first key, he gets his own in the virtual world.
Flux Capacitor Mocktail
My son was so stoked to find these keys at Hot Topic, but we found they're even cheaper on Amazon.
Print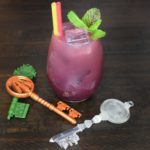 Flux Capacitor Mocktail – Ready Player One
---
1/2 cup

Squirt soft drink

1/4 cup

Pomegranate juice

1/4 cup

Pineapple juice
ice
mint for garnish
---
Fill glass with ice.
Pour in Squirt.
If you can slowly add Pomegranate and Pineapple juice, it will be a layered drink.
Garnish with mint.
Recipe Card powered by
On the last (or fourth) Monday of each month, a group of bloggers participate in a #MovieMondayChallenge, hosted by C'mon Get Crafty! We decide on a topic, genre, or specific movie to use for inspiration and everyone gets free reign to create something wonderful!
This month's challenge was. . . . KIDS! Everyone was allowed to choose their own favorite film so long as it was inspired by the challenge word.
Now let's see what everyone else was inspired to create for this month's #MovieMondayChallenge!! If you'd like to join our Facebook group, you can request an invite here.
INLINKZ: