This post was sponsored by Supreme Source® as part of an Ambassador Program for Influence Central and all opinions expressed in my post are my own.
Lots of people have digestive issues, but we don't always think about our pets and their digestion. We realized that our Hank was having a tough time with his digestion, so we made some changes and gave him a 10-day detox.
We went to Albertsons to pick up a bag of Supreme Source Grain Free Turkey Meal & Sweet Potato Dry Dog Food from the pet aisle. It's been a few days since we gave Hank a 10-day pet detox with Supreme Source®, and we've noticed some good changes. You can check out our tips for improving his digestion here.
One of the main things we did was switch him to Supreme Source® Pet Food. I wanted to find him a grain free food that had no artificial flavors or colors. I also really liked how Supreme Source had a healthy blend of fruits and veggies with vitamins and minerals.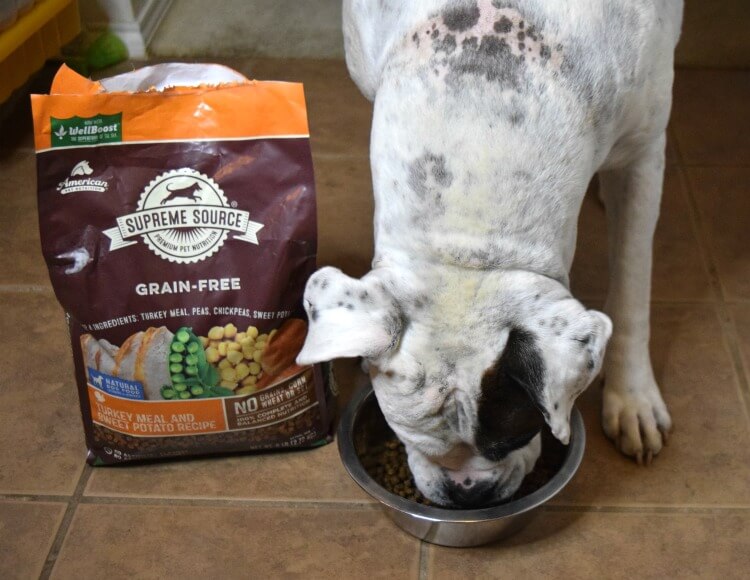 Here are a few things we noticed:
#1 He seems happier and full of energy.
When Hank had his tummy upsets, he seemed to be sluggish and lazy around the house all day. Now he's full of energy. He has several places around the house where he sits at the window and watches for "scary boogers" like the mailman. Now when he sees someone or something like a leaf blowing in the wind, he takes off bouncing and leaping through the house, barking his head off to get to the back door so he can get outside and check it out. He also has been pulling at the leash when we're finishing up his nightly walk so that he can go longer on his walk.
#2 No indigestion.
Boxers are definitely known for their tummy upsets. Everyone talks about the bad gas and the gurgling tummy noises from their Boxers in the Boxer Facebook groups I'm in. But, that has mostly stopped with Hank. He might have some occasional gas, but it's not constant and doesn't clear out a room like it used to. He also has firmer stools now whereas prior to this he had loose stools.
#3 He's much more alert.
When we first rescued Hank, my husband started working with him on training. He learned "sit" really well, but, often, he would lose interest or just not get it when we tried more things like "stay" or "roll over." Well now, he thrives on learning new tricks. He just wants to please and learn new things every chance he gets. When my husband gets home, he runs right to him and sits and acts alert and ready to learn. He can "shake", and in the last few weeks, he's gotten amazing at "stay." We can open the front door, tell him to stay, and he will literally just sit there.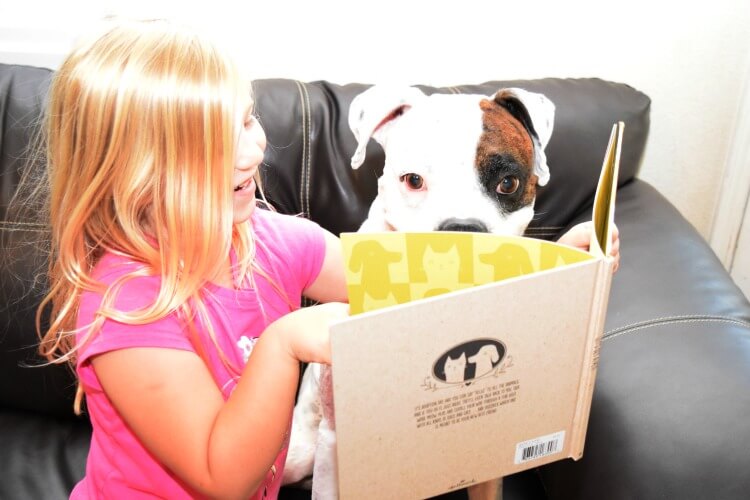 #4 He sleeps better.
In the past with his tummy upsets, Hank would wake me up at least twice a night to go out. Now, he has been sleeping through the night and doesn't need to go out until morning.
#5 His fur is so soft.
For the most part, Hank had pretty soft fur. But, since starting this regimen I swear his fur feels like velvet. I just love petting him because he's just so incredibly soft.
Have you started your dog or cat on the 10-day pet detox? You can improve their mind, body and soul in just ten days, just like Hank! Just in time for spring, start your pet's 10-day detox today – visit www.superfoodswitch.com to save now on Supreme Source® pet food. This spring, you can sign up for the daily email and to get a coupon to save on Supreme Source. Once signed up, you'll receive the daily email for the 10-day detox process!
While this is a "Pet Detox" Promotion, products and information provided by American Pet Nutrition are not intended to substitute for medical advice or treatment. It is always recommended that you consult your veterinarian or a qualified medical professional for your pets. The information and products are not intended to diagnose, treat, cure or prevent any disease or medical problems.