I've spent the weekend making three dozen pairs of Tie Dye Socks! I don't know what it is about tie dyeing, but I love it. It's like a mystery. You never know quite what the dye is going to do. This post contains affiliate links.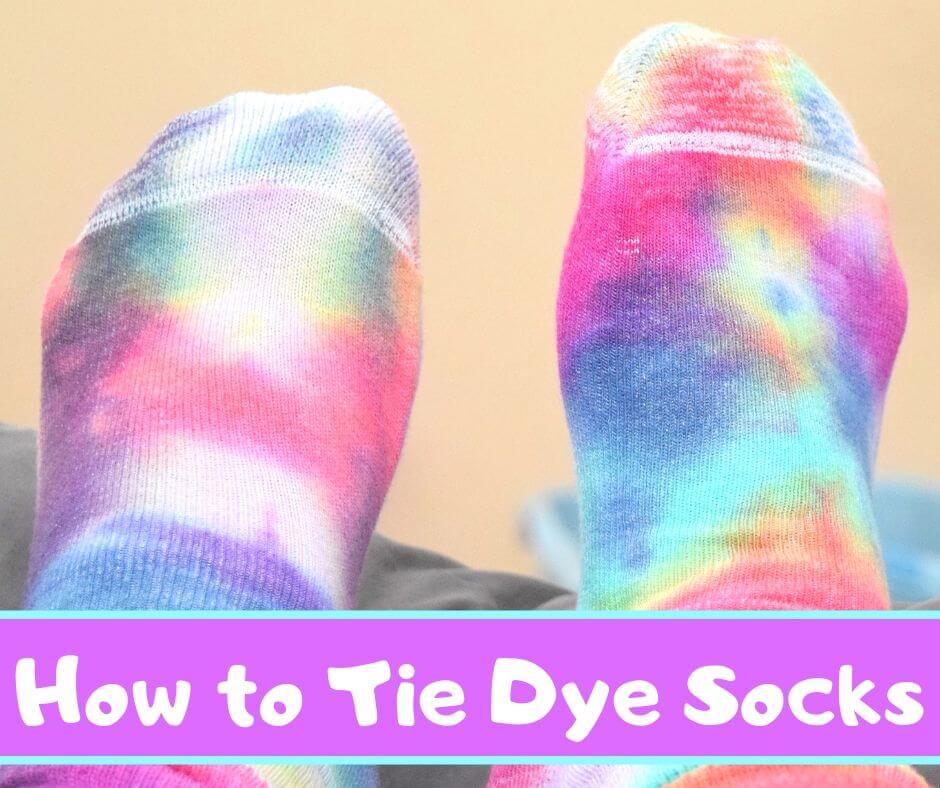 The reason I had to tie dye so many socks is because my husband's office is having some kind of "sock" photo contest between the different groups. His group helps people inherit money from loved ones who've passed away. They decided since they worked in inheritor services their theme was The Grateful Dead as a little play on their job. They thought of tie dyed socks, and my husband loves to volunteer my services as the resident crafter and baker, etc.

How to make Tie Dye Socks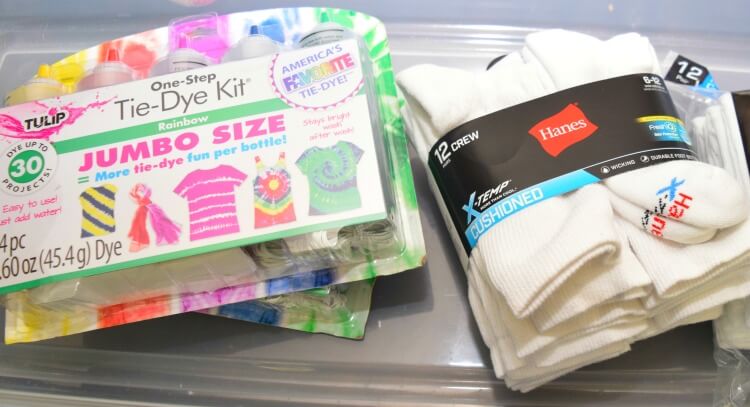 Supplies
Rubber bands (in tie dye kit)
Gloves (in tie dye kit)
Water
Cotton Socks!
First things first — make sure you get socks that are at least 75% cotton. Polyester does not do well with these types of dye. It will look weird and faded. I made that mistake when I bought a separate pack of women's socks, and I didn't look at the fabric content. I used these exact dyes and those socks came out all light blue. 12 pairs of light blue socks — drove me crazy!
These socks will work perfectly, and they fit both the average man and woman shoe size.
I like to use two under the bed plastic totes for dyeing. It's shallow and perfect for keeping a tie dye mess contained. I use one to do the actual dyeing. Then, after I've dyed all the things, I transfer them over to a new dry tote to sit overnight.
Directions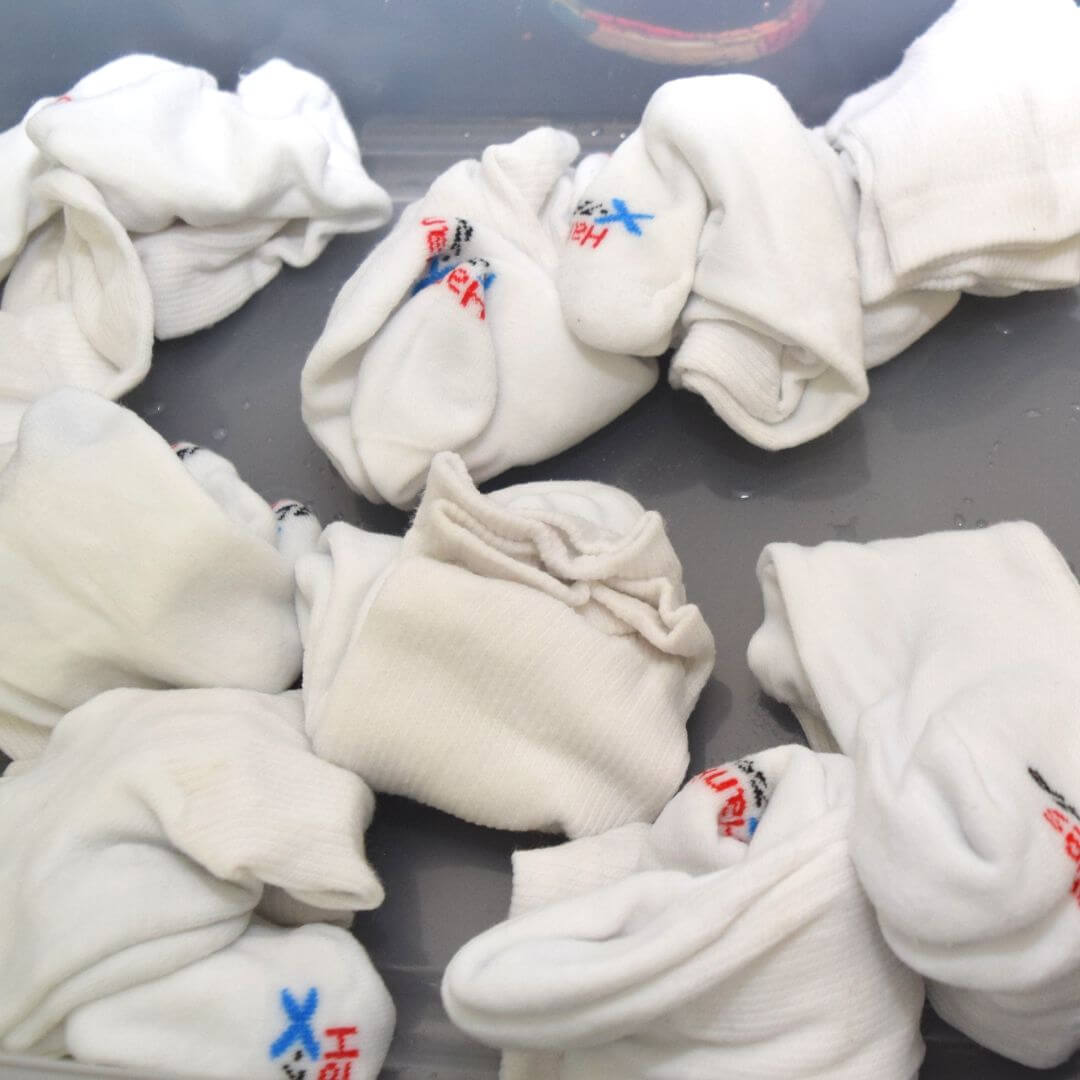 First get the socks wet. I just filled a bowl with water, tossed a pair in, then wrung them out and placed them in the plastic tote.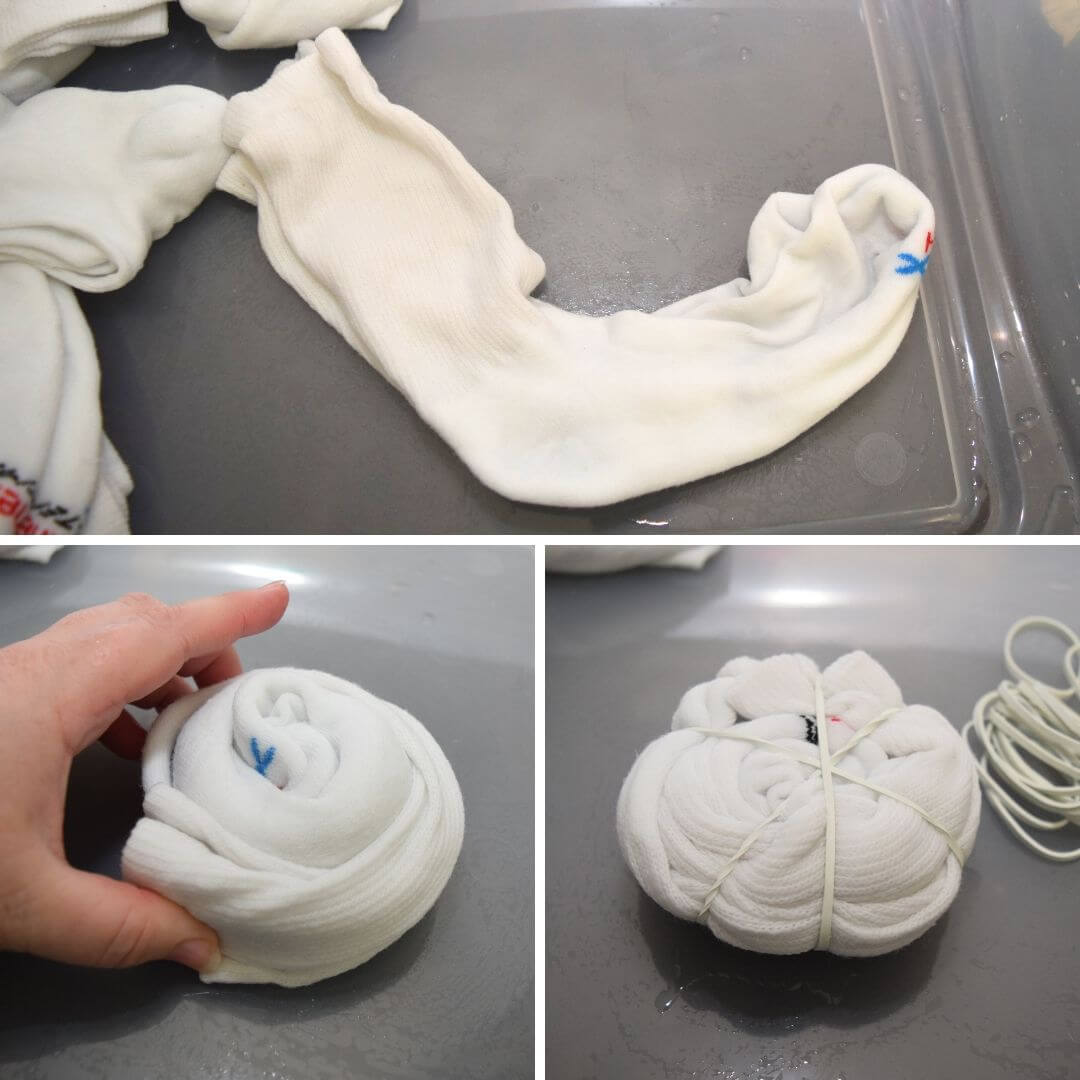 Next, it's time to rubber band. There are a number of ways to do folds and rolls and twirls, etc. I like to just swirl the socks up as a pair, placing 3 rubber bands around them to look like a pie with slices.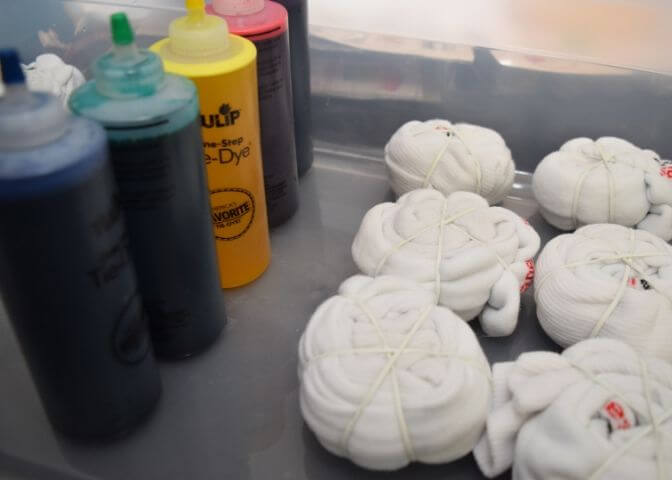 Prepare the dye and shake it up until it's all mixed. I use a rainbow collection of 5 dyes – purple, blue, green, yellow, and red.
Now begin dyeing one of the pie slices until it's covered. As you are using the color, make sure to insert the tip of the bottle down into the folded parts of the socks and squirt a few places so the middle really soaks up the dye, too. Otherwise, you will have a lot of white if you don't.
Since I had 6 pie slices and only 5 dyes, I just overlapped a few of them to make up for that sixth spot .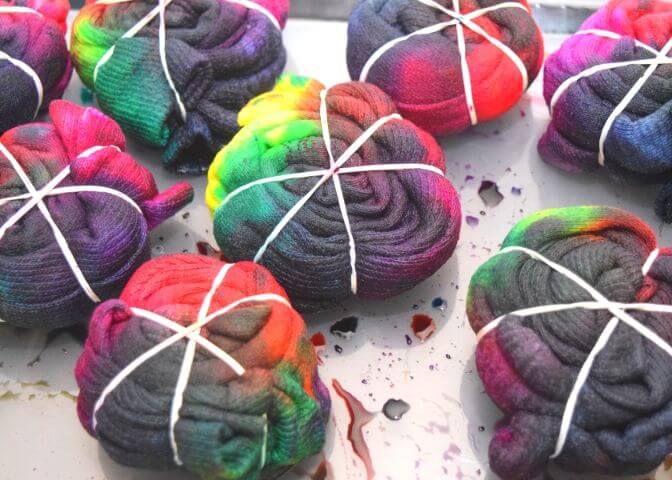 Allow the socks to sit as long as possible. I usually let them sit for at least 24 hours. Try not to let them sit in the dye that has run off of the socks because that is just dark and nasty.
Wash the Socks
Next, it's time to wash. Start the washing machine on a cold rinse cycle. Remove the rubber bands and toss the socks into the washer.
Once the socks have rinsed, then toss some detergent into the washer and let them wash through a whole cycle.
Dry the Socks
Dry the socks on the hottest cycle.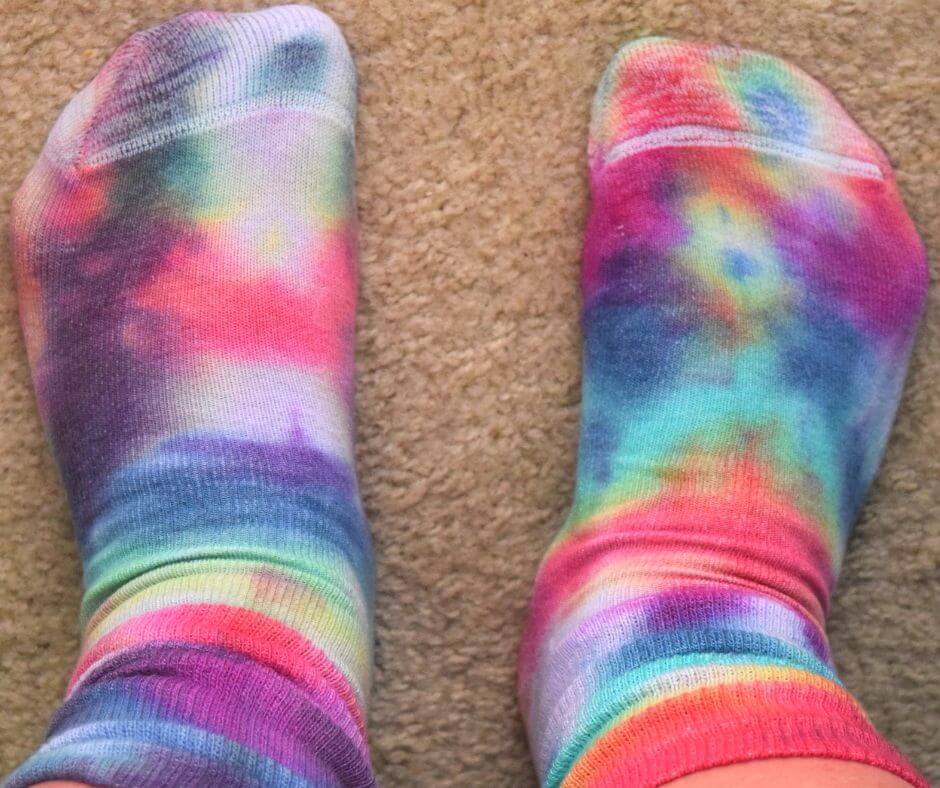 Now check out those awesome socks you've made.
This is a fun tween/teen sleepover activity. One jumbo set of tie dye bottles/dyes will do about 12 pairs of socks comfortably. I was able to do about 15 pairs with one jumbo set.
Just make sure everyone wears an apron or an old shirt and gloves because dye can squirt every where. I like to use big under the bed plastic totes to tie dye to avoid making much of a mess. The plastic easily washes out after you're done.
More Tie Dye Fun
If you liked this tutorial, you might also love these: