This shop has been compensated by Collective Bias, Inc. and its advertiser. All opinions are mine alone. #TotalBleachControl #CollectiveBias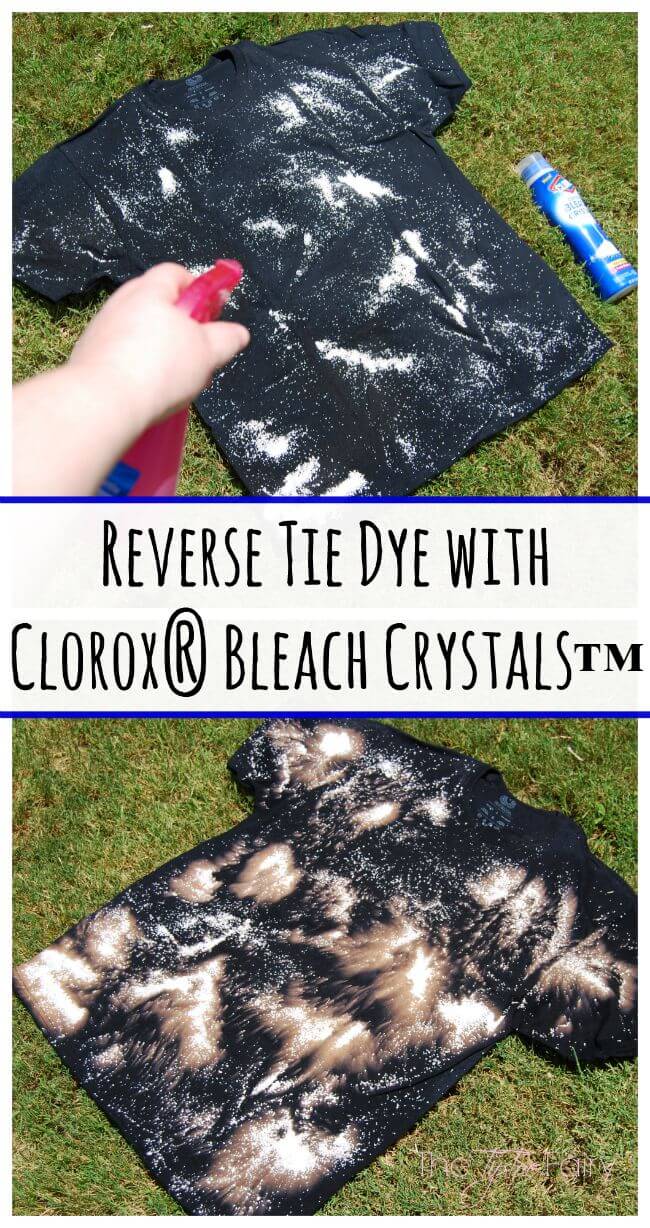 Have you ever tried reverse tie-dye with bleach? Instead of starting off with a white shirt and dyeing it colors, start off with a colored shirt and bleach out some of it. Clorox® has a couple of brand new products that makes this so much fun! Clorox® Bleach Crystals™ is a canister of bleach crystals that are activated when water touches them. They also have Clorox® Bleach Packs™ that are little water soluble packets full of the bleach products.  Both are the same great Clorox® Bleach power that you trust!
I found both in the laundry aisle at Walmart and thought they would work great for some reverse tie-dye. The Clorox® Bleach Crystals™ can be sprinkled onto the fabric or clothing and then add water to activate them. If you prefer doing a bucket type method of tie-dyeing, you can add some Clorox® Bleach Packs™.
Here's how to do this totally fun tutorial:
Reverse Tie-Dye with Clorox® Bleach Crystals™
Supplies
cotton T-shirts
spray bottle of water
1.  Head outside with your supplies so you don't worry about bleaching bleeding through anywhere.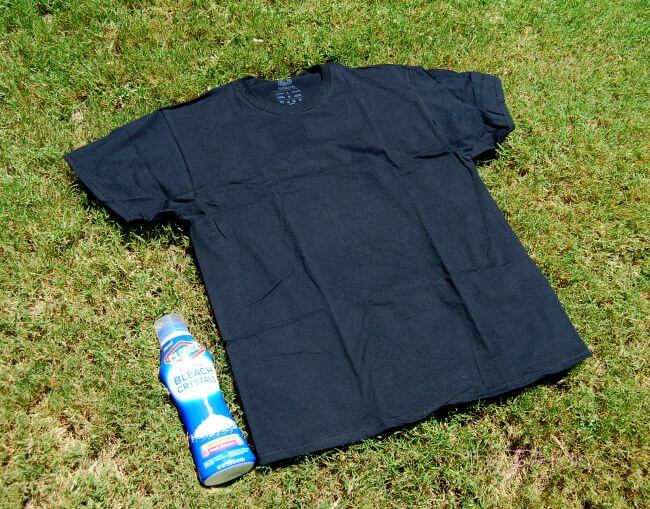 2.  Lay out your T-shirt or fabric.
3.  Sprinkle Clorox® Bleach Crystals™ all over the T-shirt.  You can use stencils to create designs or just sprinkle on  where you like.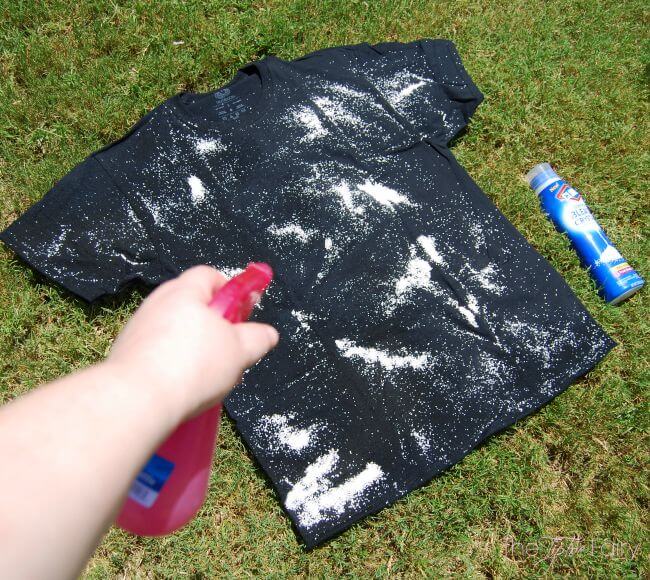 4.  Using the spray bottle, spray the Clorox® Bleach Crystals™. Make sure to get them really wet so that the bleach is activated and will lighten up the color of the shirt.
5.  Allow it to sit 30 minutes or less.  I've done this a few times, and I've found 15 minutes is the best time. If you leave it too long, you run the risk of holes from the bleach. The first time I tried this method I left the bleach on for an hour, and that is what happened to me. Since then, I time it for 15 minutes, and they come out great!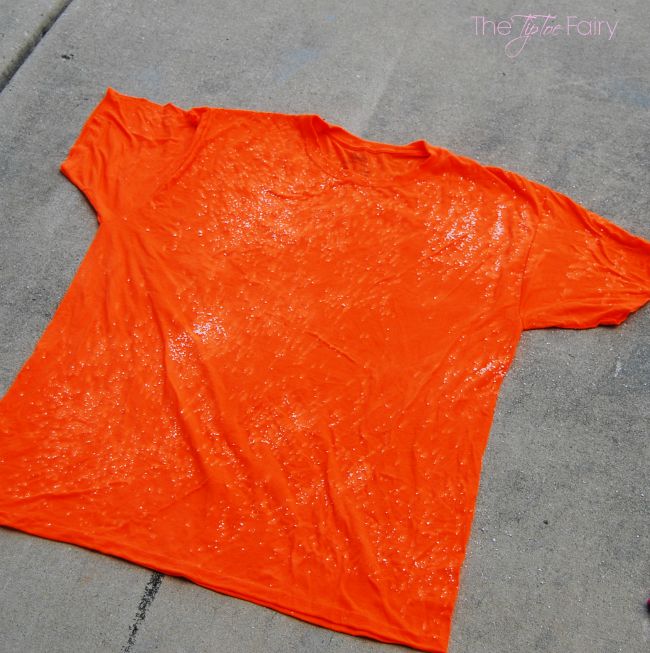 6.  Once you're satisfied with the bleach, bring the shirts inside and wash them in the washing machine to remove the Clorox® Bleach Crystals™.
7.  Next, it's into the dryer, and you're done!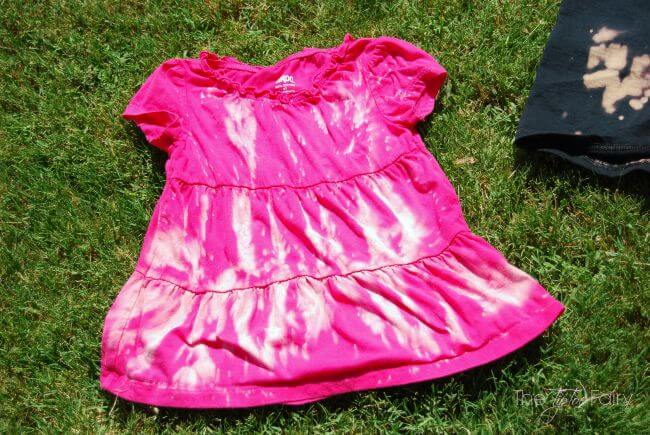 Not only are these great for tie-dye crafting, but they are perfect for your laundry.  Clorox® Bleach Packs™ provide easy "toss and go" convenience using bleach in the laundry.  Both products are water activated, so they only start working when you want them to.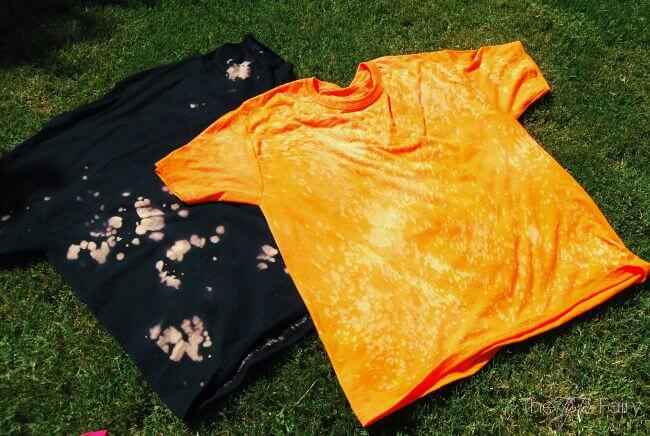 The power of Clorox® Bleach is now easier to use with less mess.  I'm a bit messy, so I tend to avoid liquid bleach because I get it everywhere. The water activated component of Clorox® Bleach Crystals™ and Clorox® Bleach Packs™ takes the fear out of using bleach with no more spills, splashes, or bleach damage to your clothing.
My husband loves his whites very white. With both Clorox® Bleach Crystals™ and Clorox® Bleach Packs™ I can easily measure out what I need and throw it in the washing machine to get my whites dazzling. Both packs and crystals are compact and easy to store. Just toss and go!
Do you use bleach like Clorox® Bleach Crystals™ in your crafting?  I'd love to hear your ideas!