This post may contain affiliate links.
I love to upcycle the old into something new, which is why dyeing yarn, clothing, and fabric are some of my favorite crafts. One thing I do regularly when I have a baby is head to the thrift store and buy a bunch of white or light colored baby bodysuits and turn them into a rainbow of colors.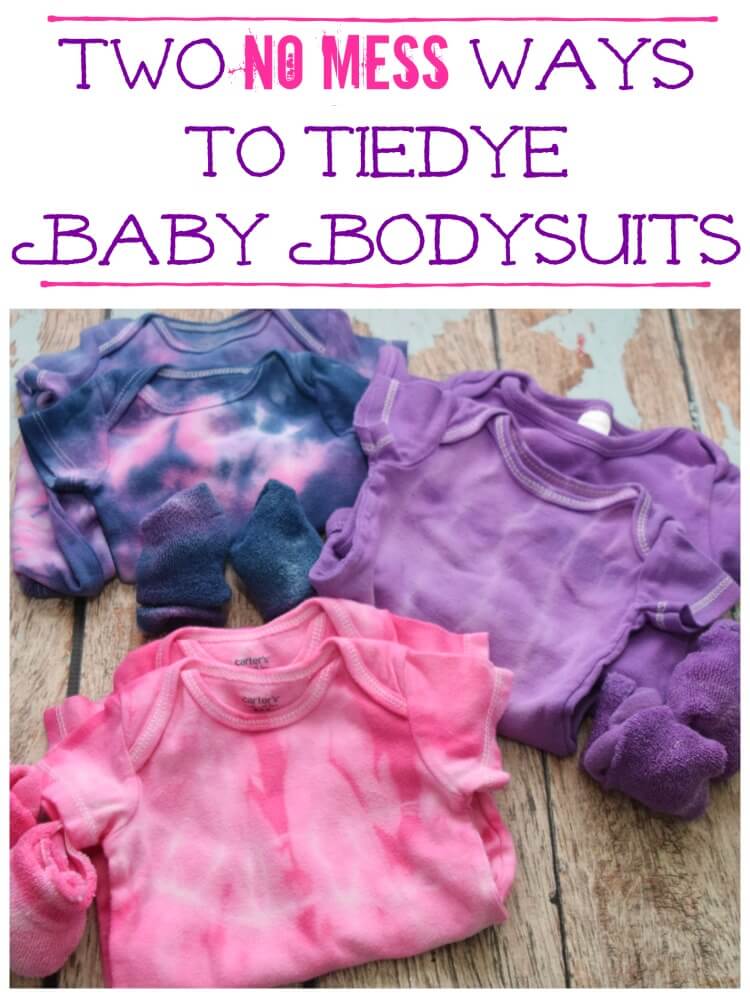 There are a few ways to do this. These two methods are my favorite because not only are they quick and easy, but not messy!
Make sure you use 100% cotton clothing because it dyes beautifully. If your clothing has any polyester it will not take the dye as well.
Baggie Method
Supplies:
Rubber bands
A gallon size zipper bag
Tulip powder dye
water
100% cotton baby bodysuits or t-shirts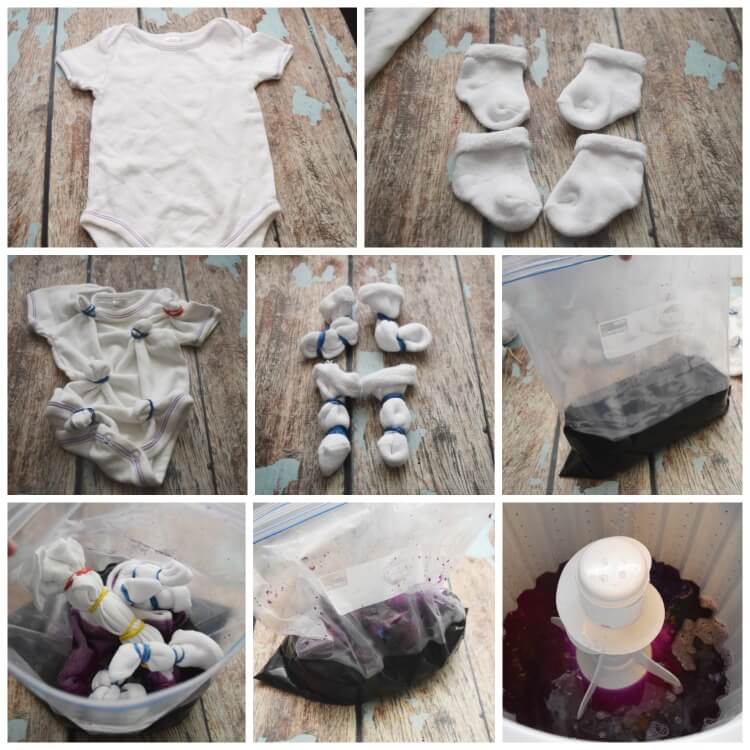 For the baggie method, you can easily add 4-5 baby bodysuits to one zipper baggie. However, if you're doing a kid or adult, you'll probably be able to only add one or maybe two t-shirts.
Before you begin, prewash the baby bodysuits, but don't dry them as they dye best damp. Just take them straight from the washing machine and rubber band them into the shapes you want. I like making little circles with rubber bands all over the bodysuits. You can accordion fold or swirl them. You can search tie dye folds to get ideas. I also make matching socks for each bodysuit I dye.
Next, make up your baggie of dye in the kitchen sink. I pour and entire packet of the powder dye into a gallon size bag and then add about 2-3 cups of hot water. The amount of water I add is dependent on how many items I'm putting it in the bag,. Usually I do 3-4 bodysuits at a time, but if there's more, I add an extra cup of water. I want the dye to totally immerse the items in the baggie.
Close up the bag and shake it to thoroughly dissolve the dye. Once it's dissolved, I place it on one side of the kitchen sink and carefully add my clothing items. Then, I make sure to seal it up and lay it on its side. Leave it for about 24 hours and every few hours shake it up a little and gently flip over the bag to make sure everything is getting good and dyed.
After about 24 hours, put the washing machine on cold water at the lowest water setting and just dump the entire contents of the baggie into the washing machine and let it run through a cycle. Then, run it through a second cycle with a little bit of soap. Run it through once last rinse only cycle and then dry them in the dryer.
This is a finished version of the baggie method.
Low Water Immersion Method
Supplies:
Rubber bands
Red Solo cups
2 packets of different Tulip powder dye
water
about 4 100% cotton baby bodysuits or t-shirts
Optional: 2 tie dye squeeze bottles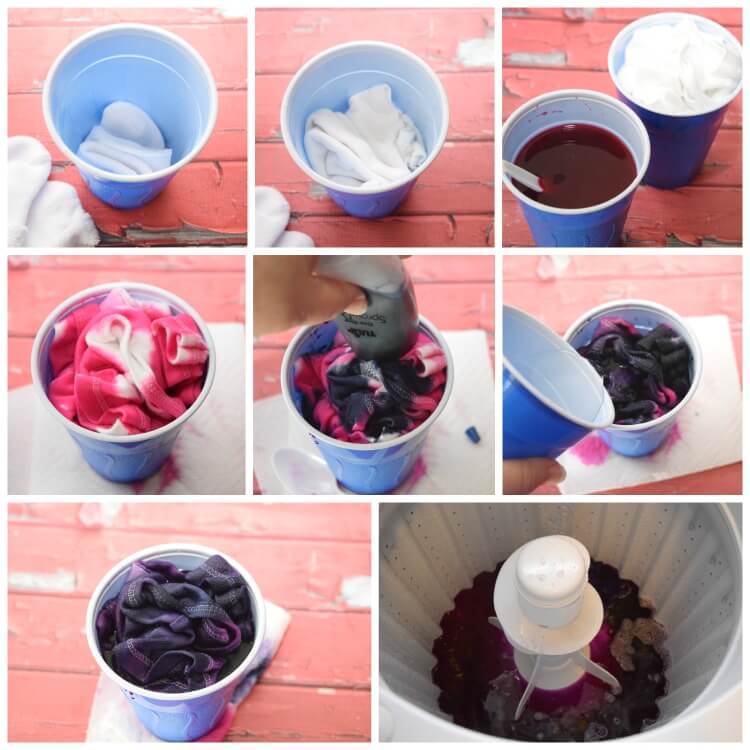 I like to use disposable Solo type cups for this method as I don't want to reuse them. I find two baby bodysuits and a couple pairs of socks fit great into one cup. So I usually do two cups at a time for a total of 4 bodysuits and 4 pairs of socks.
Before you begin, prewash the baby bodysuits, but don't dry them as they dye best damp. Just take them straight from the washing machine and scrunch two pairs of loose socks and two bodysuits into one cup. Scrunch them way down at least 1/2 an inch below the top of a Solo cup.
Pour 1/2 a packet of dye into another Solo cup and fill 3/4 with water and stir until dye is completely dissolved. Do this for separate cups for 2 dye colors. Another option is you can use tie dye squeeze bottles instead of the cups for the dye. The benefit of the squeeze bottle is that when you add it to the clothing, you can really push into the sides of the clothing all squished down and squirt dye really in there.
Take the first dye cup and pour about a third of the dye all over the bodysuits. Don't pour all of it because you need room to add the other dye and some water. If you're using squeeze bottles instead of cups, you can push the tip of the bottle deep into the fabric to really get the dye in there.
Next do the same thing for the second dye. Then, I'll gently press down on the clothing to really soak it with dye.
Now you'll get one more Solo cup and fill it with water and slowly pour water into the cup until the top of the clothing is almost but not quite immersed in liquid.
Now do the exact same thing with the second sets of bodysuits and socks. You can add the dyes differently such as the second first and first one last, etc.
Allow the clothing to soak up the dye for about an hour.
Then, it's time to toss in the washing machine. Use cold water and the lowest water setting and wash through a whole cycle. Wash a second time with a little bit of soap through a whole cycle. Then, use one last rinse only cycle before tossing in the dryer.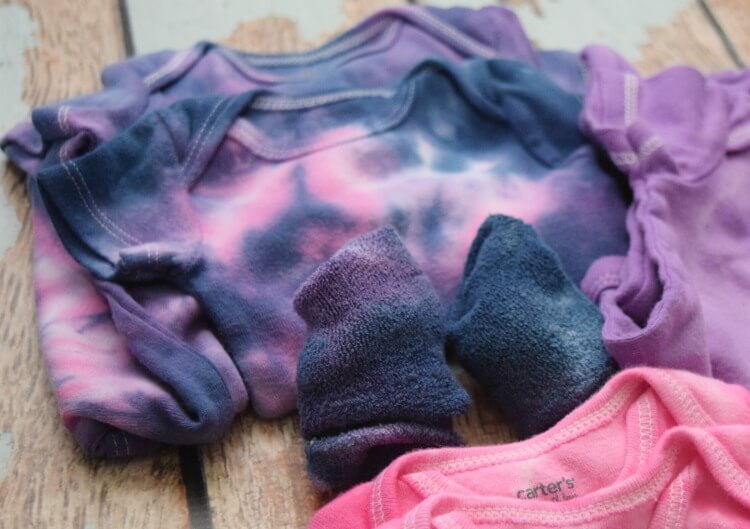 This is the finished version of a Low Water Immersion method. It's one of my favorites because you honestly have no idea how the dye will take. It's such a mystery.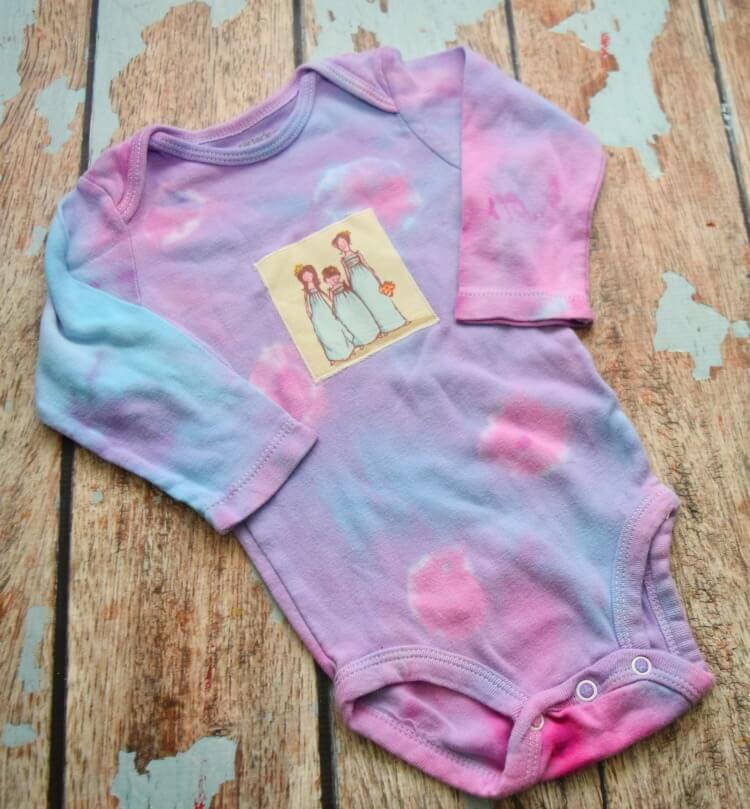 To add some extra cuteness I sometimes applique coordinating prints on the front. This is one of my favorite prints from an old pair of Munki Munki pjs from Heather Ross. I just love her fabrics. Here is an easy tutorial to learn to applique.
Do you like to tie dye? What is your favorite method?