When people come over for a meal, they frequently ask for my hamburgers. I can't wait to show you how easy it is to cook delicious juicy hamburgers in the oven. This post contains affiliate links.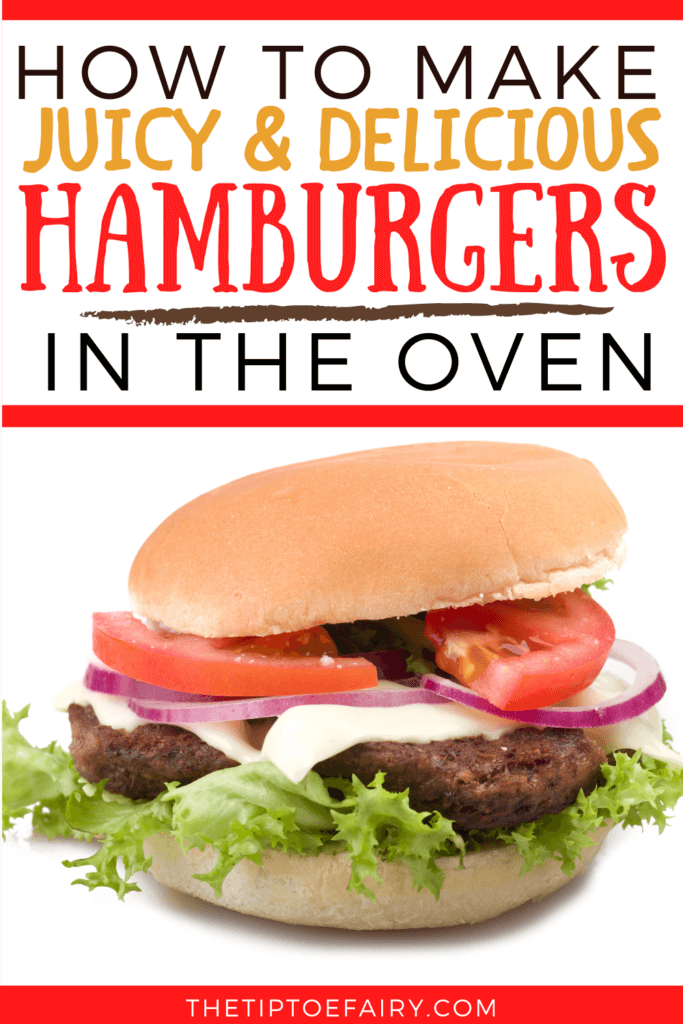 What is the best meat for juicy hamburgers in the oven?
You can make hamburgers with any kind of ground beef. But, I've found the best is an 85/15 sirloin blend. They don't shrink up too much, and they always come out juicy and delicious.
What do you need to cook hamburgers in the oven?
I love my burger press and using little parchment paper rounds for pre-making burgers. It makes burgers so easy. In fact, I'll buy a big pack of meat from Sam's Club or Costco, and make uncooked hamburgers in backs of 6 (for our family of 6) and freeze them for later.
You can even use this burger press to make a quick hamburger and cook it right in the microwave.
When making my hamburgers ready for the oven, I use Worcestershire sauce and minced garlic.
What toppings are good for juicy hamburgers made in the oven?
I like to go with colby cheese or sharp cheddar cheese slices. I also love sliced avocado or super simple guacamole. The combination of the garlic, cheese, and avocado make one delicious burger. It's my favorite way to eat one!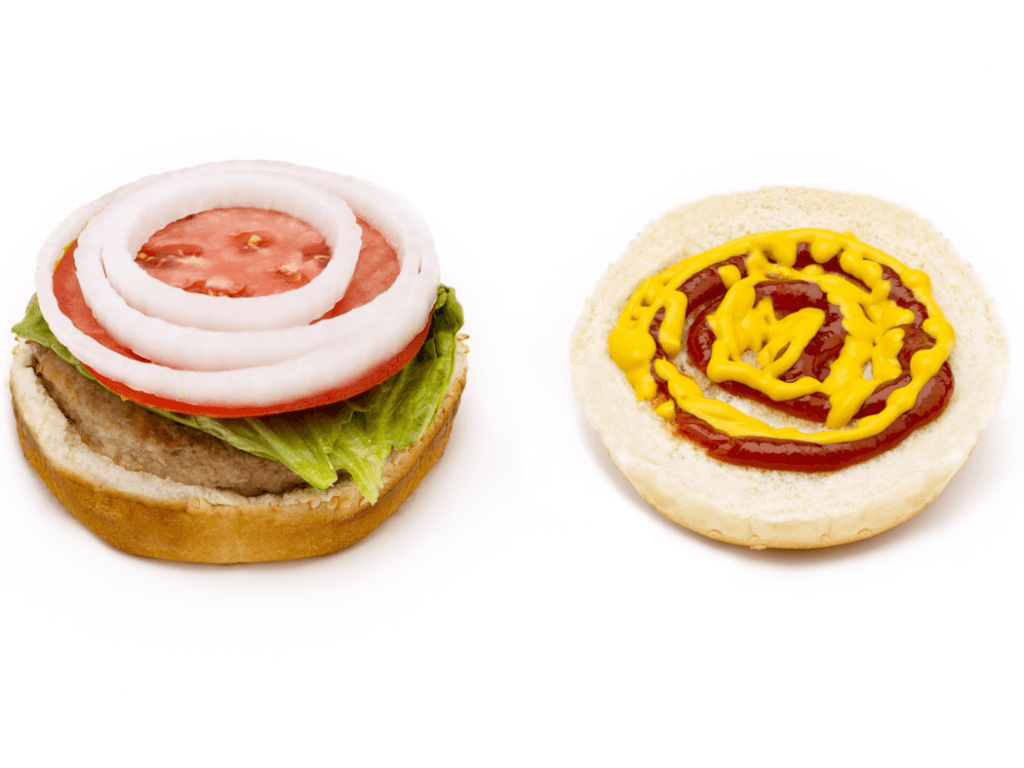 My family also loves topping burgers with the typical ketchup, mustard, lettuce, tomatoes, pickles and onions. They also love barbecue sauce and ranch dressing as toppings, too.
How do you cook hamburgers in the oven?
I use my burger press and make 6 hamburger patties. I don't mix in any ingredients. I just use straight hamburger meat (preferably 85/15).
Then, spray a 9 x 13 baking dish with oil spray and place the burgers in to it. I can cook between 4 and 6 hamburger patties in a 9 x 13 dish.
I give a few shakes of Worcestershire sauce on each burger.
I find the best temperature is 375 F degrees for 30 minutes. At the halfway mark, I flip the burgers over and add a second dash of Worcestershire sauce and a small spoonful of minced garlic in water in the middle of each burger.
Then, at the 30-minute mark, I check to make sure the hamburgers are at the right temperature (above 160 F degrees). This is my favorite digital meat thermometer.
Immediately take them out of the oven and add a slice of cheese to each burger. This allows the cheese to melt, while I grab the buns.
Some people love toasted buns. My husband adds butter to the inside of each piece of the bun and toasts it in the toaster oven for a few minutes. I prefer a fresh, soft bun that's not toasted.
Can you freeze cooked hamburgers?
Yes! I wrap them individually in wax paper and freeze all together in a gallon size freezer bag for up to 2 months.
I heat up a frozen burger on a paper towel in the microwave for 2-3 minutes.
How do you store cooked hamburgers in the oven?
Hamburgers get eaten fast in this house, especially leftovers from burger night.
I just make up the hamburgers with cheese and the bun and place each hamburger by itself in a sandwich-sized ziplock bag. Then, you can add your own toppings after heating it up.
I store them for up to 4 days in the fridge this way.
Recipes for Hamburger Night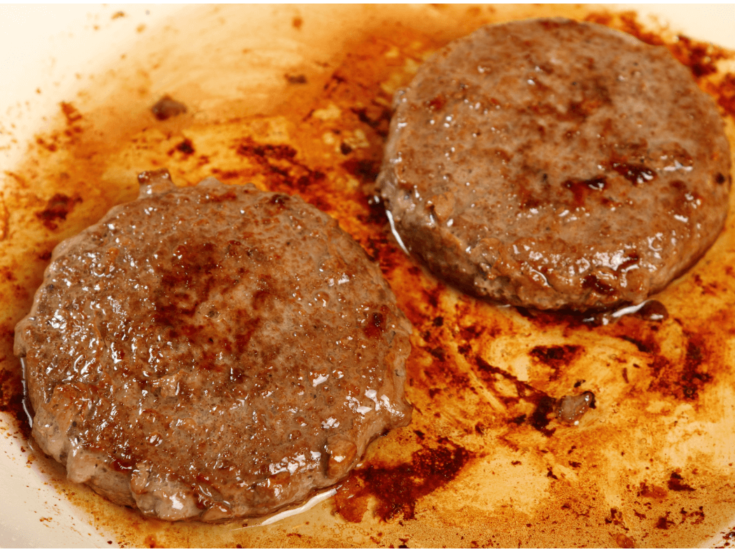 Yield:

6 burgers
Juicy Hamburgers in the Oven
Ingredients
2 lbs 85/15 ground sirloin (ground beef)
Worcestershire sauce
2 tablespoons minced garlic in water
Instructions
Preheat oven to 375 F degrees.
Spray a 9 x 13 pan with oil spray.
Make 6 hamburger patties with 2 lbs of 85/15 ground beef.
Place the patties into the 9 x 13 pan.
Shake a few dashes of Worcestershire sauce on each hamburger patty.
Bake for 15 minutes. Flip each hamburger patty.
Add a teaspoon of minced garlic to each burger. Then, add a dash or two more of Worcestershire sauce.
Bake for 15 minutes, until the internal temperature of the burgers is over 160 F degrees.
Remove promptly from the oven and top with a slice of colby or cheddar cheese, if desired.
Place each hamburger on a bun and top as desired.
Recommended Products
As an Amazon Associate and member of other affiliate programs, I earn from qualifying purchases.
Nutrition Information:
Yield:

6
Serving Size:

1
Amount Per Serving:
Calories:

191
Total Fat:

10g
Saturated Fat:

4g
Trans Fat:

0g
Unsaturated Fat:

4g
Cholesterol:

71mg
Sodium:

100mg
Carbohydrates:

1g
Fiber:

0g
Sugar:

0g
Protein:

23g
Any nutritional information on thetiptoefairy.com should only be used as a general guideline. This information is provided as a courtesy and there is no guarantee that the information will be completely accurate.