With all that is going on in the world, it's like a game of roulette at the grocery store. You just never know what you'll be able to find there. So…here are my favorite Simple Substitutions for Cooking and Baking. You might not be able to find eggs or fresh milk or all kinds of stuff, but believe it or not, you can make a good amount of substitutions for what you need.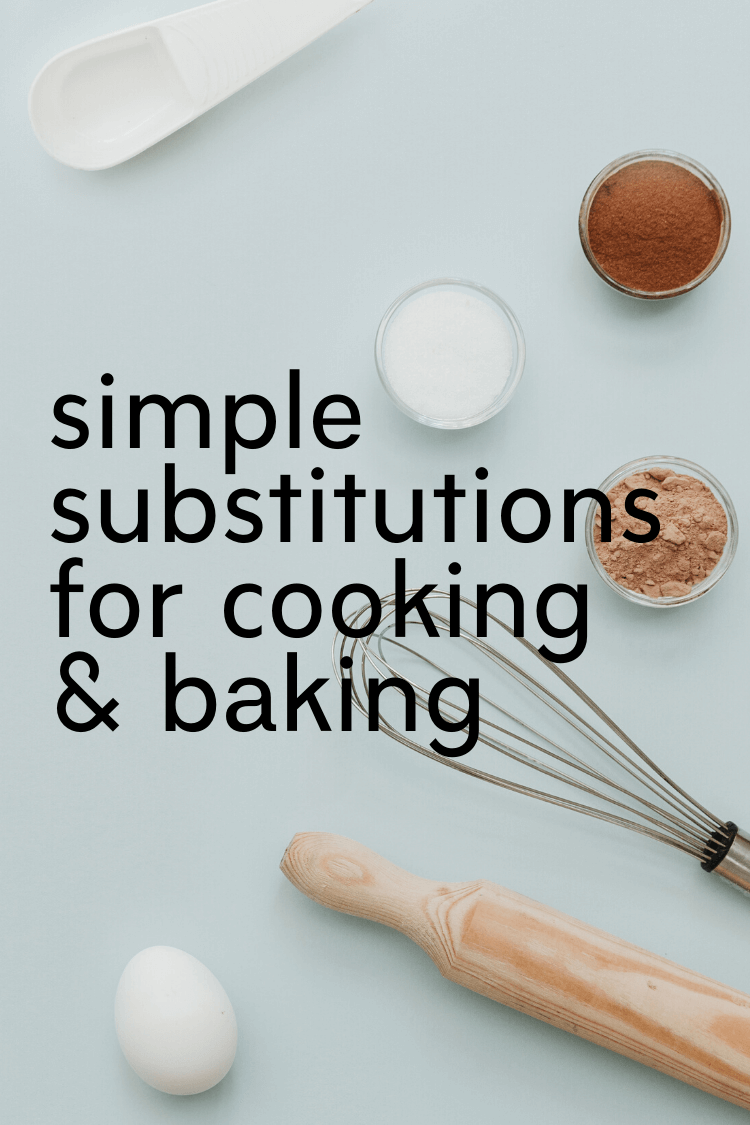 Simple Substitutions for Cooking & Baking
My college kid has been baking the boxed mixes of cakes and brownies in our pantry. But, there's a few times we've run out of the necessary ingredients. Thankfully, I have learned easy substitutions like applesauce instead of eggs. Here's a few you can try when you run out of things:
Butter
You can substitute any oil in equal amounts for cooking.
For baking use solid coconut oil, lard, or regular margarine (not light margarine in equal amounts.
If you have at least half the amount of butter needed, substitute applesauce or puree pumpkin for the rest.
Eggs
In baking you can replace 1 egg with:
1/4 cup applesauce
1/2 smashed ripe banana
3 tablespoons vegetable, corn, or olive oil + 1 tablespoon water
2 to 3 tablespoons mayonnaise (for cakes or sweet breads)
Sugar
Replace 1 cup granulated sugar with:
1 3/4 cup unsifted powdered sugar
1 cup packed light or dark brown sugar
1 cup minus 2 tablespoons honey + 1/4 teaspoon baking soda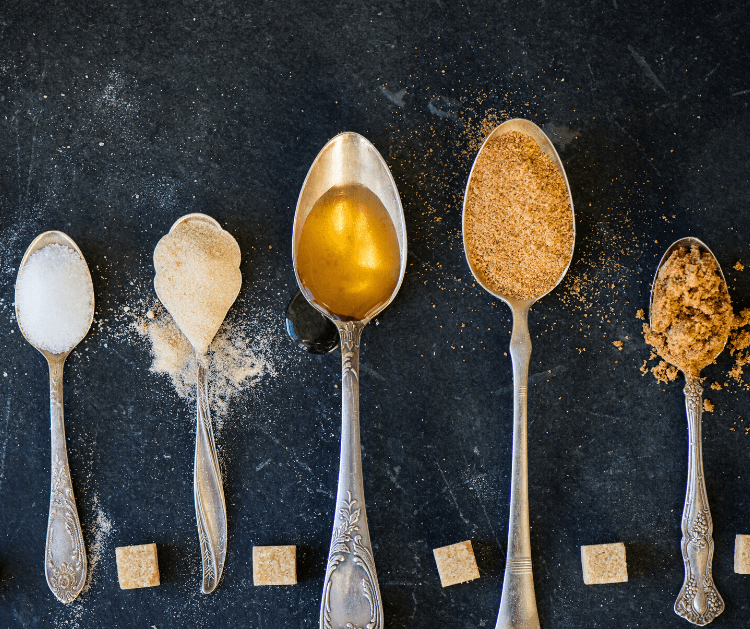 Replace 1 cup dark brown sugar with:
1 packed cup light brown sugar + 1 tablespoon molasses
1 cup granulated sugar + 2 1/2 tablespoons molasses
Replace 1 cup light brown sugar with:
1 cup granulated sugar + 1 1/2 tablespoons molasses
1/2 cup dark brown sugar + 1/2 cup granulated sugar
Replace 1 cup powdered sugar with:
1 cup granulated sugar + 1 tablespoon cornstarch, in a food processor
Breadcrumbs
Replace 1 cup of breadcrumbs with:
3/4 cup cracker crumbs
1 cup crushed tortilla
1 cup crushed potato chips
1 cup crushed pretzels
1 cup crushed cornflakes
4 slices well toasted bread, crushed in a food processor
1 1/4 cups croutons, crushed
Sour Cream
Replace 1 cup of sour cream with:
1 cup plain Greek yogurt (you can also replace Greek yogurt with sour cream)
1 cup plain Australian yogurt (like Noosa)
3/4 cup cream cheese + 3 tablespoons milk
for baking – 3/4 cup milk + 1/3 cup of melted butter + 1 teaspoon lemon or lime juice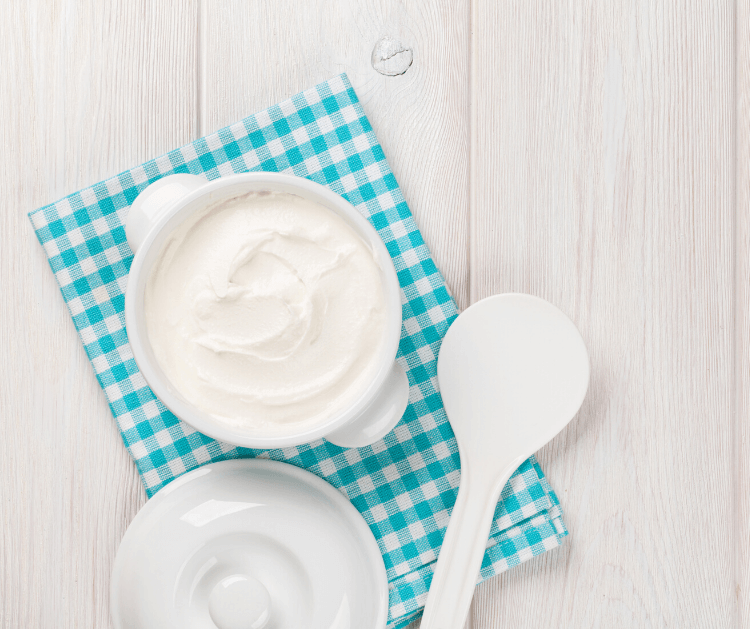 Milk
1 cup milk = 1/2 cup water + 1/2 cup evaporated milk
1 cup half & half = 1 cup whole milk + 1 tablespoon melted butter (unsalted)
1 cup half & half = 1 cup evaporated milk
1 cup heavy whipping cream = 2/3 cup whole milk + 1/3 cup melted butter (unsalted)
1 cup buttermilk = 1 cup milk + 1 teaspoon lemon juice or white vinegar
Flour
Replace 1 cup all-purpose flour with:
1 cup + 3 tablespoons cake flour
1 cup self-rising flour (leave out baking powder and salt in recipe)
1 1/2 cups dry breadcrumbs
Replace 1 cup of cake flour with:
1 cup minus 3 tablespoons all-purpose flour + 3 tablespoons cornstarch
Replace 1 cup self-rising flour with:
1 cup all-purpose flour + 1 1/2 teaspoons baking powder + 1/2 teaspoon salt
Cocoa Powder
Replace 3 ounces of cocoa powder with
1 ounce unsweetened chocolate
2 ounces semisweet chocolate (decrease sugar in recipe by 2-3 tablespoons)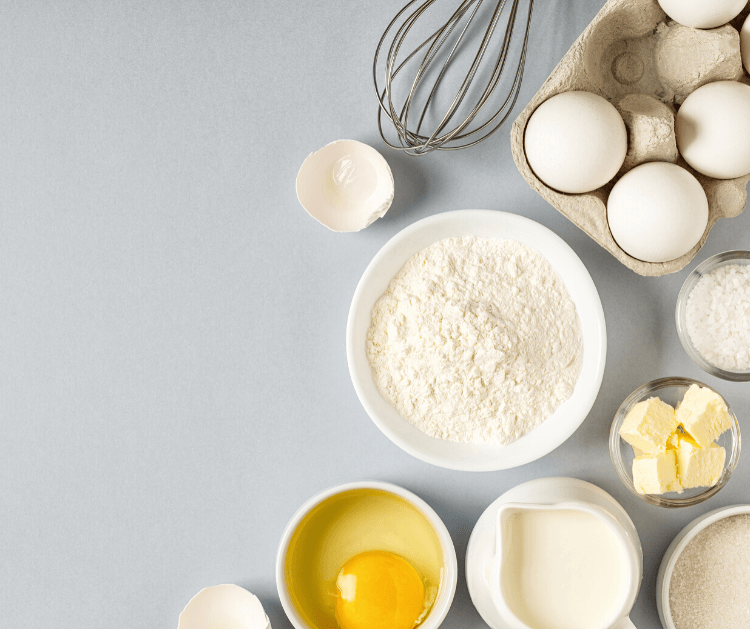 Table Salt
Replace 1 teaspoon of table salt with:
1 1/2 teaspoons kosher salt
2 teaspoons soy sauce
Lemon
1 tablespoon of lemon juice = 1 1/2 teaspoons white wine vinegar or champagne vinegar
1 teaspoon zest = 1/2 teaspoon lemon extract
Herbs
Replace 1 tablespoon of chopped fresh herbs with:
1 teaspoon dried herbs
1/4 teaspoon ground herbs
Garlic
Replace 1 clove of garlic with:
1/2 teaspoon jarred mince garlic
1/8 teaspoon garlic powder
1/2 teaspoon garlic salt (leave out salt in recipe)
Onions
Replace 1 medium onion with:
2 teaspoons onion powder
1 cup frozen chopped onions
1 1/4 cups green onions, chopped
Rice
Replace 1 cup of white or brown rice with:
Download the Files
Simple Recipe Ideas