This post contains affiliate links. Does your child love dinosaurs? Do they get afraid of the dark at bedtime? My two youngest do, so we made a Dinosaur Terrarium Night Light to put on the bedside table. They are super easy to make, and the kids just love them.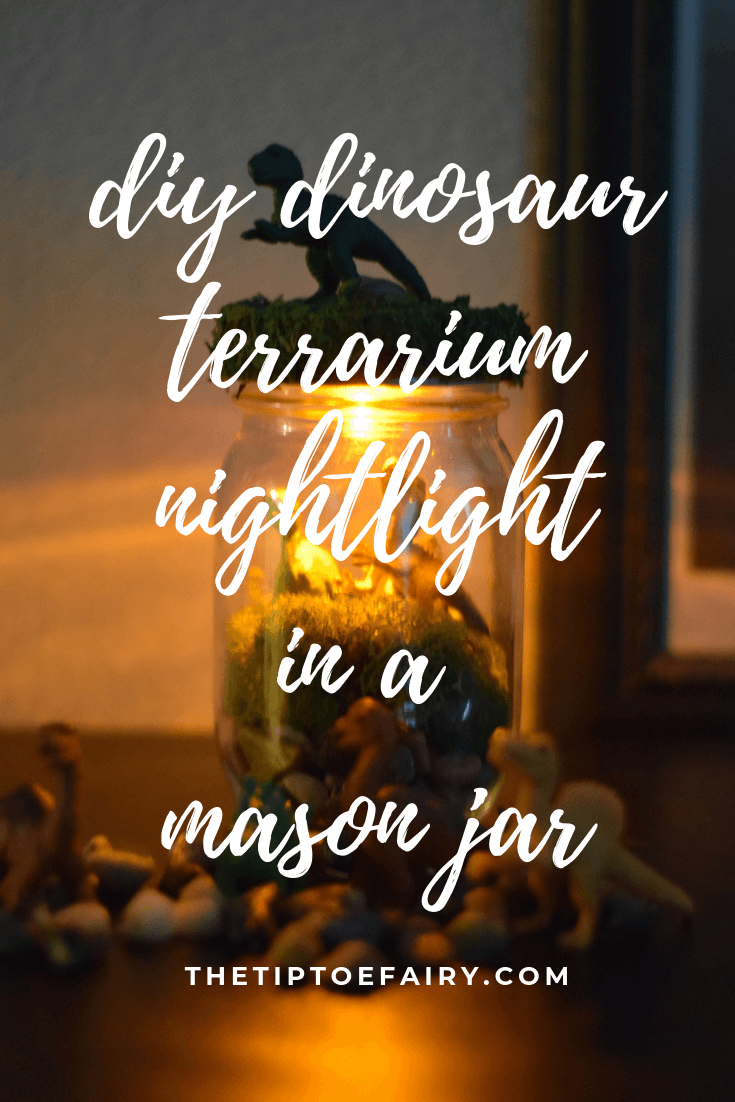 My two youngest girls just love dinosaurs. My toddler is always roaring and growling and telling us she's a dinosaur, and we have plastic dinosaurs they love to play with all over the house. So, I took a few and some supplies from my craft room and made them dino-themed night lights.
DIY Dinosaur Terrarium Night Light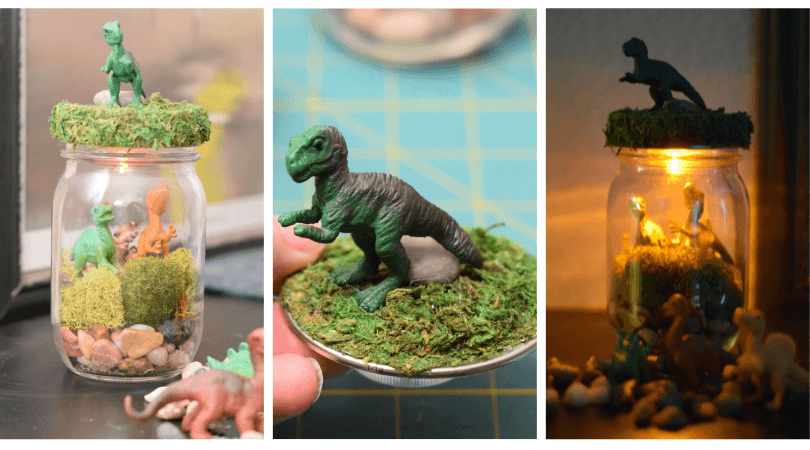 Supplies
Directions
Before we begin, I want to tell you to totally make this your own. It's your creation, and it does not need to look like mine in anyway. You can hang some moss from the lid so it hangs down on the dinosaurs and really looks like some kind of rainforest type place. Or, you can fill it with sand and pebbles and skip the moss rocks before adding dinosaurs. Or so many other things! Just let your imagination go wild!
Where to get Submersible LED Lights?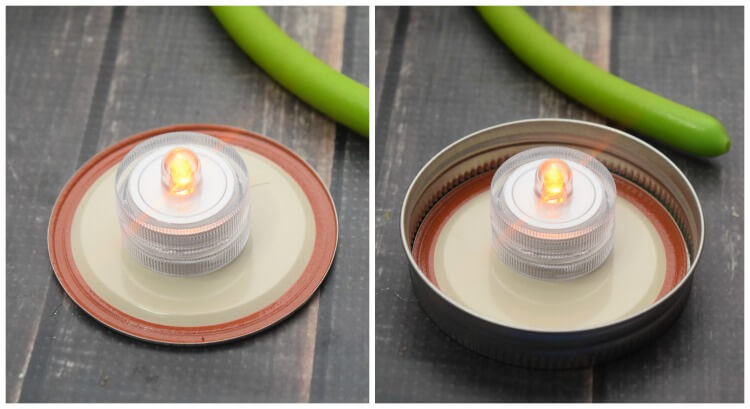 When I first started making these jars with the Mason Jar Aquarium, I bought completely different submersible lights at Joann's, and then I've never seen them in another store again. Joann's doesn't even sell them anymore. I've had so many of you ask where to buy them, and I've honestly searched and searched, and they are no where to be found. They aren't even on Amazon. I did, however, update the Mason Jar Aquarium post with these submersible lights, which I absolutely love using, and you can easily find them on Amazon and in craft stores.
Over the years, I have made a few different types of these light up mason jars, and I just love using those flickering LED lights in them. But, if you don't want orange flickering lights, you can find all kinds of colored ones. I chose flickering ones because it's very calm and serene to look at the mason jars when you're trying to go to sleep.
A word of warning — be careful if you search "submersible flickering LED lights" on Amazon you will get a ton of listings where people actually put "not flickering" in the title. I suppose they do it to show up in flickering light searches, too, which is ridiculous.
Even though there is no water involved in these mason jars, I chose submersible because you can hot glue these lights to the inside lid of the mason jar and just twist the light easily to turn it on or off. You can also unscrew the light and replace the batteries. We found theses lights will last an entire week if you leave them on constantly.
How to replace the night light batteries?
Each light takes two CR 2032 watch-style batteries. I just buy a big pack of replacement batteries so we can easily switch them out. You just take the lid off the mason jar and unscrew the light. The batteries will be right on top. Just remove them and add new ones, and you're back in business.
How to create the Dinosaur Terrarium in a Mason Jar?
First, I start by layering the jar with small pebbles as a base. Next, I get 2-3 moss-covered rocks to insert in the mason jar on top of the pebbles. Since they are styrofoam, you can squeeze them in pretty tight.
Then, I add some dried moss and additional pebbles in between the holes between the moss rocks. I hot glue a couple pebbles here and there on the moss rocks, and then I hot glue the feet of a dinosaur and stick one on a moss rock. I usually just add two dinosaurs. Otherwise, it starts to look too crowded. If you have a tiny tree, that is great to hot glue on top of one of the moss rocks, too.
How to make the Moss Covered Mason Jar Lids?
Open your moss sheet over some newspaper or a big cutting sheet because it will shed like crazy. It should come with a paper covering the sticky adhesive back.
Cut a long strip that's about 1 inch wide to wrap around the edge of the screw top ring. When you're ready, pull the backing off the adhesive and wrap the strip around the edge of the screw top ring. Line one edge of the strip to the bottom edge of the screw top ring. The top edge of your moss strip should rise up a few millimeters above the top of the screw top ring once it's wrapped around, so that you can push it down to stick on the part of the ring that overlaps the lid. This way it hides hide the rest of the screw top ring.
For the lid insert, cut a square from the moss sheet and then round it into a circle to place over the center part of the lid. Remove the backing and stick it to the top and smooth it out. Hot glue a pebble or two and a mini dinosaur to the top of the lid.
Lastly, turn the light on and screw the lid closed for a DIY Dinosaur Terrarium Night Light – perfect for the bedside table.
Need more fun crafty ideas?
Check out these tutorials: