This post is sponsored by NEUTROGENA®. I only recommend products I use personally and believe will be good for my readers. I am disclosing this in accordance with the Federal Trade Commissions (FTC) guidelines concerning the use of endorsements and testimonials in advertising. Some of the products mentioned were purchased by myself AND/OR some were provided by NEUTROGENA® for this post.
We do a lot of DIY costuming for Halloween here. I usually sew my kids' costumes, or I put them together from things around the house. Makeup for their costumes is no exception. I like to use things around the house from regular makeup to kitchen products. And, then when we're through, I like to be to easily clean it all off with a Neutrogena Cleansing Towelette.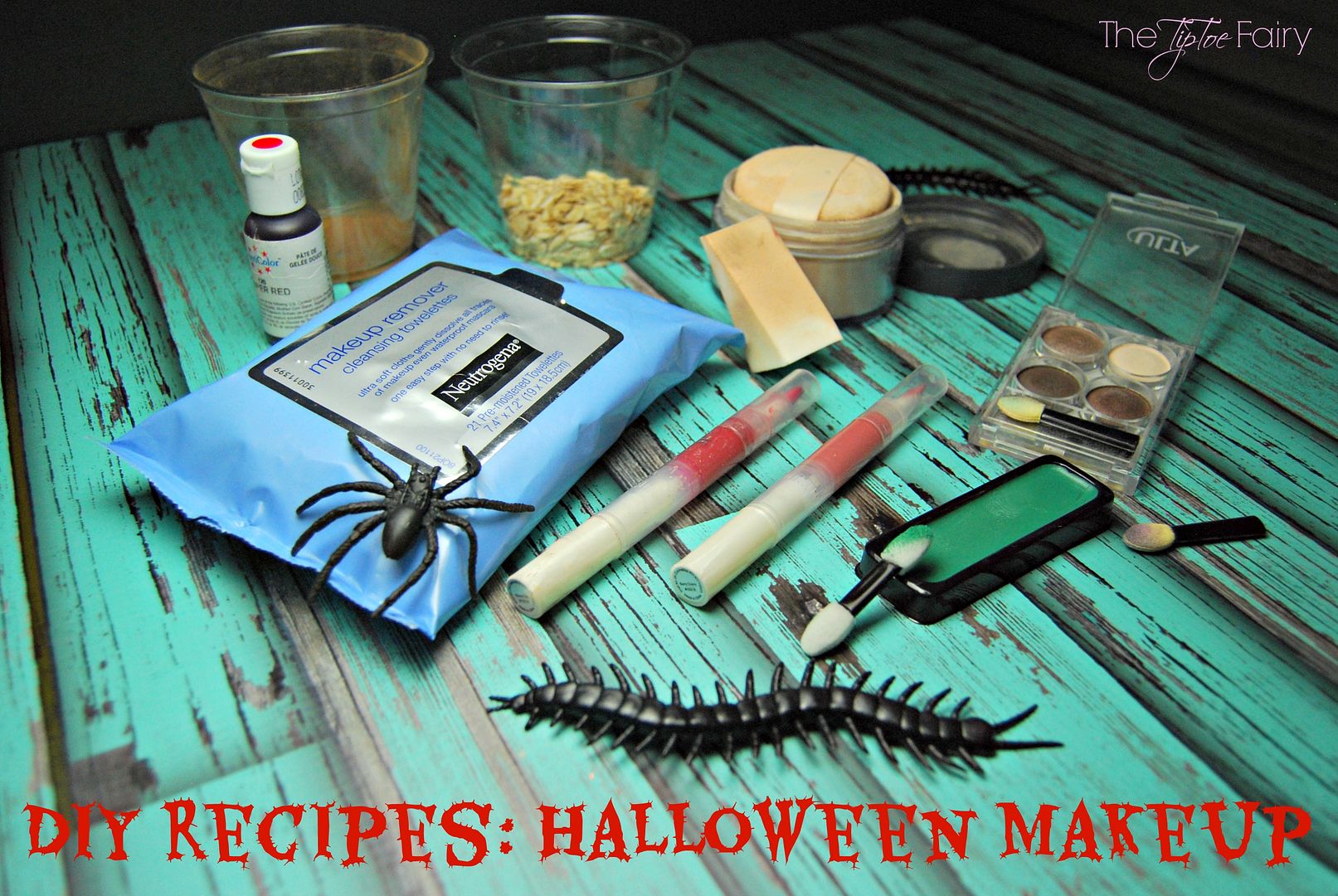 For every day makeup and for Halloween makeup, I think it's very important to use makeup remover wipes. My teenage daughter started wearing makeup about two years ago, and I've stressed the importance to her about removing makeup.
My kids have enjoyed being zombies on Halloweens in the past, but my son wanted to do it again this year. So, here are a few things I use from the kitchen to make him a zombie.
One really easy thing is to create scabby wounds with oatmeal mixed and school glue. Mix a tablespoon of each together, and then smear on somewhere like a cheek or forehead. Try to stay away from something like the mouth where the oatmeal might fall off if the skin moves around a lot.
Another popular makeup item for Halloween is blood. You don't have to buy it at the store! You can make it easily at home for zombies, vampires, and more. I also put some in a spray bottle and water it down and spray it on an old pair of clothes that we rip up for a zombie costume.
All you need is about 1/4 cup of light corn syrup, a few drops of red food coloring, and a tablespoon of cocoa. Mix it together to get a dark red blood. I paint it on wounds and then drop it down the side of the mouth. I also take a small bit, water it down, and then pool a bit of it on a paintbrush and flick on the sides of the face for a blood spatter look.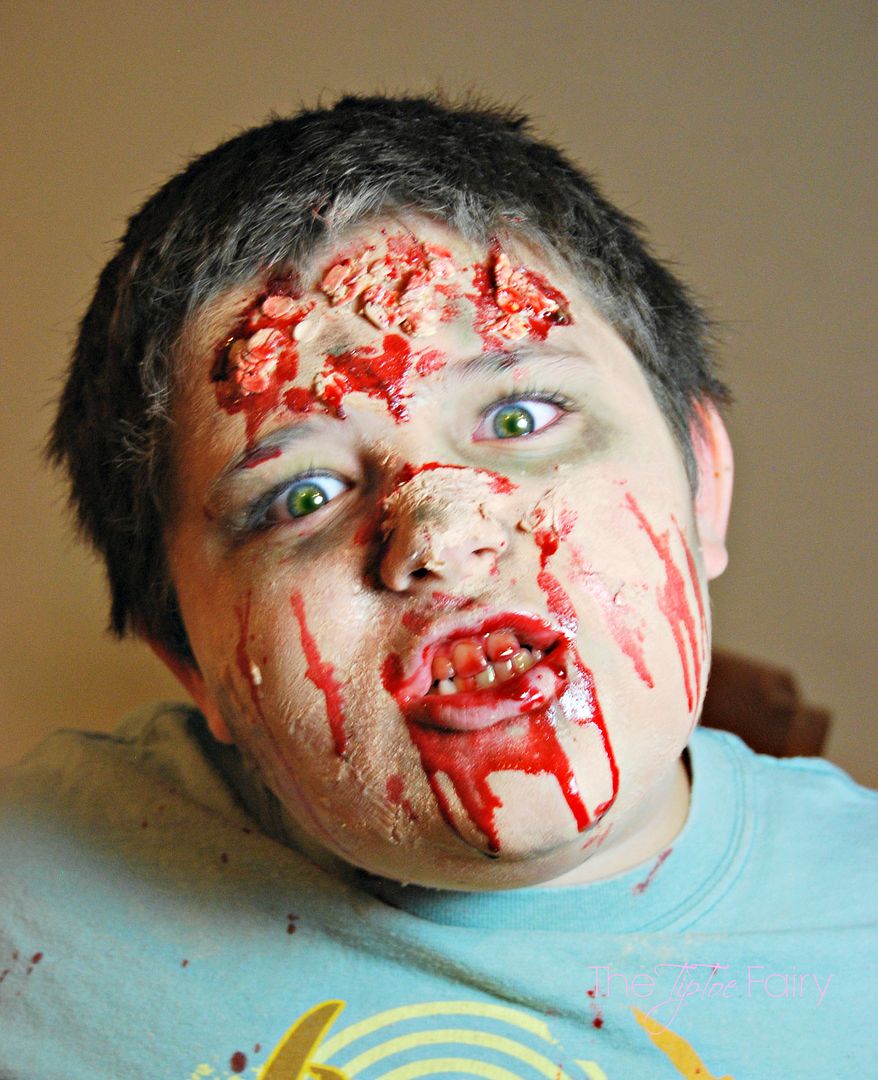 DIY Zombie Makeup
Supplies
DIY Blood
DIY Oatmeal Scabs
School glue
Toilet paper
Foundation in a lighter shade than normal
powder
Black eye shadow
Green eye shadow
hair dryer
1. Apply the lighter foundation all around the face and neck.
2. Add green eye shadow all around the eyes.
3. Add black eye shadow along with the green.
4. Add the black eye shadow in the hollows of the cheeks, under the chin, around the mouth, and on the forehead.
5. Now find a spot and add your oatmeal.
6. If you want peeling skin, take small pieces of toilet paper, add some school glue and paste them on the face.
7. Apply a thin layer of school glue to one or both cheeks. (This will cause a dry flaking and wrinkly looking skin.)
**Make sure you use a hair dryer on your face between these steps to dry the oatmeal and toilet paper.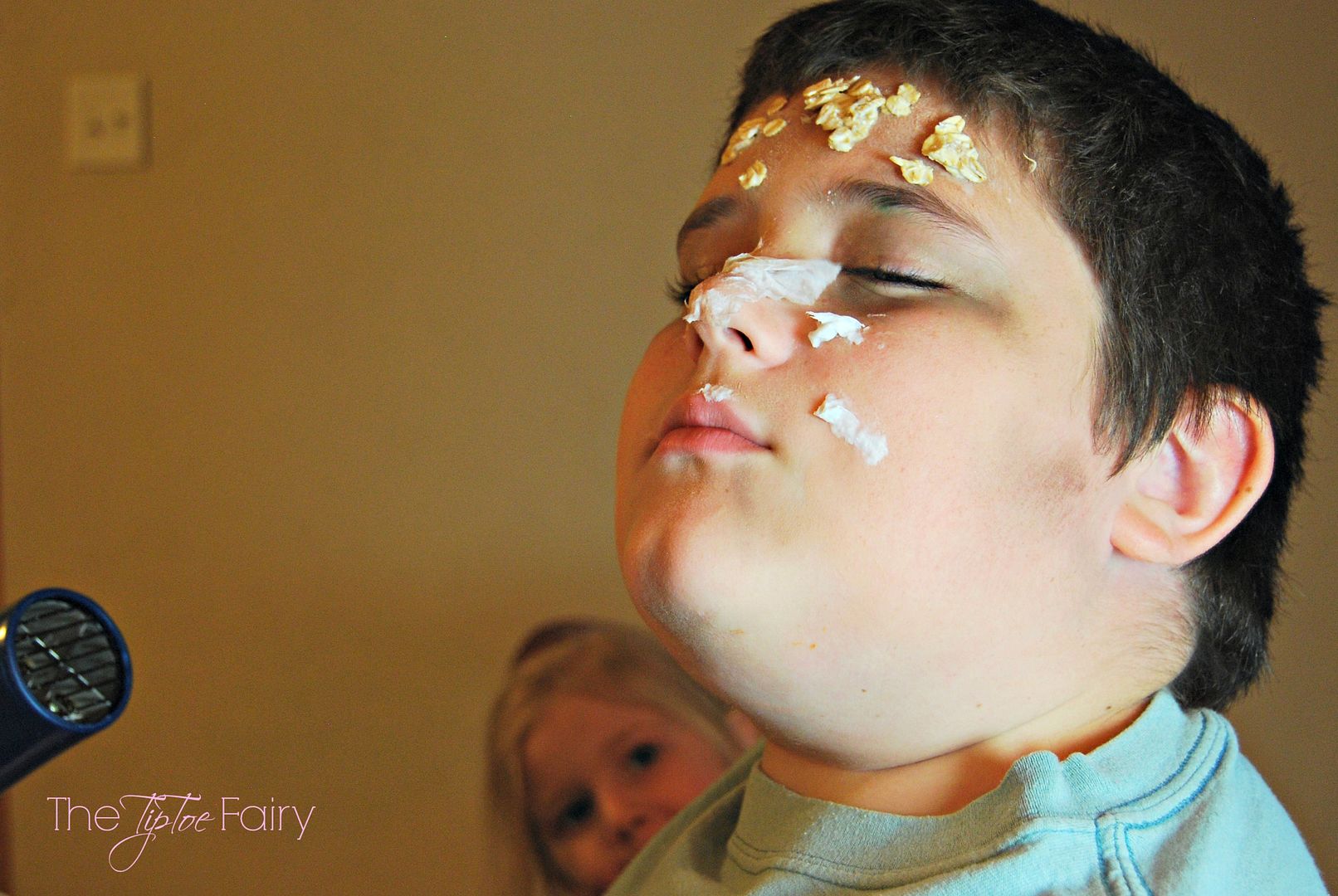 8. Next, apply more foundation to the toilet paper and the oatmeal to blend it in.
9. Apply powder to the whole face to keep blending.
10. Use the black and green eye shadows again to add to the oatmeal and toilet paper wounds.
11. Now, take a small paint brush and paint the wounds with the DIY blood.
12. Then, while holding a cup or paper towel underneath the face, add big droplets of blood around the mouth so they will drip off the face.
13. Take a spoonful of DIY blood and mix it with a spoonful of water to water it down a bit, and pool a little bit of it in a bowl and then flick that pool with the paintbrush to create a blood spatter look.
14. Use the hair dryer once again to dry the blood until it's a bit tacky and won't drip.
Here is my son's zombie face in action. You can see he really got into his character!
A sneak peek of my little zombie! Just one Neutrogena Makeup Remover Cleansing Towelette can take all this off! #NeutrogenaFaceOff #ad
Before cleaning the face, my son picked the oatmeal off with his fingers. Then, he was able to easily clean his entire face with just one makeup removing wipe. Even the school glue came off easily with these towelettes!
Now, it's your turn! Show off that Halloween look!