A couple years ago I discovered cookie butter. I kept seeing mentions of Biscoff this and Biscoff that, and I had no idea what it was. My husband knew about the Biscoff cookies because he used to fly Delta quite often, but I had never tasted one til he brought a package home. And, boy are they addictive! Then, I saw Biscoff spread at the store and I basically hooked my entire family on this stuff.
My secret little indulgence is a square of Hershey's chocolate with a little dollop of cookie butter. Chocolate and cookie butter are like the perfect combination together. I thought a Cookie Butter Poke Cake might just taste amazing with chocolate cake and cookie butter paired together. My husband had a potluck at work, so I sent him to work with this cake. And, because my kids think I never make them the "good" recipes, I made them the same poke cake as well.
Everyone at my husband's work loved it. They always devour my desserts. However, these people have not heard of cookie butter!?! They have no idea what they are missing. My husband told them all about it.
This is your typical poke cake except instead of pudding or jello, I just used a box cake mix. I chose a fudge cake over devil's food so it would be a bit more moist. I always think devil's food cake is too dry.
After poking the holes, I thinned out the cookie butter using whipping cream and slathered it over the top before frosting with Cool Whip. I thinned the cookie butter to be more like a pudding consistency rather than a runnier consistency.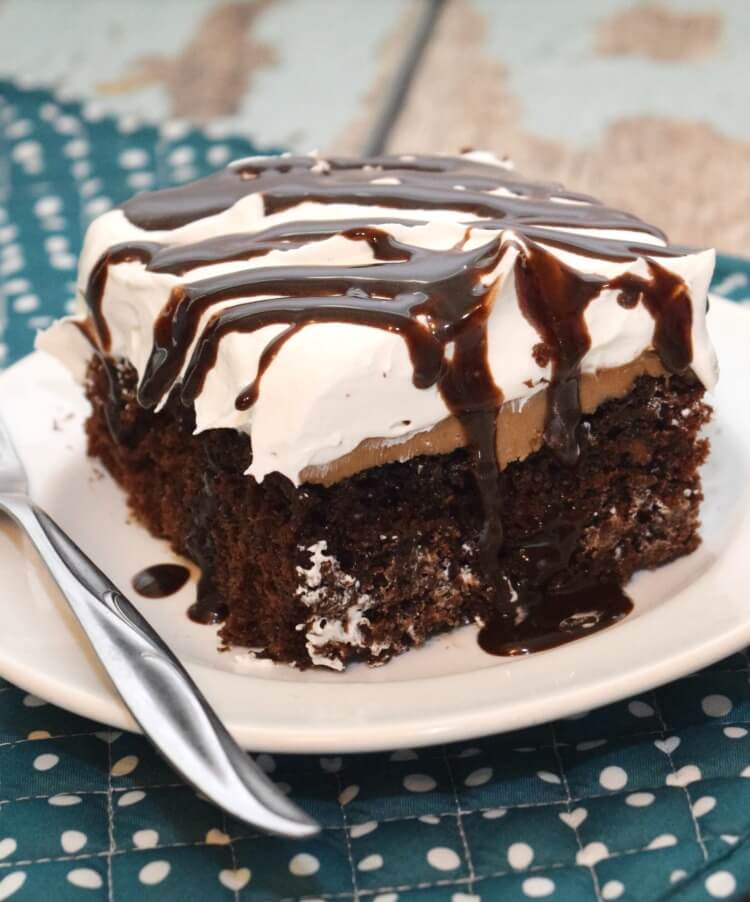 If you love cookie butter, you'll definitely enjoy this Cookie Butter Poke Cake! Plus, it's just so easy to make. Don't you just l love those kinds of desserts?
Print
Cookie Butter Poke Cake
---
1

chocolate box cake mix

3

eggs

1 1/4 cups

water

1/2 cup

oil

1 cup

cookie butter

1 1/4 cup

heavy whipping cream

1

16 oz tub Cool Whip
---
Preheat oven to 350 F degrees.
Make the chocolate cake mix according to directions with the eggs, oil, and water in a sheet pan.
When cake is done allow it to completely cool.
Poke holes using the wrong end of a wooden spoon about every 1 1/2 to 2 inches all over the cake.
Mix up the cookie butter and cream until smooth and like a pudding texture.
Slather the top of the cake with the cookie butter mixture.
Allow it to settle in to the cake for about 30 minutes and then freeze it for about 1-2 hours.
Pull it out of the freezer and frost the top of the cake with Cool Whip.
Let it sit in the fridge for at least an hour before serving.
Recipe Card powered by
Looking for more Cookie Butter ideas? Check these out:
No Churn Cookie Butter Ice Cream
So have you tried cookie butter?