This post is written in partnership with The Women Bloggers. All opinions are my own.
My 7 year old has been dying for something fun to play with in the pool or the bathtub, but we've had a hard time finding something that's not too babyish — until now! Have you heard of Lil' Fishys? They are motorized little water pets perfect for fun in the tub or pool, or even their own habitat!
Lil Fishys are geared toward 5 to 7 years olds, but they are so much fun, even my teens and the adults had fun with these.
Lil' Fishys sent us a variety of toys to play with. I think we all loved the emoji jellyfish the most. They light up, change color, and move their tentacles as they swim, and they have the cutest little silly emoji faces.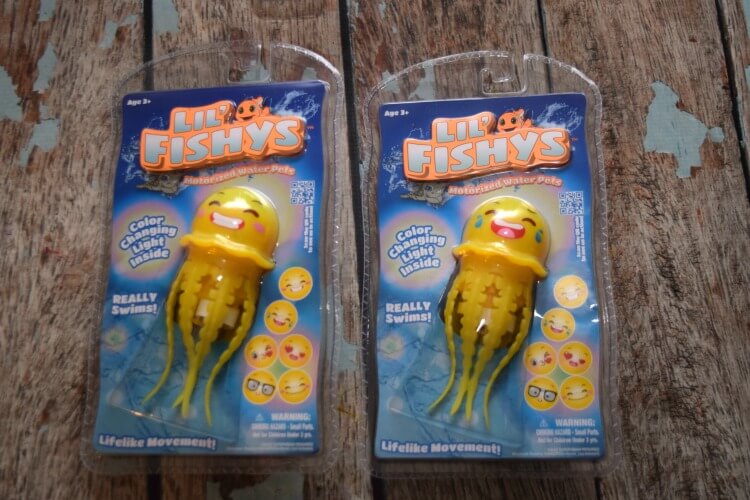 The color changing is the most fun in the bathtub when you turn the lights down. We have a big garden tub in our master bath where my daughter likes to bathe, so it's pretty deep for swimming with these little guys.
These toys are a great motivator for bath time! With summer, bath time has been a bit of a battle with my 7 yr old until Lil' Fishys. Now, she can't wait to get in the water every night and play with these fun toys.
They even have habitats such as a fish bowl or an awesome pirate ship. Each habitat comes with a fish or shark as well, so if you don't have access to a pool or bathtub, you can still have lots of fun with Lil Fishys.
Each fishy has a tail you can move up or down to make them swim differently depending on the depth of the water, such as if it's a habitat, swimming pool, or the bathtub.
'We don't own a pool, but we frequently head to the city pool and water park in the summer time. Molly brought along her Lil Fishys the last couple of times and had so much fun. Check out this short little video we made while playing with the Lil Fishys at the pool:
I love how the orca shoots out water from its blowhole as it's swimming along. These are all such fun toys. Your kids will just love them!
Even my teenager and my husband were having fun playing with them. Molly definitely made a few new friends at the pool who could not wait to play with these little water pets when she brought them out in the pool.
Check out the Lil' Fishys website for all the fun little water pets available and where to buy! There's even some sharks which are perfect for the upcoming annual Shark Week! You can find Lil' Fishys at several places including Target and Walmart.