This shop has been compensated by Collective Bias, Inc. and its advertiser. All opinions are mine alone. #OrganizeWithZiplocSpaceBags #CollectiveBias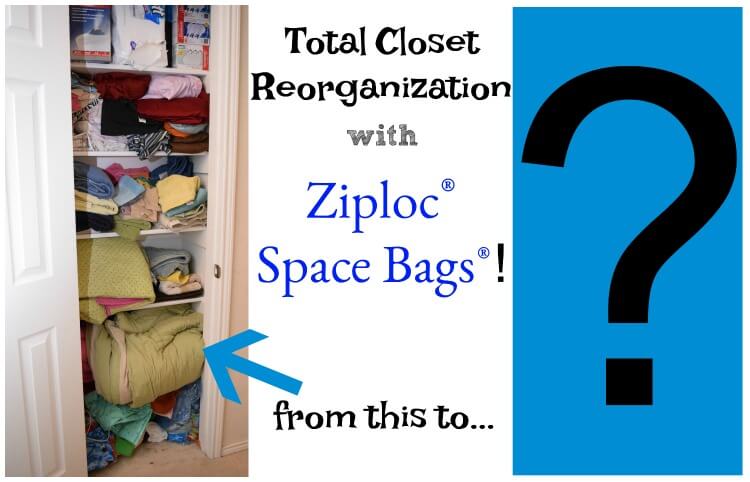 One of my biggest pet peeves is the linen closet in our home. For a four-bedroom house, we have a tiny linen closet. It's like apartment size. It can be quite challenging to fit all the towels and sheets, out-of-season bedding in there, and so much more. We needed a total linen closet reorganization.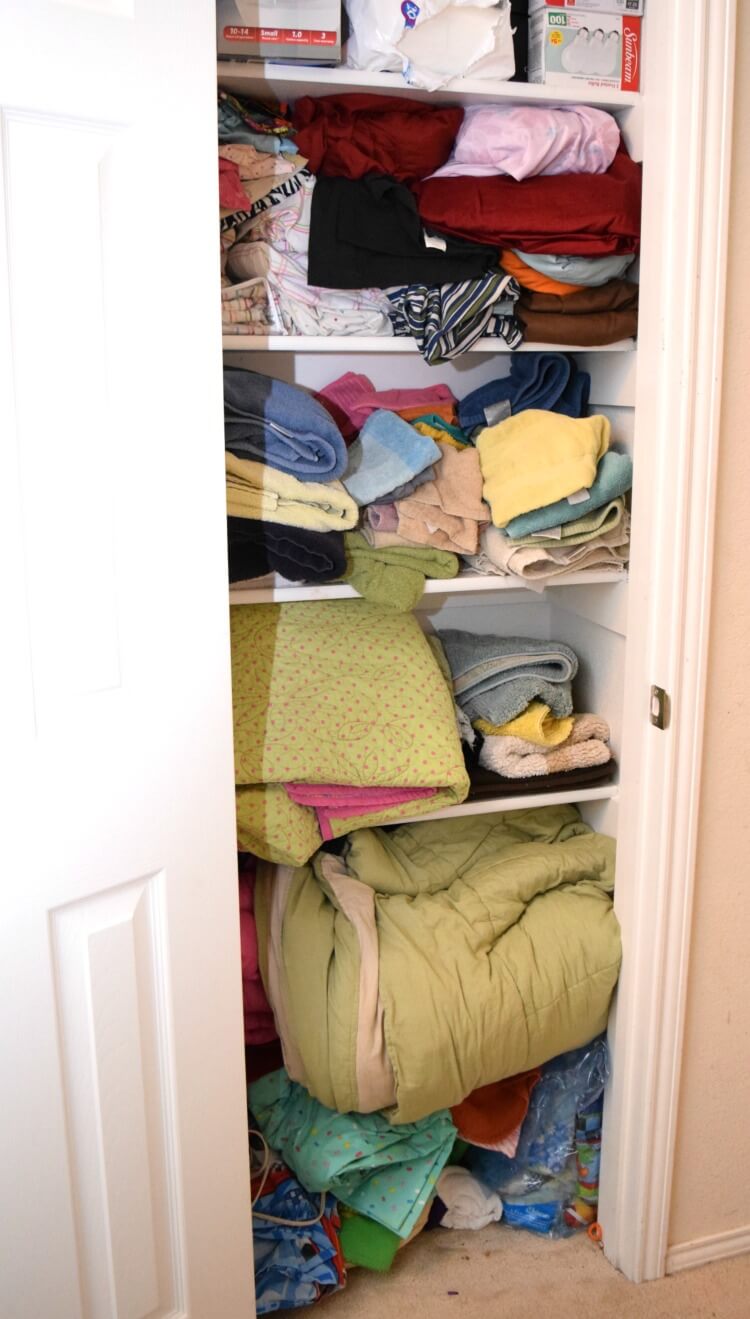 My children are great at helping to fold laundry and put it away. With such little room in the closet, they end up just putting things wherever there's a space available. Often, fresh towels end up on the shelf with the sheets, wash cloths are falling on the floor, and the out-of-season bedding ends up bursting out the closet. I hate to admit it, but sometimes we have to forcefully push the door shut to get it to stay shut.
I found my solution at Lowe's. We were actually there shopping for a dog door, so my sweet Boxer dog can be a little more independent. Then, I walked past the organization aisle, and do you know what caught my eye? The Ziploc® Space Bag® products! They were so affordable, too.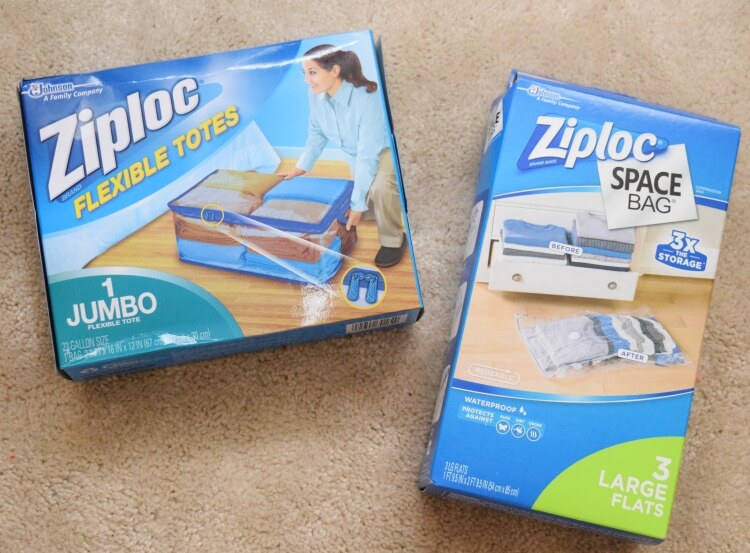 I picked up the Ziploc® Space Bag® Large Flat bags and the Ziploc® Flexible Tote in Jumbo size. I wasn't quite sure how many bags I would need to get that closet in order, but I thought this was a great starting point. I also had some under-the-shelf hanging baskets I had planned to help organize the closet as well.
When choosing Ziploc® Space Bags® make sure you pick the right bags for the right usage occasions. I decided the most important things to put into the bags were the out-of-season bedding like heavy quilts and extra comforters as well as all the top sheets. Everyone in my family prefers a comforter and just a fitted sheet on their bed. They all kick off the top sheets, so I had a huge stack of them just sitting in the linen closet.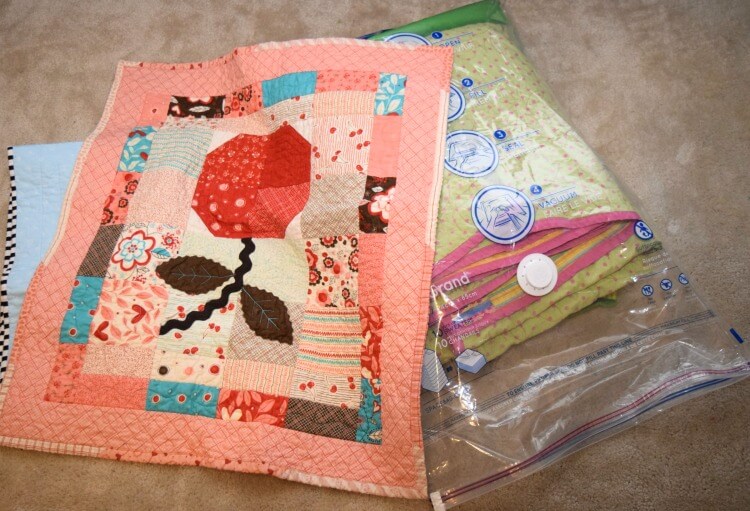 I was happy to see the Ziploc® Space Bag® Large Flat bags came in a three pack. My mom makes beautiful quilts, and I have so many of them. She had just given me several baby quilts we couldn't quite use yet with the new baby, and I was able to have enough bags to use one to keep them safe. I love my mom's homemade quilts and hope to pass them down to my kids, so I want to protect them.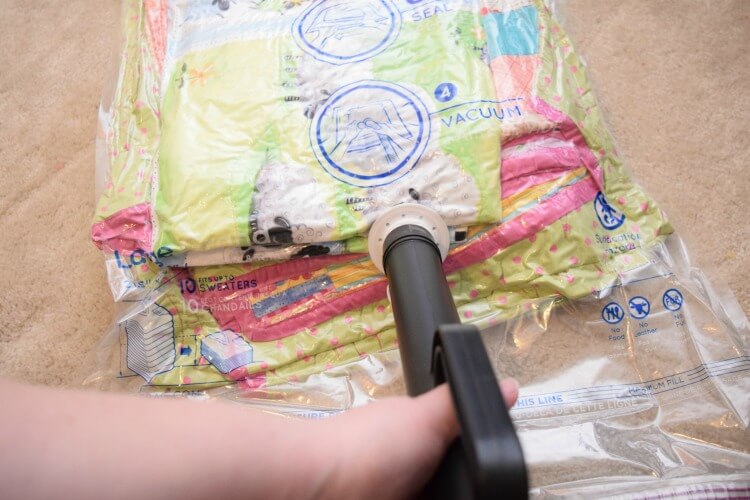 Ziploc® Space Bag® products are the perfect solution for heirlooms like quilts because they protect with a NEW film with shield technology that offers the toughest protection against bugs, moths, dirt, mildew, and other odors that might occur within common storage areas.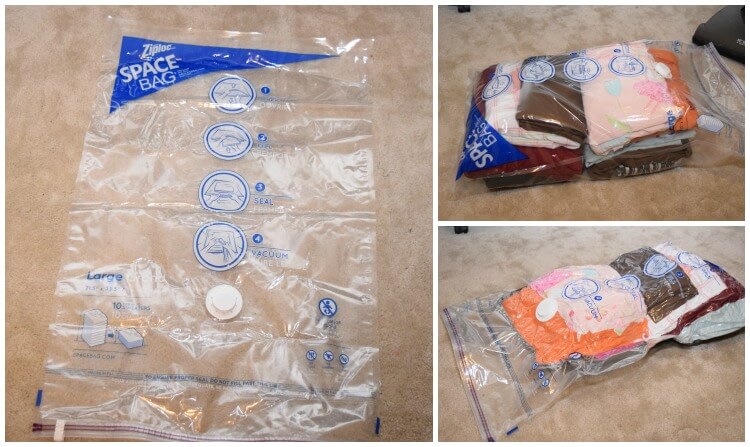 These bags are so easy to use and are reusable, too! The instructions are right on the bag, and you just need your vacuum hose to compress them. The nicer and flatter you put the items in, the flatter you can get the bags. It's just magical to see how much they shrink!
Three tips I learned when compressing the bags:
The Ziploc® Double Zipper with the easy to seal slider. Make sure you have it all the way over so there is no opening when you compress with the vacuum.

Don't fill the bags past the fill line. They've found overfilling is the main reason when the bags don't work correctly.

The vacuum hose does not need to fit perfectly onto the valve for compression. My hose was a little small, but it compressed the bag easily.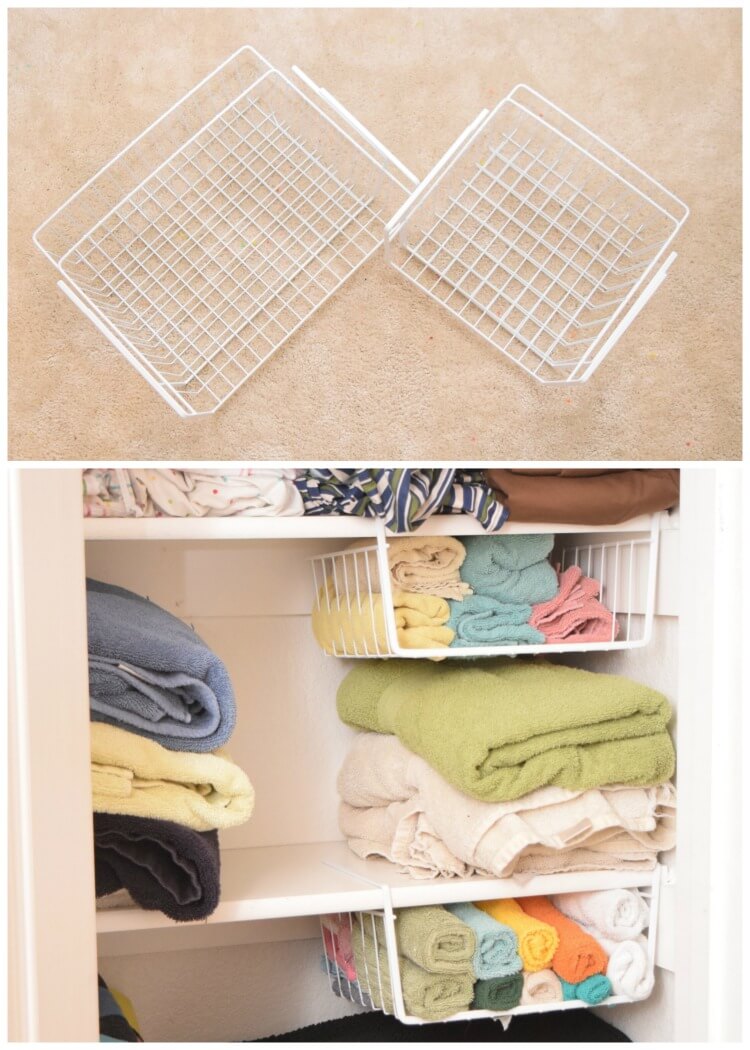 After getting all the bags ready, then I organized the closet with some under-the-shelf baskets. These were so helpful in freeing up even more space on the shelves. I used them for small things like pillowcases, wash cloths, and hand towels.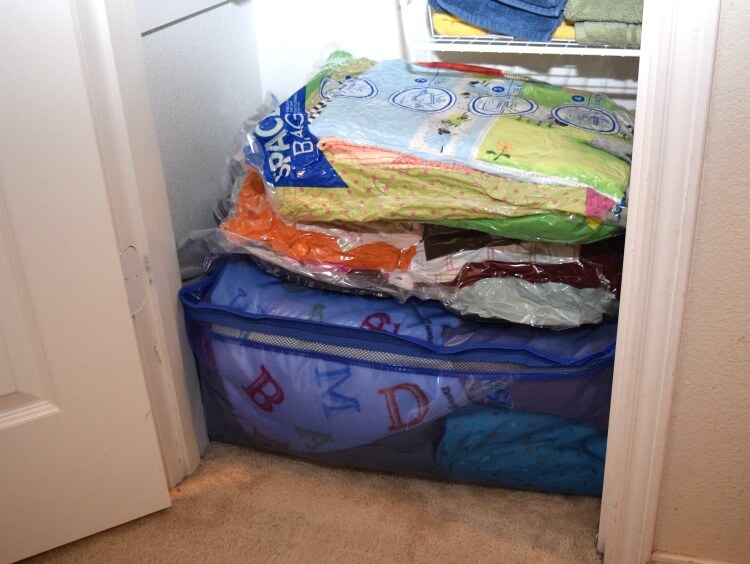 Look how much I was able to sit in the bottom of the closet, and there's still room for more! This is two large size Ziploc® Space Bags® as well as a jumbo Ziploc® Flexible Tote. These contain most of one of the upper shelves and everything that was on the floor of the closet. It's just amazing how the Ziploc® Space Bags® provide 3x the storage as compared to uncompressed storage volume. You can get 3X the storage!
Here's the big reveal of the finished closet! Can you believe how much space there is? I have room to add the rest of our towels, and there was even room to store some extra space heaters for winter. I can't believe how much room the Ziploc® Space Bags® were able to make. It's just amazing!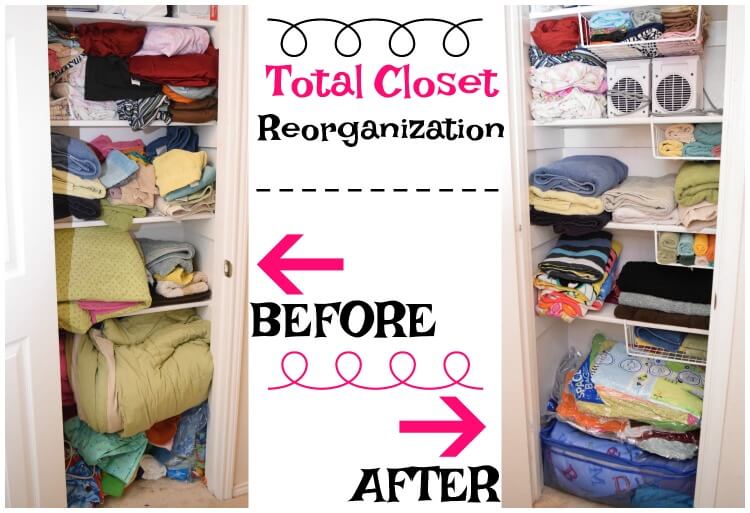 Here's the Before and After! I just love my linen closet reorganization. Fitting things in the linen closet is no longer a horrible chore I avoid now. My kids think I'm crazy because I'm so thrilled with how organized the closet is. Now I need some more Ziploc® Space Bags® to organize their closets!
Are you ready to get organized? Visit Lowe's to get your own Ziploc® Space Bags®. You are going to be amazed at how much space you'll have!