[disclaim]This is a sponsored post on behalf of the Downtown Aquarium. All opinions are 100% my own. [/disclaim]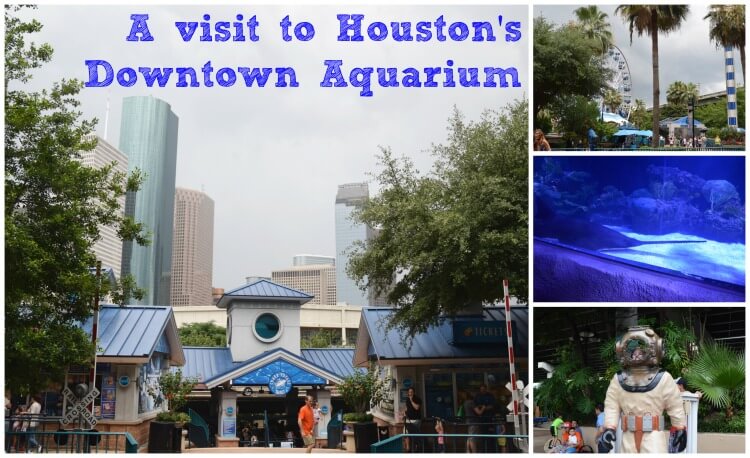 A couple weeks ago we went on a road trip all over the lower part of Texas. We spent a few days in Houston, and one of our favorite stops was the Downtown Aquarium. It's right near downtown, and it's part amusement park, part aquarium, and has a restaurant inside.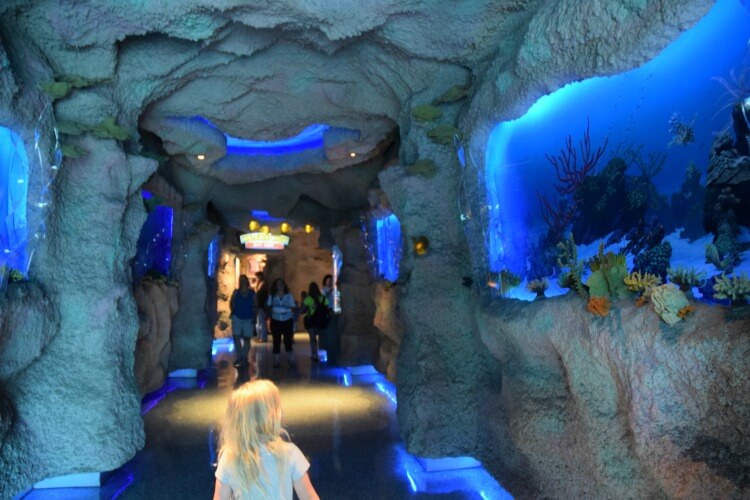 At the Downtown Aquarium, the best deal is the Adventure Pass, which is $19.99 per person ($18.99 for under 42″) which includes all the attractions and rides from stingray reef to the ferris wheel. On Tuesdays, you can get a buy 1 get 1 free Adventure Pass.
You cannot bring food or drinks into the Downtown Aquarium, but one part of the building is the Aquarium Restaurant which is surrounded by aquariums while you eat. We did go check it out and stopped to use the restroom, but we did not eat there, as we had plans to meet relatives somewhere else for dinner. It is a very beautiful and peaceful place. I definitely would have enjoyed it for a date night, just the two of us. They offer seafood, steaks, pasta, and more.
We did grab some snacks at the concession stands. The food was not movie theater expensive, and they had some affordable options for combo meals. It was typical amusement park food such as hot dogs, pretzels, slushies, etc.
Right near the concession stand, they have a large open area with tables all around a big stage. There's a stage with a DJ, and there is an area where kids can run around in a open fountain in their swimsuit or clothes. We did not know about it ahead of time, so we didn't bring a swimsuit.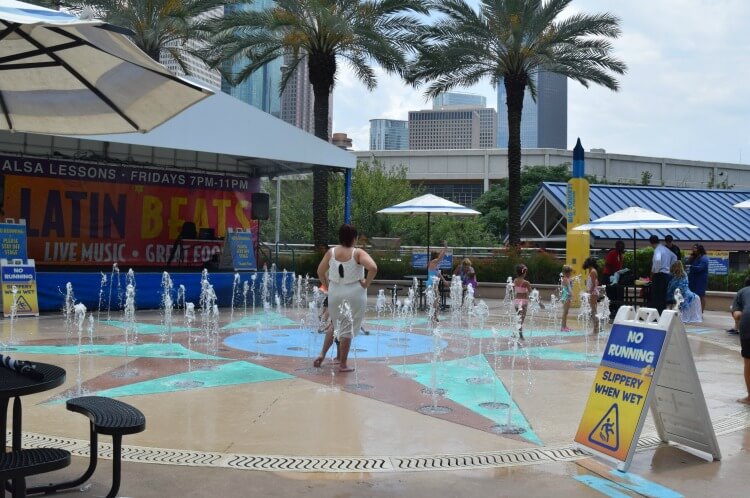 Fortunately, I had an extra set of clothes and a beach towel in the car, so my 6 year old had a blast playing in the water and dancing to the music when we were about to leave.
They offer several carnival games to win prizes. There is also a carousel and a ferris wheel. While we were visiting it began raining pretty hard, so they closed the ferris wheel. Unfortunately, we did not get a chance to ride it, but it looks like a lot of fun. It's the biggest ride there, and it looks like our whole family (family of 5) could fit together.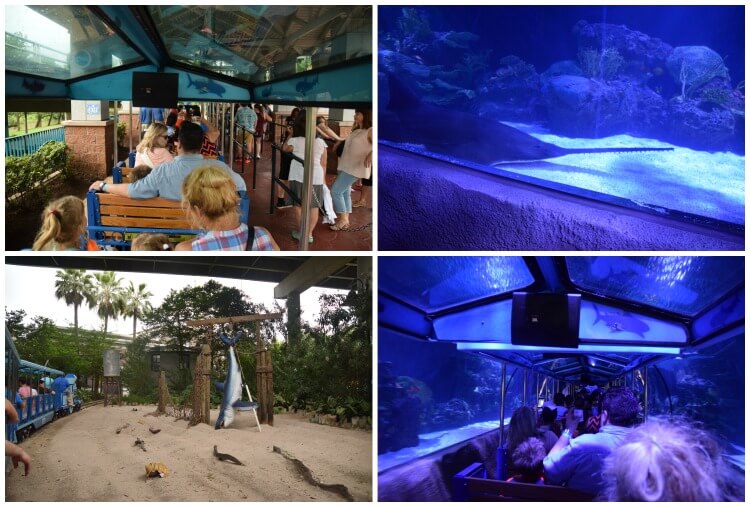 My favorite ride was the train. It takes you to a huge tunnel aquarium full of sharks! They stop for several minutes to allow you to take videos and photos and learn all about how they care for the sharks. They also take everyone's group photos you can purchase later. Then, the train makes a big loop around the whole park, and a shark jumps out at you. A lot of people screamed because you just aren't expecting it. But,it's also silly and kids aren't scared.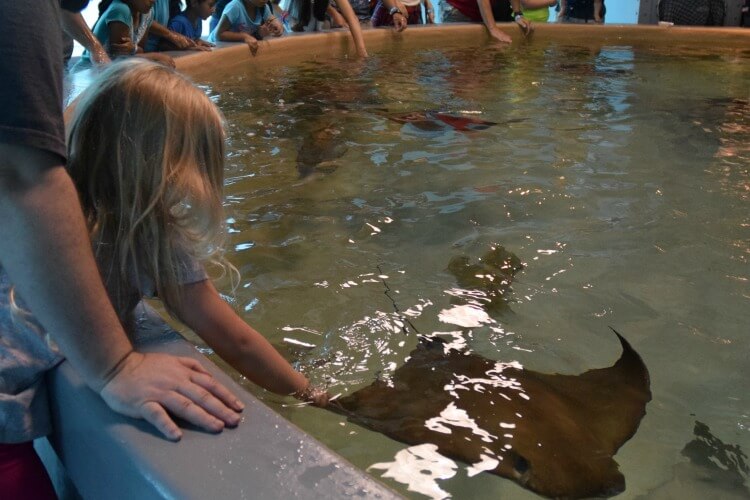 My kids LOVED Stingray Reef. It's a huge pool, and we never felt like it was crowded. You can easily find a spot to touch the stingray as they swim by. They are very gentle. You can purchase fish to feed the stingrays. I can't remember the exact price, but it's about $2 for a little bowl of 4 fish to feed them. They just slurp the fish from your fingers.
After we visited the stingrays, we made our way through the winding aquarium exhibits. There are several that aren't just fish:
Louisiana Swamp
Shipwreck
Rainforest
Sunken Temple
Gulf of Mexico
White Tigers of the Maharaja's Temple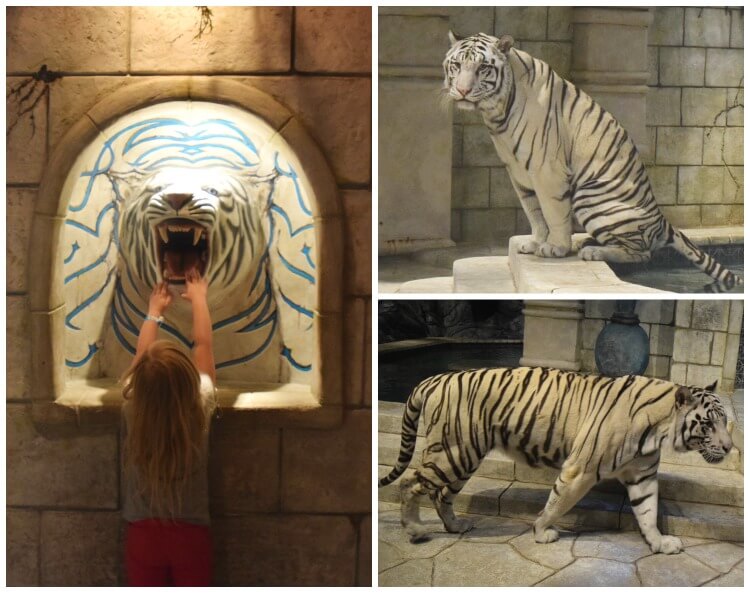 You can get up close and personal to the white tigers. They change them out, so there will be a beautiful white tiger active and alert in the temple-like room when you get there. There is floor to ceiling glass so you can get really close. It scared me just a bit as you feel the tiger is literally right there with you.
When we visited, the tiger was very active. I read there is even a program where kids can come have a sleepover right there with the white tiger.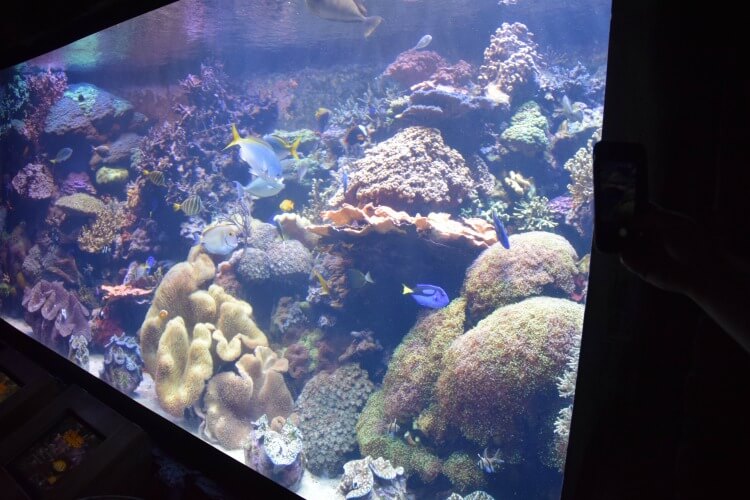 They have various things going on throughout the day you can see, such as fish feeding. We happened to walk through the Shipwreck area as they were feeding the fish. We saw many of Dory's family! We also were at the White Tiger exhibit when the staff came to do an educational talk.
If you are one who needs to stop and rest your feet, there are many, many benches and places to sit outside in the ride area as well as throughout the aquarium exhibits.
This is a really fun place for anyone to visit when you're headed to Houston. We spent most of the day here. We came on a Tuesday, which is their 2 for 1 day, but it didn't feel very crowded at all. Be sure to head to the Downtown Aquarium website and check the calendar before you go. They have lots of things going on this summer. I would have loved to check out their Friday Latin Beats with music and salsa dancing!
If you are headed to Houston, visit the Downtown Aquarium. It's the perfect fun and educational stop for the kids. If you'll be in town for a few days, check out the Houston City Pass as it includes a visit to the Downtown Aquarium as well as the Houston Children's Museum (which I'll tell you more about in a few days!) and more for a great deal!