This is not a sponsored post. As part our Texas road trip series this summer we headed to the Space Center Houston.
Recently, we went on a road trip all through one part of Texas. One of our stops was Space Center Houston. When I first looked at their website, I have to admit I was not really impressed. It didn't seem like a big deal. I WAS WRONG! There is so much to see and do there. We got there when they opened, and we closed the place down. But, we still didn't get to see it all. Here were our favorite parts!
TIP! As soon as you walk into the door, head over to the admissions desk and request passes to the tram rides and the space shuttle exhibit. It's totally FREE! People don't know about this, but when you get passes for certain times you don't have to wait in the long lines! We walked right on past the lines with our passes.
When you walk through the ticket booth, they currently have a huge Mythbusters exhibit. From tons of props and paraphernalia from the show to so many fun experiments to try yourself! You can walk and run through the rain to see which gets you wetter. You can flip toast in all sorts of ways to see if it lands butter side up or down. You can even time yourself changing in a phone booth like a super hero. We had so much fun here! Don't miss it, it ends September 5th!
TIP! Make sure you pay attention to the show times. They are all really great shows. We went to them all. A couple of them are NASA employees giving you updates about current space projects. They were fascinating.
My husband read up on the space center before we went, so he knew to get passes ahead of time for the tram rides. There are two – the blue line and the red line. We only had time for the blue line. It takes you to visit the giant Saturn rocket that's now enclosed in an air conditioned warehouse, and a few more outside of it. My husband remembers when he was a kid, and it was just out in the field.
You also get to go to the original Mission Control. You get to climb 8 flights of stairs (or take the elevator for disabled people) and go up into the special observation area for a presentation all about Mission Control. Presidents of the United States even sat there when it was fully operational! At the end, they even let you ask questions.
Along the way, they show you memorial places for astronauts who lost their lives. This was the one for the Challenger astronauts. It's a ring of trees.
This was probably my favorite exhibit. You can see the various capsules and a simulation of the moon landing. Then, you can enter the vault where the real moon rocks and moon dust are kept. There's even one you can touch yourself!
In this same exhibit, you can walk through a replica of Skylab – NASA's first space station. It was fascinating because you got an up close view of how everything just fit together.
There's a whole section for kids that was a lot of fun. You can try to line up the space shuttle to the space station — which was so hard! My son did it, but I could never get it lined up. You can attempt to land the shuttle. You can also decorate giant aliens and a few other things.
Don't miss the gift shop on your way out! My 6 year old found a Hello Kitty in a spacesuit that she is still carrying with her everywhere. They have a HUGE food court with lots of variety. There weren't very many lines for a Monday when we visited. They have everything from pizza to hamburgers to burritos, and they have kid meal options, too. There was even a live Mythbusters show in the middle of the food court.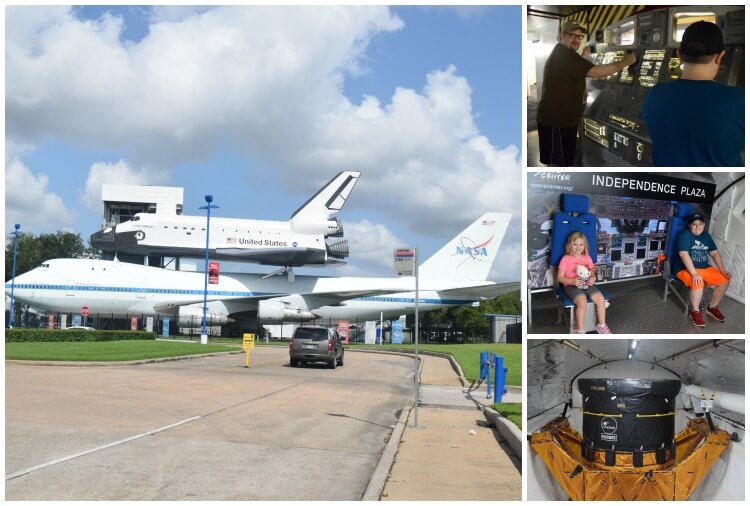 The space shuttle exhibit was on our must see list. We got passes as soon as we got to the space center so we didn't have to wait in line. When it was our turn, we first rode the elevator all the way up to the space shuttle. You can sit in a seat like the astronauts and check out the control panels. You can also check out the plane that it rides on. My son had just gotten a cast off his foot, so after the space shuttle his foot was aching. He and I took a little break while Nate and my daughter went through the plane.
If you have the money and the time, they have a select few tours for just 10-12 people a day where you get to go really in depth and see all the sites, including were astronauts train today. I think it's about $90, but I've heard so many people say it's worth it. I plan to take my space-obsessed husband on that tour when the kids are older, and we can get away alone.
Space Center Houston is a great place for families, kids, and even a date to spend the day. There is so much to do and so many hands on things. You will have a blast! Of all the places we visited during our road trip, this was definitely the highlight for all of us.

TIP! If you are headed to Houston, check out the Houston City Pass. It has a awesome deal to five places, two of them are the Downtown Aquarium and Space Center Houston.
TIP! We stayed in the Microtel Inn that is literally across the street from the Johnson Space Center. It has a Luby's Cafeteria and a CVS in the same parking lot, and it includes a free breakfast as well as a swimming pool. There are several restaurants within the same walking distance. We saved on parking and just walked to the Space Center. We can't wait to go back, and we will definitely be staying here again. If you're a Wyndham Rewards member, you can get a great deal by using some points. It only cost us $30 plus 3000 points a night!