We have four children, so they don't always get a lot of time just one on one with just me or my husband, especially when we have a baby or toddler. This is why I like to create "date nights" for my kids, so they can just go by themselves with one of us to spend some time.
One of the best ways to surprise my kids is to lead them on a scavenger hunt to discover what we are going to do, like for a kid date night. Check out how easy it is to do your own scavenger hunt with your kids to reveal a date night with them!
When should you have a scavenger hunt for your kid?
We are a family who loves puzzles and mind twisters, so I have turned date night with your kid into a fun scavenger hunt. Valentine's Day, or their birthday, or any holiday is a fun time to do this — or maybe when they've done something amazing you want to celebrate — or just because you want to. You definitely don't need a reason to go on a date night with your awesome kid!
Send your child on a hunt around the house where they pick up clues (and maybe some special Valentine or holiday candy or trinkets on the way) to discover they are going on a date night with YOU! It's such a perfect way to surprise them!
How do you create a scavenger hunt for a date night with your kid?
I've made it easy with this free printable. It's pretty generic with places around your house.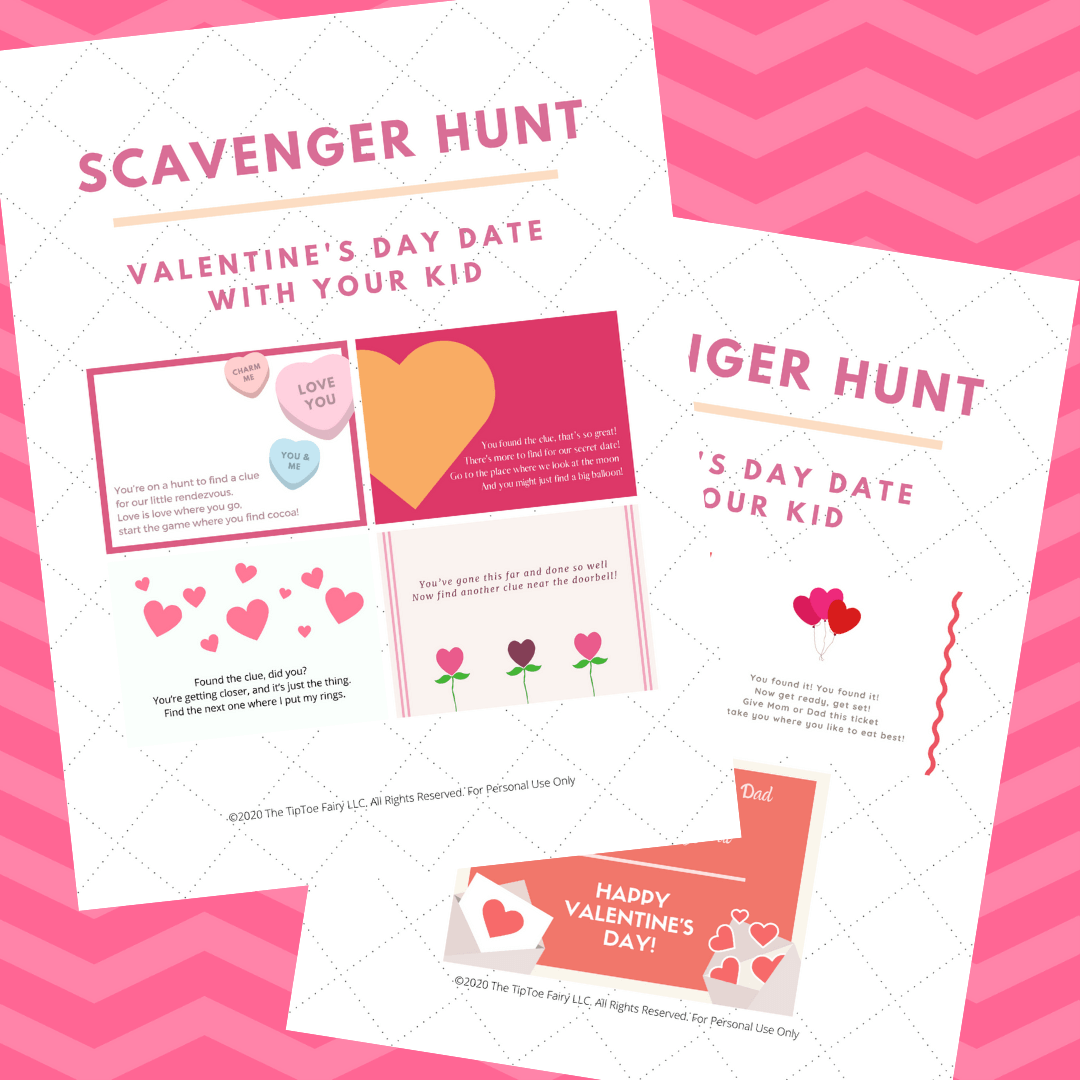 I start by giving them a sealed envelope that looks rather mysterious. When they open it, it has their first clue to get them started. Then, just hide the rest of the clues as indicated. The last clue they find will also have a ticket to fill out with their favorite restaurant, which you do before hiding the clues. When they find it, they it to give you.
Feel free to use these scavenger hunt clues as a springboard to create your own, more personalized hunt for your kids.
Get the Scavenger Hunt Clues
Looking for more Scavenger Hunts?
We have quite a few scavenger hunts for all kinds of things from romantic dates to Easter baskets, and even a pirate-themed Father's Day one, too!