My oldest daughter attended the Forensic Science Camp at Sam Houston State University in Huntsville, TX. It was a week-long camp, so while she was there, we had ourselves a road trip all around the area. One of our last stops before we picked her up was the Texas Prison Museum, which is also in Huntsville. Huntsville is where the state prison is, and it's full of law enforcement. SHSU has a huge program for criminal justice. If you want to work in law enforcement in Texas, it is the place to go.
The first time we visited the college, we saw the prison museum and were intrigued, so we made sure we had time on the way back to stop and check it out. It's $5 for adults, $3 for kids, and under 6 is free. Plus, they have discounts for military, seniors, and SHSU students.
All around the museum there were pieces of woodworking for sale including rocking horses that had been made by the prisoners. They were all very beautiful. This rocking horse was the one that kids could actually play on, and it was also made by some prisoners.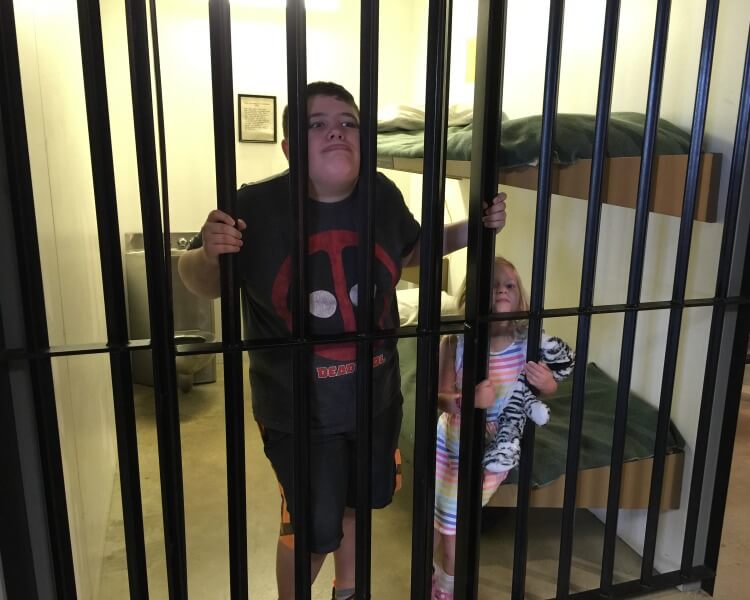 There was a mock jail cell to see what it's like living in prison. In Texas, they also have no air conditioning in the prisons, which I could not believe. I can't imagine being a prison guard. It gets up to over 100 degrees in the summer time.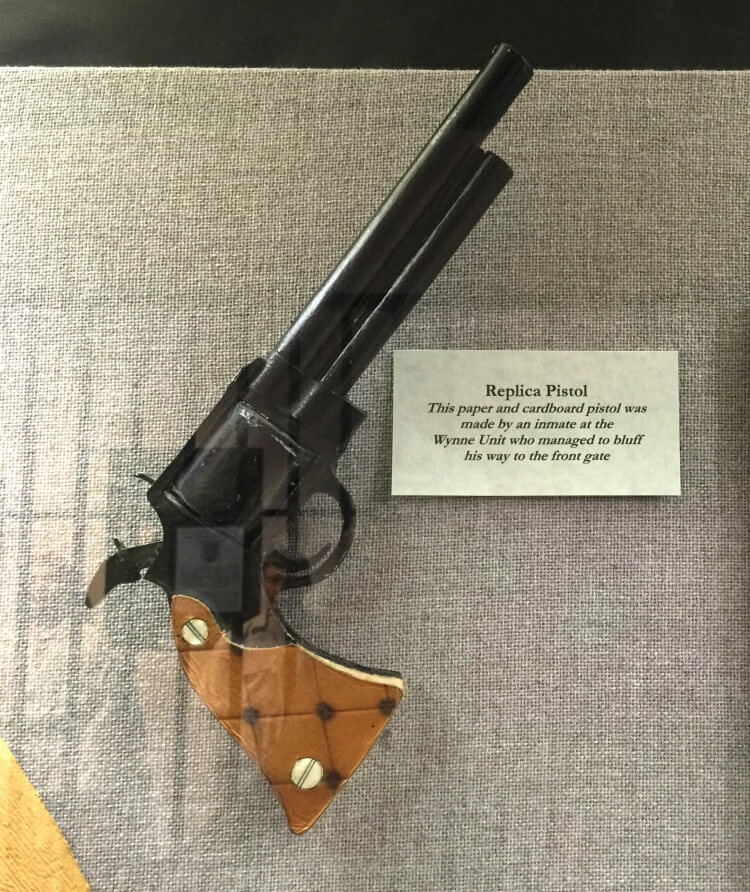 There were many stories of prisoners attempting to escape or did escape and how they were caught.
One of the exhibits I found interesting was the weapons created by prisons and how they hid them.
My other favorite exhibit was the creative artwork made by prisoners. This chess set was carved from tiny bars of soap. The roses are made from toilet paper. The ship is made from toilet paper, matchsticks, and a hot sauce bottle, and the chest was made from matchsticks. Can you believe it?
If you are interested in the story of Bonnie and Clyde, they have lots of exhibits you can read about. They even have a bit of mystery on their hands where they found guns labeled Bonnie and Clyde in storage at the prison, but they don't know a whole lot about them or how they were used.
In 1924 the State of Texas took control of all executions and made electrocution as the method. One of the most chilling exhibits at the Texas Prison Museum is "Old Sparky," the decommissioned electric chair in which 361 prisoners were executed for 40 years between 1924 and 1964. It was actually made by prison workers and was in storage at the Walls Unit Death House, where Death Row is located, before it was donated to the museum.
My husband seemed offended by the flippant attitude of "Old Sparky" with t-shirts and glasses all made with images of it in the gift shop. It took him a little while once we left to shake it from his system. I can see his point of view, but I thought it was a very interesting place to learn about the history of the Texas prison system.
Next time you're on a road trip down I-45 in Texas, you might want to stop by the Texas Prison Museum.