Hallmark gave me some holiday stress relief; however, opinions are my own.
I just finished all of our holiday shopping, and my feet are killing me. I could not wait to get home, have my husband rub my feet, and take a hot shower and settle on the couch for a couple hours of television bingeing. When I'm not pregnant, I love taking a steaming hot bubble bath or wrapping up in a super soft blanket and having a delicious cup of coffee.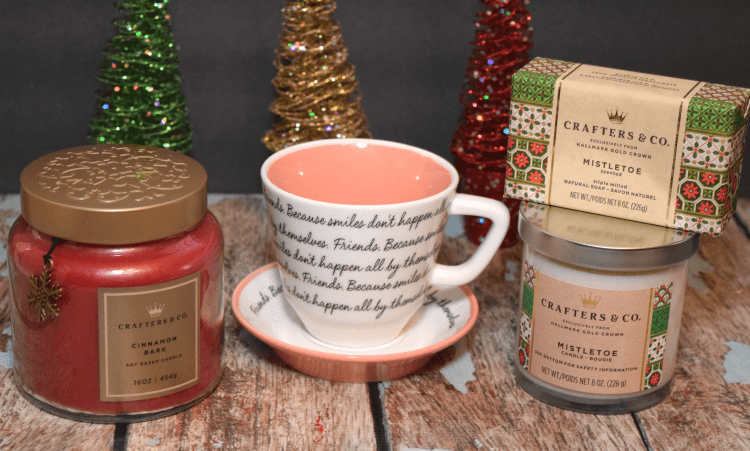 When it comes to holiday shopping, my husband's job is to get something for me, and then, I take care of the rest for all the kids, family, and everyone else. I am so ready for a break.
Thankfully, Hallmark sent me some wonderful things to help me relax. If you're looking for a wonderful gift for teachers, friends, sisters, or anyone, you've got to check out these products from Hallmark Crafter's & Co.
Hallmark Crafters & Co. Cinnamon Bark Candle: This classic holiday candle evokes the nostalgic treat of vanilla sugar blended with buttery caramel, cinnamon and creamy vanilla. Oh my, this is my favorite candle! The smells are perfect for the holiday and winter season. I'm using this one every day!
Hallmark Crafters & Co. Mistletoe Glass Pillar Candle: Let the cozy smells of the season permeate your home with this high-quality candle. The natural vegetable wax blend burns cleanly for up to 50 hours! This smells just like Christmas to me!
Hallmark Crafters & Co. Mistletoe Luxury Bar Soap: Its cozy blend of red currants, cranberries, cedarwood, Frasier fir and embers is the perfect holiday de-stressing agent. I just love these luxury soaps from Hallmark. They are just heaven in the shower.
Hallmark Crafters & Co. Teacup and Saucer Set: This dainty teacup will serve as a daily reminder to lean on your friends in stressful times with an adorable etching all over that reads "Friends. Because smiles don't happen all by themselves. This is my new favorite coffee cup. It's perfect for that special girlfriend, and I just love the design.
Hallmark has allowed me to giveaway a set of these amazing products! You get these same items! Just enter below! Good luck!
How do you like to relax?