These freaking potatoes are the bomb! My kids love them. My husband loves them. Everybody loves these Garlic Roasted Potatoes, and they are so easy to make.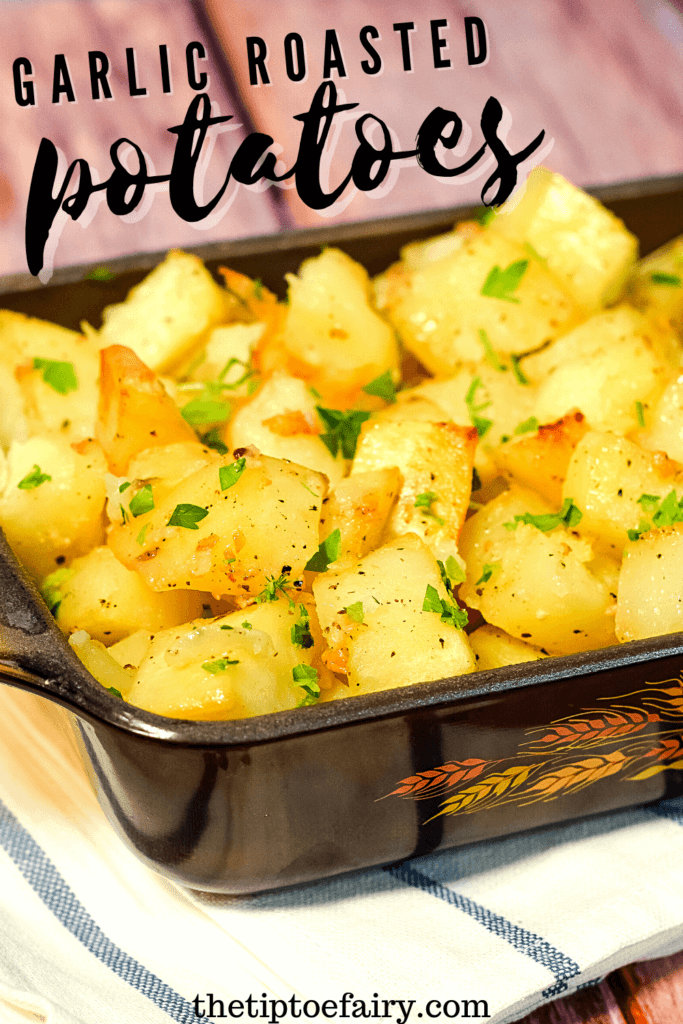 This is one of those recipes where you can toss is in the oven and forget about it while you're cooking the rest of the dinner.
I don't know about you, but I'm kind of a garlic freak. If I can put garlic in it, I do. Our whole family LOVES garlic anything, so when I started making these garlic potatoes as a side dish, they all went crazy. If there are ever leftovers, which is a big if, because these potatoes are devoured quickly, the leftovers are gone before the next day.
What do you need to make these amazing Garlic Roasted Potatoes?
You need about 6-7 regular-sized white potatoes OR about 3-4 large baking potatoes. You will also need salt, pepper, minced garlic and olive oil. (I tend to eyeball these amounts when tossing them into the potatoes).
We have fresh parsley in our garden, so at the very end I chop it and add it to the finished dish. I've also completely left this out before as we didn't have any, and it still tastes amazing. Or, I've also added dried or freeze dried parsley. Any of this works for me. This is an easy dish.
You'll also need a big cookie sheet.
How do you make these amazing Garlic Roasted Potatoes?
Preheat the oven and give the cookie sheet a good olive oil coating.
Wash and peel the potatoes. Then, cut them into roughly 1-inch sized cubes. They don't have to be perfectly cut into cubes or 1-inch pieces — just about that size.
Put the potatoes in a large bowl, then toss in a couple tablespoons of minced garlic. I like to buy a giant Costco-size bottle of minced garlic in water to keep on hand because we love it so much. I do not spend time mincing fresh garlic. That takes way too long.
Next, toss in the salt and pepper, and the olive oil. Like I said earlier, I eyeball these amounts. For the olive oil, I tend to add it until everything looks well coated.
Then, give it all a good stir or toss to make sure it's all coated in everything.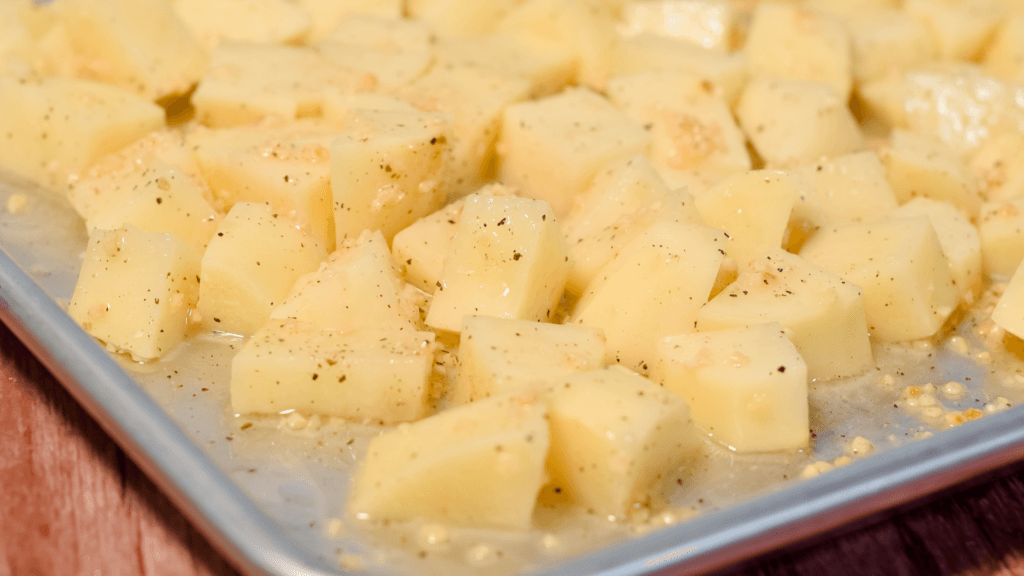 Transfer the potatoes to the cookie sheet and bake for about 45 minutes to an hour. Give them a stir every 20 minutes or so.
When the potatoes look a little crispy and are starting to turn brown, you'll know they are ready.
Transfer the potatoes into a serving dish.
If desired, chop a couple teaspoons of fresh parsley very fine and toss it into the dish and give it a stir. Or…use dried parsley and do the same.
Serve immediately.
How do you store Garlic Roasted Potatoes as leftovers?
Store leftovers in a sealed container in the fridge for up to 3 days.
How do you heat up leftover Garlic Roasted Potatoes?
They're okay heated up in the microwave, but if you have time to heat them for 4-5 minutes in the air fryer, they are amazing.
Can you make Garlic Roasted Potatoes ahead of time?
In my opinion, potatoes are never good when made ahead. They just don't taste the same as freshly made roasted potatoes. I would recommend not making these ahead.
What main meal do you pair these Garlic Roasted Potatoes with?
That's what's so versatile about these potatoes. They literally go with anything. Here's a few ideas:
More Potato Recipes
Yield:

6-7 servings
Garlic Roasted Potatoes
Ingredients
6-7 small white potatoes (or 3-4 large baking potatoes)
2 tablespoons minced garlic
1/4 cup olive oil
1 1/2 teaspoon salt
1 teaspoon pepper
2 teaspoons finely chopped parsley
Instructions
Preheat oven to 425 F degrees.
Spray cookie sheet with olive oil spray.
Wash and peel potatoes.
Cut potatoes into approximately 1-inch cubes.
Toss potatoes in a bowl with minced garlic, salt, pepper, and olive oil.
Transfer to cookie sheet and bake for 45 minutes. Stir every 20 minutes.
Remove from oven when potatoes look crispy and start to brown.
Chop parsley and toss in the potatoes.
Serve immediately.
Nutrition Information:
Yield:

8
Serving Size:

1
Amount Per Serving:
Calories:

176
Total Fat:

7g
Saturated Fat:

1g
Trans Fat:

0g
Unsaturated Fat:

6g
Cholesterol:

0mg
Sodium:

409mg
Carbohydrates:

26g
Fiber:

3g
Sugar:

1g
Protein:

3g
Any nutritional information on thetiptoefairy.com should only be used as a general guideline. This information is provided as a courtesy and there is no guarantee that the information will be completely accurate.