We've got another crazy fudge flavor today! It's Cotton Candy Fudge. This post contains affiliate links.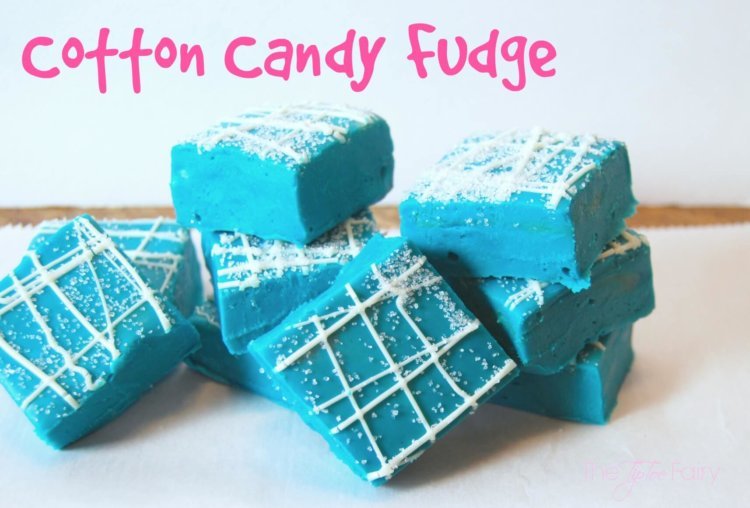 This recipe was inspired by the Bubblegum Fudge I shared not too long ago. It's super easy to make, and it melts in your mouth and tastes just like Cotton Candy. This was a recipe I've had to adapt as I used to make it from those fun Duncan Hines flavor creations.
I wish they would bring those little flavor packets back. They were so easy to mix into so many things from frosting to cake and fudge. Now that they're gone, I use LorAnn flavor oils and turquoise food coloring gel to get that cotton candy flavor and bright coloring.
Cotton Candy Fudge
This is a perfect treat I like to serve at a birthday party or even a baby shower, or even packaged up totally cute as a take home gift. It's also pretty popular at bake sales. When my middle daughter had bake sales in preschool, this was the big hit. Kids always choose it for the bright fun color.
I chose to finish it off with white candy melts and white sanding sugar, but you can totally make this your own with coordinating bright colors like pink or purple, or even rainbow and call it Unicorn Fudge!
More Crazy Treat Recipes
Looking for more crazy flavored treats? Check these out:
This cotton candy fudge is easy to make and such a fun flavor!
Ingredients
Fudge
1 pkg white chocolate morsels
14 oz can sweetened condensed milk
7 oz jar marshmallow creme
1 cup of sugar
3/4 cup butter
Toppings:
Instructions
Prepare an 8 x 8 dish with parchment paper.
Combine white chocolate morsels and marshmallow creme in a large separate bowl.
In a sauce pan combine sweetened condensed milk, sugar, and butter. Stir continuously on medium heat until boiling. When it reaches a boil, continue stirring for another 5 minutes.
Remove from fire and mix in the cotton candy flavor oil and food coloring and mix.
Pour the contents into the bowl with the marshmallow fluff and white chocolate morsels.
With your mixer on medium, combine all ingredients until the chocolate has completely melted.
Beat on medium for an additional minute until all is well mixed and smooth.
Quickly pour into the 8 x 8 dish before it cools. It will cool quickly! Spread it evenly with a spatula. Allow to cool for about 2 hours until set.
Once the fudge has cooled, melt about 1 cup of the candy melts in a squirt bottle. I did this in the microwave running it on defrost 1 minute at a time and then shaking it up until it was evenly liquid.
Squirt lines back and forth of candy melts.
Quickly spread the sanding sugar all over the candy melts while it's still warm.
Let cool and then cut into 1-inch squares.