Thanks to HoneyBaked Ham for sponsoring this post. #HoneyBakedEaster
Easter is coming early this year, on Sunday, April 5th. Whether this is your first time hosting an Easter dinner or you've done it a million times, it can feel like a lot of work with shopping for food, cleaning for guests, preparing the meal, and more. But, with these simple tips, you can have a stress free holiday.
Keep guest list manageable. Don't feel like you have to invite everyone. Look at the available seating around the table and in your home and keep your guests to a minimum. I usually stick to our immediate family so that we can all fit around 2 tables. I feel terrible when I invite someone over and there's not enough room at the table, so that someone has to take their plate to the living room on a tv tray.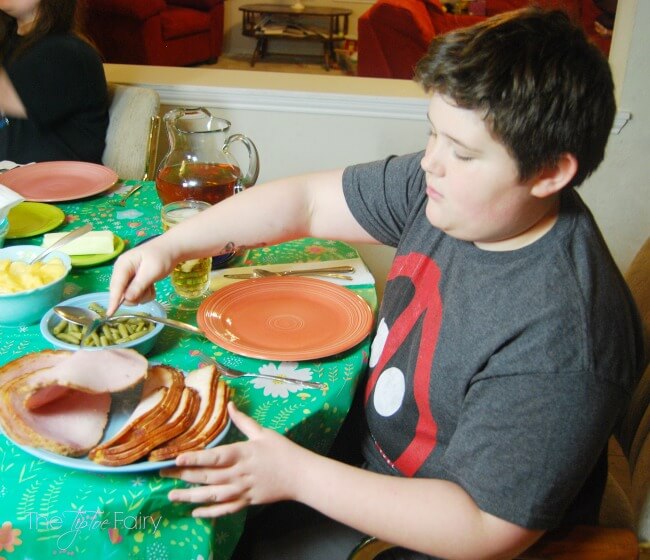 Ask guests to bring a dish. Anytime I have a holiday or family get together, my mom and my mother-in-law are always eager to bring a dish or two. Don't hesitate to ask guests to bring a side dish, salad, or dessert. Then, you only need to concentrate on the main dishes.
Enlist help. When we have Easter dinner, I put everyone in my family to work. Someone sets the table, my mom or Nate will put the salad together, another kid sets out the meal, and so on. Even my youngest, who's 4, does a great job helping put the plates around the table.
Take shortcuts Easter dinner doesn't have to be completely made from scratch. This year, I'm making Easter dinner easier and yummier with HoneyBaked Ham. They offer a variety of premium products that are convenient and simple-to-serve. With turkey, ham, a variety of sides, and even dessert, you can have a great tasting Easter dinner in less time with HoneyBaked Ham.
Serving ham for Easter is a special tradition. Make sure you serve the best tasting, quality ham your family will enjoy – HoneyBaked Ham. Click HERE to get $5 off any purchase of $50 or more!
Offer valid 3.14.15 – 4.4.15. Must present coupon at time of purchase to receive offer. May not be combined with any other offer. One coupon per person at participating retail store locations. While supplies last.
Have an Easter activity for the kids. While preparing dinner, offer an Easter craft, coloring pages, or even a fun Easter Egg Hunt to keep the kids occupied. Usually when dinner is finished, Nate will have the kids go outside for an egg hunt. It gives me time to clean up and get dessert ready, and I still have time to run outside and see the kids hunting for eggs.
What are your favorite tips for having a stress free Easter dinner?