Some of my favorite things about Fall are centered around apples like unfiltered apple juice and freshly made apple cider. Have you ever had an Apple Cider Shake or a Whipped Apple Cocktail? And, we can't forget all the yummy apple desserts like these Gooey Caramel Apple Cupcakes.
Everyone always thinks of pumpkin spiced lattes for the fall, but my go-to is always apple cider. I have been waiting for the weather to finally cool down so I could make a batch of mulled cider in the slow cooker. It has the added benefit of making the house smell amazing, too. This is a sponsored post.
What is the difference between mulled cider and regular cider?
Mulled cider is somewhat like Wassail, which is a fall/winter drink such as spiced ale or mulled wine from old times. It was usually drunk on Christmas Eve and. Cider is usually made with unfiltered apple juice, and the "mulled" part is the addition of ingredients such as orange peel, cloves, nutmeg, cinnamon, and other spices.
How do you make mulled apple cider?
Technically, you're supposed to use apple cider, which is basically unfiltered apple juice. It's the cloudy bottle next to the regular apple juice in the store. I personally love unfiltered apple juice. You can find Gravenstein and Honeycrisp versions in the stores that are delicious. You can also find it with the refrigerated juices — one is called Simply Apple. But, you can totally use regular ol' apple juice to make mulled apple cider. Nobody really cares.
This Slow Cooker Apple Cider is so easy to put together. Just combine the ingredients and set the slow cooker on low and forget it for about 2 hours. Then, it's ready. A mug of this stuff will warm you up perfectly after a cold day.
One of my favorite things is to top it with whipped cream and a shake or two of cinnamon. I swear it tastes like you're drinking an apple pie.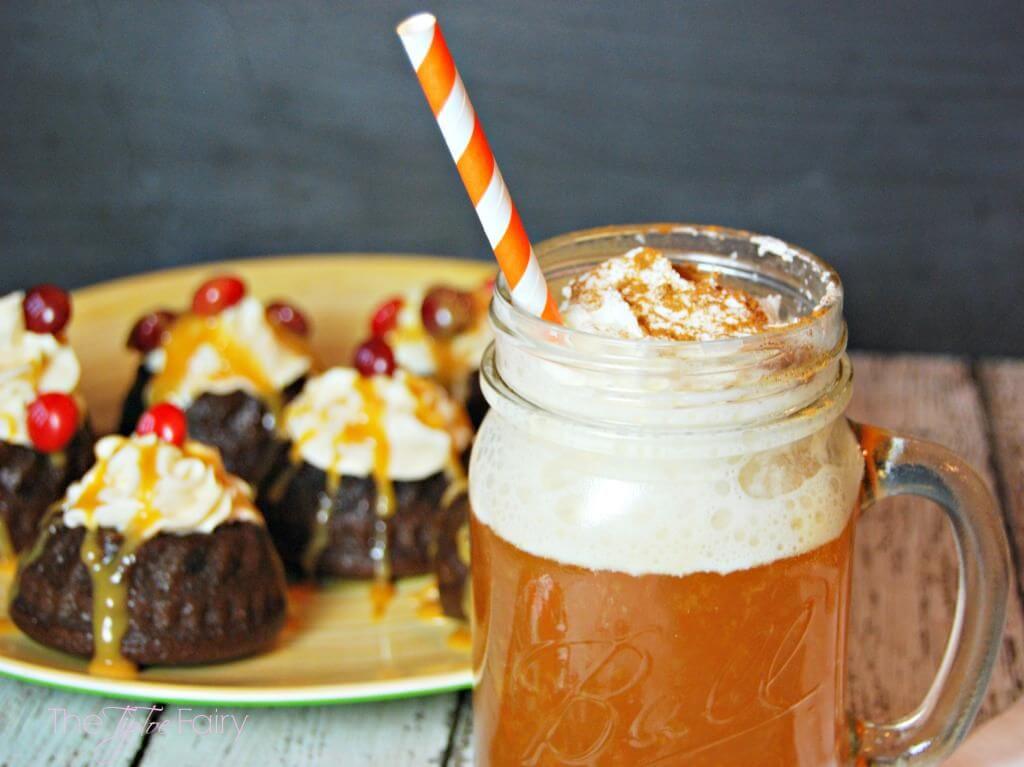 Can you make mulled apple cider on the stove?
Yes. When I don't have time to wait for it to come together in the slow cooker, I make this exact same recipe in a large pot right on the stove. I add all the ingredients together and then let it just start to boil before turning it down to a simmer on the lowest heat setting. Just make sure to check it every once in awhile and give it a little stir.
When I make mulled apple cider for a party, either in the slow cooker on the stove, it goes fast, so I check it often in case I need to make another batch. I usually end up making 2-3 batches during a party.
Can you make mulled apple cider with alcohol?
Definitely! Personally, I prefer virgin apple cider, but lots of people love it with a touch of something. You can add rum, bourbon, cognac, Calvados (apple-flavored liquor), cinnamon Schnapps, and even whiskey. Just don't add it to the slow cooker or pan. Add it to your apple cider drink directly. Otherwise, the alcohol just burns off.
More Apple Recipes
These are a few Fall recipes I think you might enjoy:
This drink will put you in the mood for some Fall activities. If you need ideas, get my free printable for A Month of Fall Fun with 30 days of activities for everyone!
Yield:

8 cups
Slow Cooker Mulled Apple Cider
Total Time:
2 hours
5 minutes
This mulled apple cider can easily be made ahead of time in the slow cooker. It's a wonderfully warm drink perfect for cold nights.
Ingredients
64 oz apple juice
2 navel oranges
1 lemon
1 teaspoon cinnamon
3 cinnamon sticks
Instructions
Pour in the apple juice.
Add the juice of 1 lemon and 1 orange.
Add the cinnamon.
Then, mix it up.
Add the cinnamon sticks.
Slice up the second orange into rings and throw in the slow cooker.
Turn the slow cooker on low and it's ready in about two hours and can be served all day.
Embellish your mug with whipped cream and a dash of cinnamon for an amazing flavor!