Have you been to Jurassic Quest? It's a family fun event full of dinosaurs! We had so much fun, and I can't wait to tell you all about it! This post was written in exchange for free tickets to this event. All opinions are my own.
Where to get tickets?
Find ticketing info at jurassicquest.com
For adults, there a basic admission, but for kids, there is the basic admission or the unlimited admission. Unlimited admission will allow your kids to do all the fun stuff there is to do without paying extra.
What can you do at Jurassic Quest?
So many things! When you first enter, you'll enter where you can learn all about dinosaurs. You'll see all your favorites, plus ones you haven't even heard of. There are a few who even have feathers on them.
These dinosaurs are life size and amazing to see!
There's some great places for pictures, like inside a giant dino egg!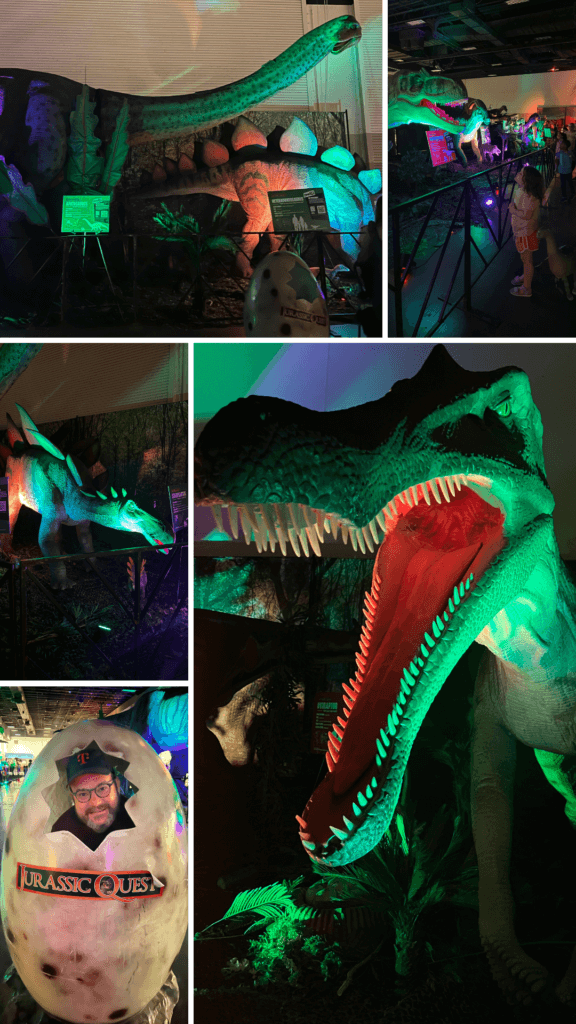 Plus, there's an exhibit set up of real live dinosaur fossils. You can read about them and see fossilized nests and real dinosaur bones and all kinds of things.
If you get the unlimited admission for the kids you'll find several places where they can do activities like uncover fossils in the sand, dig for real fossils in their own little excavation kit that they can keep and make dino crafts.
Our absolute favorite thing was the one-of-a-kind interactive dinosaur training experience. My kids LOVED it. The dinosaur runs around the whole crowd acting a little mischievous and letting kids pet it as well as some awesome photo ops!
We didn't get the chance, but I did see other people getting to do the meet and greet with some adorably baby Dinosaurs like Tyson the T.rex, Cammie the Camarasaurus, and Trixie the Triceratops!
Plus, there's so much more fun things to do like the Walking Dinosaur rides & Stationary Dinosaur rides!
There's also even more fun with some Jurassic Jeeps for kids to drive and fun Dino Bounce Houses and other inflatables including some just for the little ones.
Don't forget to do "The Quest.!" It's an interactive challenge that leads adventurers through 10 clues with the chance to earn a reward at the very end.
When can you visit Jurassic Quest?
Here is a list of the upcoming dates. See when it's coming to your area at Jurassic Quest!
May 26-29 Fresno, CA Fresno Convention & Entertainment
May 26-29 Chattanooga, TN Chattagnooga Convention Center
May 26-28 San Jose, CA San Jose Fairgrounds
June 2-4 Pleasanton, CA Alameda County Fairgrounds
June 2-4 Miami, FL miami-dade county fair and exposition
June 9-11 St Charles, MO The Family Arena
June 9-11 Dallas, TX Dallas Fair Park
June 16 -18 Fort Myers FL Lee Civic Center
June 23-25 Wichiata, KS Century ii Expo Hall
June 23-25 El Paso, TX El Paso Convention Center
June 30-July 2 Lake Charles, LA Lake Charles Civic Center
June 30-July 2 Baton Rouge, LA Lamar-Dixon Expo Center
July 7-9 Huntsville, AL Von Braun Center
July 7-9 Columbia, SC Columbia Metropolitan Convention
July 14-16 Austin, TX Palmer Events Center
July 14-16 Allentown, PA Allentown Fairgrounds
July 21-23 Jacksonville, FL Prime F. Osborn III Convention Center
July 21-23 Edison, NJ New Jersey Convention
Aug. 4-6 Tampa, FL Florida State Fairgrounds
Aug. 18-20 Daytona Beach, FL Ocean Center
Sept. 22-24 Myrtle Beach, SC Myrtle Beach Convention Center
More Dinosaur Fun
Love Dinosaurs? Check these fun ideas out!
Come Join Us!
Liked this article and want more? Follow along on Instagram, Facebook, Twitter, Pinterest, TikTok, and YouTube!
Come over and join us on Facebook in the group Recipes, Crafts, and more with TipToe Fairy or Sewing and Crafting with The TipToe Fairy!
Visit Our Other Blogs!