Thank you Fender for sponsoring this post. Learn guitar at home with Fender Play.
My son has always been very musical. He was in choir in elementary school and signed up for band as soon as he hit middle school. For the past few years, he has loved learning how to play his trumpet with a variety of music.
He has wanted to expand his knowledge with learning new instruments, especially guitar, but finding the time for lessons can be hard. My husband, his stepfather, has played guitar since he was a young teen, and he has tried to teach my son to play on an acoustic guitar, but it never really sunk in.
Then, we had this amazing opportunity to work with Fender. My son was able to choose an electric guitar and use their program, Fender Play, to teach himself to play guitar in a fun and song-based way. The curriculum is customized based on your musical preference, so your teen can choose a genre like "rock" or "pop" to learn well known riffs and songs.
It's a guided online learning program where new guitar players can start playing in just minutes. My son was learning cords and able to play riffs in just one day of working with the program.
Fender Play has a curriculum designed so that in a few short lessons, a player can learn something new, like a recognizable riff or a full song. This really motivated my son. He was excited because when he played for us, we could identify the riffs almost immediately that he learned from well known songs.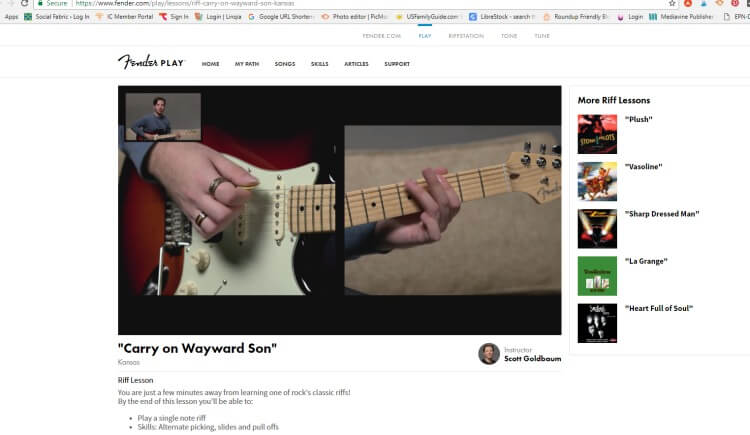 Watching him learn, I have really liked how the program is set up. They help you learn to break down songs you love so you can learn the basics of guitar. The videos show split screen and over-the-shoulder angels to give a new player the best perspectives for learning to play. It also saves your progress, so you can pick right back up where you left off.
Both my husband and I grew up playing musical instruments, so we know the important skills learning an instrument like guitar can give a teen. Kids who play musical instruments tend to do well socially and develop math skills and coordination as well as concentration. Plus, kids who play musical instruments are more confident.
Fender Play is a great way to learn guitar because it's created by curriculum experts and the leading guitar brand. Is your teen ready to learn to play? Have you teen try it out with a FREE 30-Day Trial at play.fender.com right now!
I was selected for this opportunity as a member of CLEVER and the content and opinions expressed here are all my own.