This post contains affiliate links to earn a small commission to go towards the upkeep of the blog.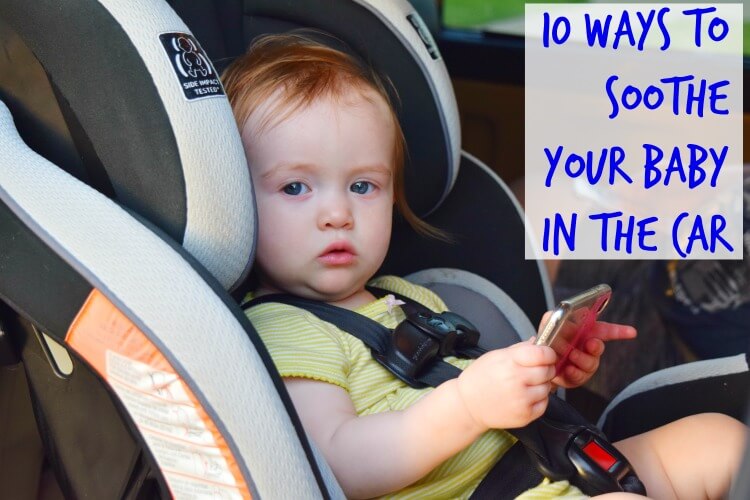 Baby hates the car seat? Does your baby cry in the car? All four of my babies cried in the car until they were finally big enough to turn forward facing and could see me. It just breaks my heart when I'm driving, and they are all alone in the backseat, facing backwards, and think Mommy has just abandoned them.
My 15 month old is still rear facing, so it's still a battle we face every day. Way back when with my first two babies, it was long before smartphones. Thankfully with babies #3 and #4, a smartphone was and is one of the easiest ways to help soothe my baby.
One thing I found that did help some was to switch from an infant seat to a convertible seat. I feel they recline better and are more cushy, but sometimes this doesn't solve the entire problem. Our current car seat is the Graco Extend2Fit, and my toddler really liked it when we made the switch. These are some of our favorite convertible seats we have had:
Guided Access – Childproofing Your Phone
Until a few months ago, I used to just hope and pray she didn't hit any extra buttons or deleted any apps when I gave it to her. I had no idea there was such a thing as Guided Access. It's basically child proofing for your phone. They can still do things within the app, they just can't leave the app. So, they can go down a wormhole in YouTube. My baby found some rap videos she just loved one time.

To find Guided Access on an iPhone — Go to Settings and then General, and then Accessibility, and you'll find it and can follow the instructions. I have never had an Android phone, but I found this link to help you set it.
Once that's set, then YouTube or a fun baby game is your best friend. We always start with YouTube because music seems to soothe the best. If that doesn't work, we go with a game app.
YouTube:
Baby Dots – This was my baby's favorite when she was a tiny baby.
Baby Shark – Believe it or not, this is so entertaining for babies. But, you will find yourself singing this absentmindedly.
Baby Shark Holiday Compilation
Simple Songs – These are my personal favorite songs that I love singing with my baby.
Jazon Mraz – What Mama Say – This song was a miracle worker for my third baby. She would always calm down to this song. So, we had it on repeat on the car.
Baby Apps:
Smash Masher – now that she's better at using her fingers, my 15 month old loves smashing bugs.
Smart Connect – this is an app for the Fisher Price Smart Connect products, but it has some great "Music on the Go' for babies to listen and watch.
Toys:
When I need my phone for navigation or something, these toys are some of her favorites and keep her entertained for quite a while. Click each one to learn more.
If you have a baby or young toddler who cries in the car, definitely try a few of these suggestions.
Need more help with baby? Check out a few other ideas for babies we have from baby bath must haves to get your own free baby box!