[disclaim]This shop has been compensated by Collective Bias, Inc. and its advertiser. All opinions are mine alone. #BringingInnovation #CollectiveBias[/disclaim]
We are a pretty green household. We recycle and we reuse as much as possible, and when I can find products made from recycled materials, I buy those, too. Plus, I love taking things around the house and turning them into something new.
Last year I bought these awesome spider lights at Halloween and I made a wreath with them. You can find the tutorial for my Glam Spider Wreath HERE. I love finding battery powered lights that I can put on decorations. Today, I'm going to show you how I re-purposed them into a Halloween Spider Luminary. I've made a couple of these, and on Halloween night, I'm going to put them out in front of our porch for trick or treating!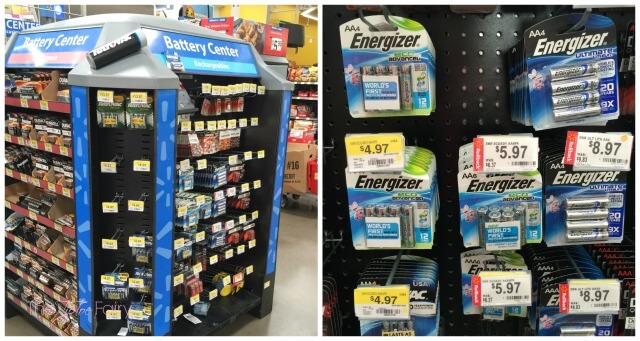 We always need new batteries, so when I was Walmart the other day, I grabbed some of the new recycled batteries – Energizer® EcoAdvanced™. They are the world's first AA battery made with 4% recycled batteries and are Energizer's longest-lasting batteries. Try it! Power your most critical devices AND have less impact on the planet! You can also find them AAA size.
Here's how to make one of these spider luminaries.
Supplies:
1 medium to large size jar
1-2 packages of fake spider webs
1 set of LED spider lights (or you can reuse old battery powered Halloween lights)
Energizer® EcoAdvanced™ batteries in either AAA or AA size (mine take AA size).
First you'll need to find some old jars. I usually save big pickle jars for this purpose, but I could not find a single one, so I used some old canisters I had in the pantry.
Next, you'll need to remove the lights from where ever they were. Luckily, I just attached mine with pipe cleaners to a wire wreath, so it wasn't that difficult to remove them.
Next, you'll need to check the battery casing I was a little worried since they had been in storage for a year, but when I opened it up, they looked just fine. I replaced the old batteries with the new Energizer® EcoAdvanced™ batteries.
Now cut 1-ft pieces of the spider web and stretch it out and pull it, and put 3-4 spiders around it and insert it in the jar. Do this same thing over and over until you get all the lighs into the jar. I had to do this about 4 times to fill the jar.
If you have a chopstick or something long, then use it to push the spider web around where you want it. I worked for about 5 minutes hiding all the wires and the black part where the spider attached to the wires.
Lastly, take about a 2-ft long piece of spider web and wrap it around the battery pack and put it right inside at the top in the jar. This way you can easily turn it off and on.

That's all there is to it. These luminaries work great outside to add some light to a walkway or they're great for a tablescape for your upcoming Halloween party!
Learn more about Energizer EcoAdvanced batteries and share an idea you have to recycle – reuse – or repurpose something in your home.