[disclaim]This post is sponsored by Acorn Influence. All opinions are my own.[/disclaim]
A few months ago I had a wonderful experience participating in the #ChosenByKids event with Walmart. I got a fun sneak peek at all the toys coming out this holiday. We got to learn all about all kinds of things. I pretty much stuck to the toys, and then I got to vote on them to help Walmart choose what would be great for the holiday season. You will not believe how fun some of this stuff is!
Here's a quick video preview of some of these awesome toys!
There's a horse that Barbie actually pulls herself up on. There's Lego Dimensions video game, which I knew was going to be THE thing for my tween. There's science experiments for girls, and flying helicopters for boys. It was so much fun!
Here's my picks for the MUST HAVE TOYS this holiday season!
Air Hogs Star Wars Millennium Falcon Quad Copter. If your kids love Star Wars, this is the ultimate in remote controlled copters!
Your kids can fly the most iconic ship from Star Wars with LED lights and sounds!!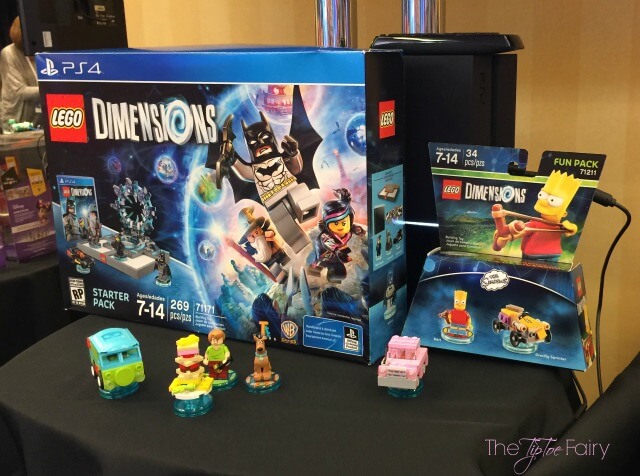 Lego Dimensions. It has a tardis and Dr. Who — what more could you ask for? This is somewhat similar to Disney Infinity and Skylanders as it has a portal for figures to be added to the game, and you can buy new characters and special things for them to ride like Scooby and the Mystery Machine.
But….and this is what I LOVE about this game — you have to build the things to go on the portal like the Mystery Machine or the Batmobile, or even Homer Simpson's pink car!! You even have to build the portal! Your kid has to problem solve and build and rebuild the items. How cool is that?
Barbie Dream House. Is anybody else a huge fan of Life in the Dreamhouse on Netflix? Everyone, and I do mean everyone in our house LOVES to watch the show. It's hilarious. , I was so excited to see they had a brand new Dreamhouse for Barbie, and it has a garage, which is always a request from my daughter! And, it's interactive!! The fridge works, the sinks work, even the aquarium works, and you can take a piece of furniture from one part of the house (like the sink in the bathroom) and plug it in another part and it does something else. So cool!
My Friend Cayla. Oh I love this doll! AG dolls have some serious competition because Cayla can talk to you! I played with this thing for a long time. It works with an app for your phone or iPad, and she talks to you like Siri talks to you on the phone, but to a kid. You can ask her questions, and she can ask you, and you don't know what she'll say. She even can talk in Spanish and other languages. Plus, you can change her name! You would think all this would make her super expensive, but she's much, much cheaper than an AG doll. This is definitely going under the tree for my youngest.
Barbie Horse. As you can probably tell, I'm a huge Barbie fan. We love her movies, we love her tv show. I've played with Barbie since I was a little girl. When I saw this horse in action, I wanted to take it home right then and there. Barbie slips her hand into the little part on the horses and neck, and wham, the horse starts moving, and Barbie literally jumps on the horse!! I had so much fun with this one.
Girl Scouts Easy Bake Oven. Who doesn't love Girl Scout cookies? I know I do! Well now you can make them in your Easy Bake Oven!! You can buy packs of the Girl Scout cookie mixes and make them yourself! I got to try the Thin Mints, and they were pretty darn good!
Thomas & Friends™ Toy Train Set with Pirate Ship and Motorized Train. This cool toy was inspired by a Thomas & Friends™ DVD movie, Sodor's Legend of the Lost Treasure.
It's a motorized train that's over 6 ft long and goes up 2 ft high. Plus, it has a 360 degree spiral that resets itself. Thomas plugs along the track higher and higher until he plunges into a spiral down into the shipwreck. Thomas the Train lovers will have so much fun with this set.
Furreal Friends Unicorn. My 5 yr old is obsessed with Furreal Friends. Last year we attended a much smaller event at a Walmart store, and we got to try out Go Go My Walking Pup. Well, that lead to my youngest wanting to own every single Furreal pet there ever was.
I told her about the unicorn, and she actually wrote her Christmas list right then with the unicorn at the top. This is such a cool toy. Her horn lights up. She walks and eats, and if you love unicorns, you'll love it!
Hot Wheels Terrain Twister. If your kid loves remote control cars, then they are going to love this! It goes forward, backwards, and side to side with just 2 buttons, and it's all terrain all the time – you can play with it in the snow, in mud, and more. Those unique corkscrew treads make it unstoppable on any surface.
Zoomer Kitty. This is the perfect kitty when you can't have a real one! I am extremely allergic to cats, but this is perfect for my little one who LOVES cats. It purrs and bounces, and acts almost like a real one!
Nerf Rival Apollo XV-700 Blaster. For the teens, Nerf now has a rival to paintball with the Nerf Rival. It has soft little pellets much like paint balls, but without the mess! They come in red and blue, so you can break out into teams. There are easy to load magazines that each hold 7 rounds. It also has a trigger lock and tactical rail.
Chocolate Pen. I swear this was in the toy room, but it looks just as much fun for adults. You can create all kinds of chocolate melts, and do different colors easily.
You can even write words or names, let them dry and put them on cupcakes or cookies. I want this thing!
Project Mc2 Ultimate Lab Kit. A suitcase full of STEAM experiments for girls to get excited about science! It has a real working microscope and over 30 more pieces including glass slides, beakers, and test tubes. There is a booklet with 15 different experiments, and the person I talked to said there would be more on their website. I remember having a chemistry set I got at Girl Scouts when I was a kid, and I would have loved this one.
Are any of these on your kid's holiday list? I know my kids are super excited about several of these toys. What's your favorite?