[disclaim]This is a sponsored post written by me on behalf of Viva® Vantage®.[/disclaim]
A few days ago I was able to attend an event for Viva® Vantage® paper towels. We got to try out and learn just how versatile this product really is with it's Stretchy-Strength. Did you know it won 2015 Product of the Year?
Today I wanted to share some kitchen switch up tips you can try with these great paper towels.
Remember those delicious Portabella Patty Melts I made this summer? Well, I discovered an easy way to clean those delicate mushroom tops — with paper towels! You just use a dry paper towel and it easily rubs off the dirt.
Can you believe the dirt? The revolutionary V-Flex™ Weave makes Viva® Vantage® perfect for the task because it stretches to scrub those mushrooms clean. Now you don't have to worry about damaging the mushrooms as you clean them. It takes scrubbing to a whole new level!
Another great way to use Viva® Vantage® is to get it a little wet and place it under your cutting board or mat. The V-Flex™ Weave keeps the cutting board in place so it doesn't move around.
One of the fastest ways that veggies go bad is when they stay wet after washing. But, if you just add a Viva® Vantage® to the bottom of the container or wrapped around the veggies in a zipper bag, it has sponge-like absorbency and keeps your veggies fresh dry!
When I learned about chilling a bottle of wine with a paper towel, I thought it was just genius! You just get a Viva® towel wet, wring it out just a bit, and then wrap it around the bottle of wine and put it in the fridge for 20 minutes. Voila! You have a perfectly chilled bottle of wine!
Now I'm not a wine drinker, but I did this with water bottles and with alcoholic cider, and it worked great!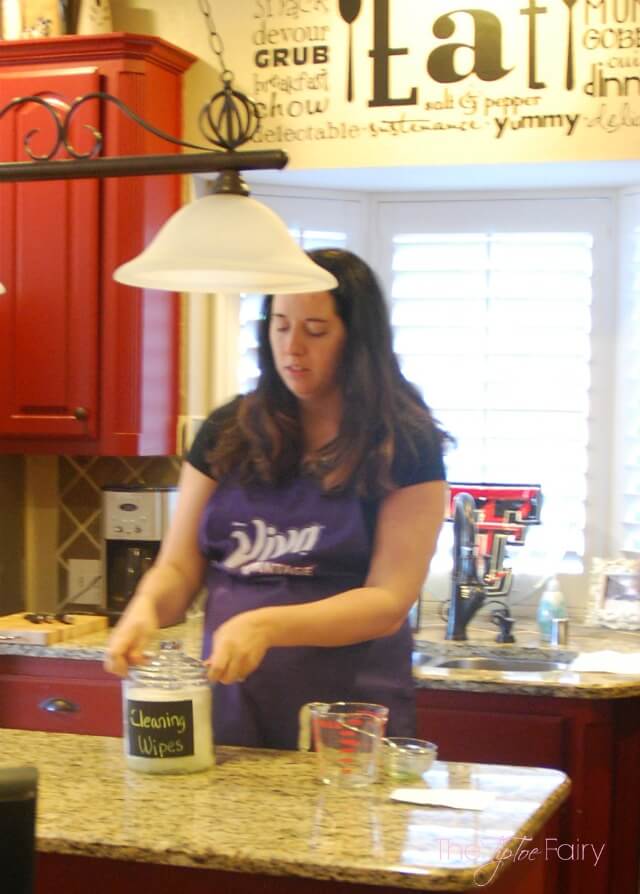 Viva® Vantage® stretches to scrub everyday messes, so they are perfect to create your own cleaning wipes! To create your own, just use a serrated knife and cut the roll of paper towels in half and remove the cardboard tube. Place them in a container. Then, mix up your solution and pour it into the paper towels. Put the lid on the container and let the paper towels jut soak up the solution.
I totally forgot to snap a pic of the recipe for the wipes, but this is a favorite one of mine that works well:
1/2 cup vinegar
1/4 cup water
1/4 cup rubbing alcohol
1 teaspoon liquid dish soap
Here's a video with a few more ideas you can switch up!
You can kick off your own 7-Day Switch Up by visiting Viva® Vantage® for a coupon to purchase and try the product yourself!
After you experience the stretchy-strength and great scrubbing power of Viva® Vantage®, come back to the website to dish on your favorite switch and enter for a chance to instantly win a $100 gift card!
What's your favorite kitchen switch up idea?
[disclaim]This is a sponsored post written by me on behalf of Viva® Vantage®.[/disclaim]