**I've missed y'all! We spent the last few days upgrading The TipToe Fairy. If you come here often, you'll know that in December, we went down a lot, which drove me crazy! It was the host. They just couldn't keep up with all your visits – which is a great problem to have! We are now at a bigger and better host that knows how to keep us up at all times no matter how big we get. Yay!**
Do we need another cocktail for Valentine's Day? I'm thinking yes, especially a skinny one. So I bring you the Cherry Bomb Skinny Cocktail. This one is easy to make, and you can't taste the alcohol, and that is definitely my kind of drink.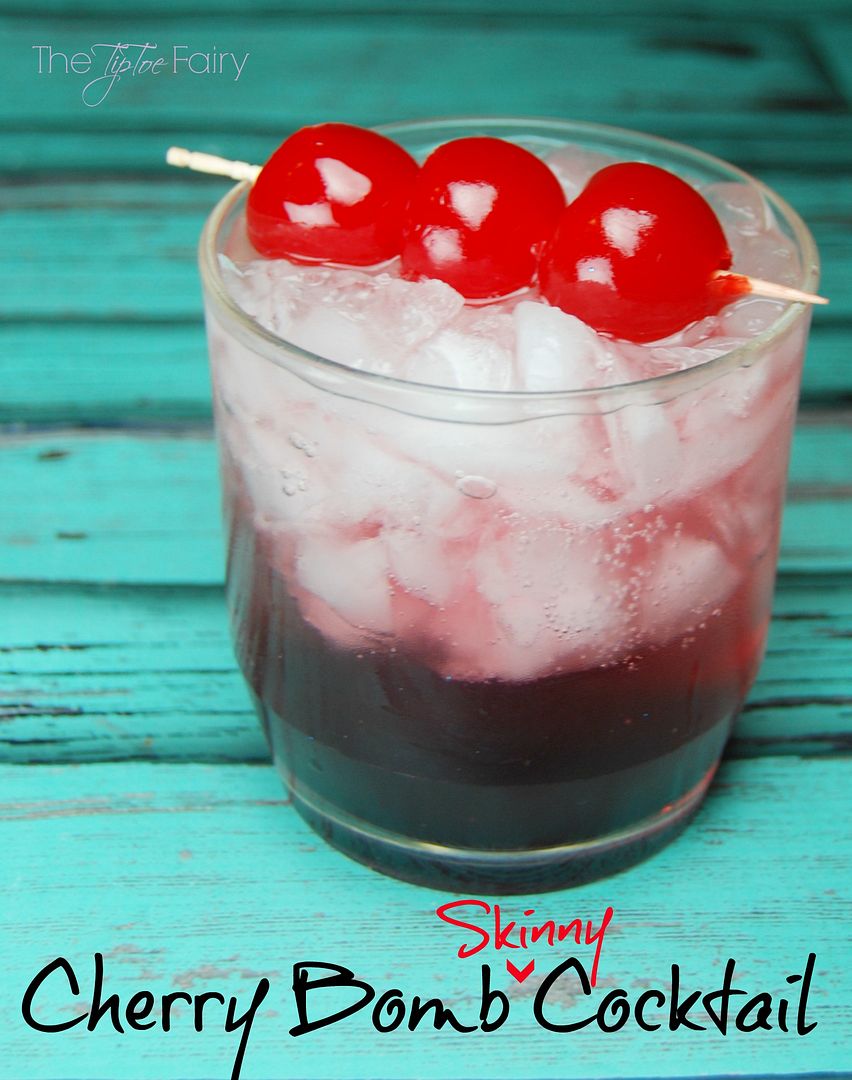 I was throwing names up in the air for a few days for this drink. I didn't really want a "dirty" cocktail name, and I was considering "slutty," but my dear sweet Nate, who loves women, kept telling me that slutty was a horrible name for a sweet childlike drink with perfect little curls. So, Cherry Bomb it is!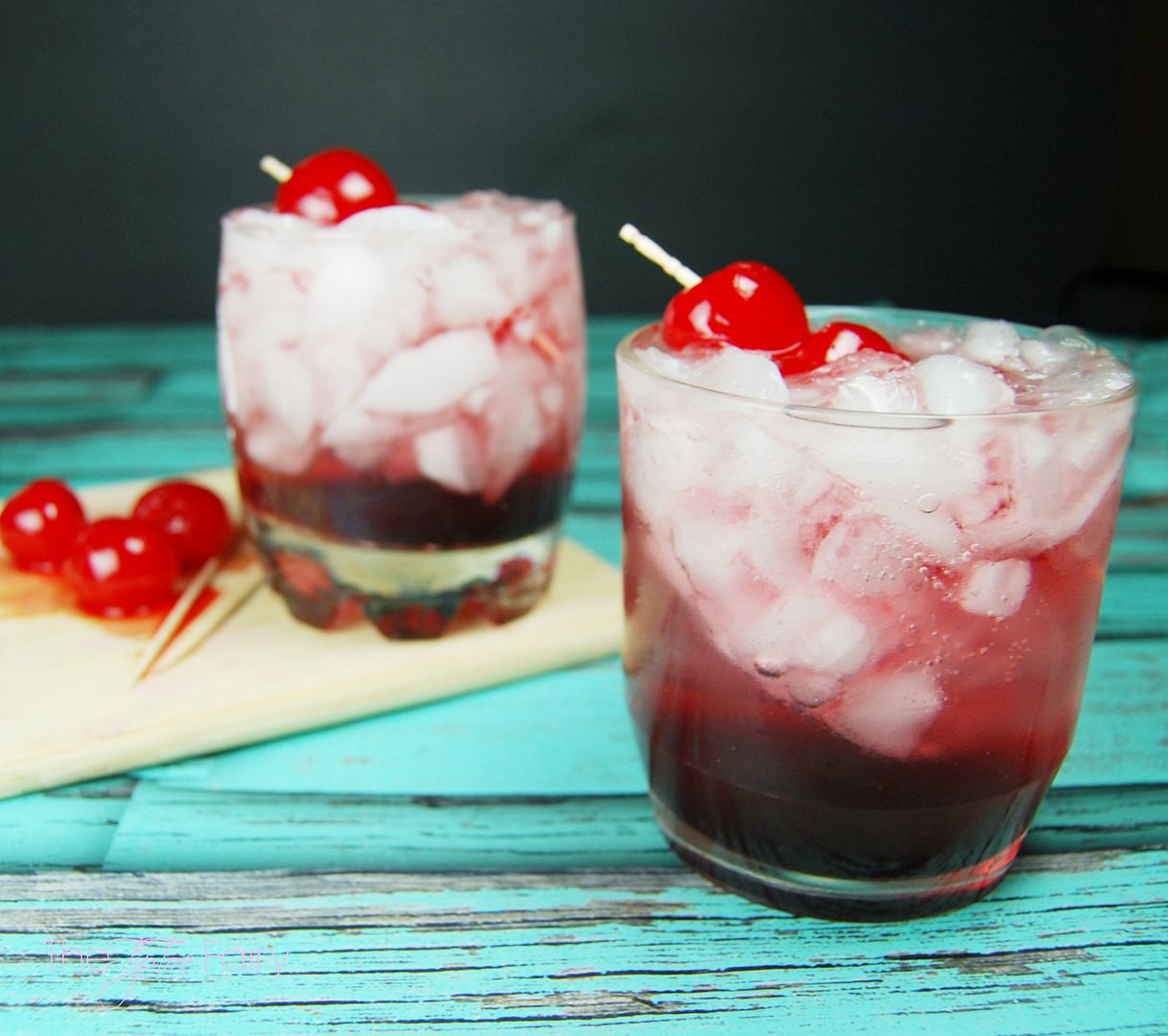 I always felt so grown up when I ordered a Shirley Temple at a restaurant. One time back in the mid 80s, we went on a huge camping vacation from Colorado to the Grand Canyon, and we went to a vaudeville type show. I was about 8 or 9 years old, and it was at the height of Star Wars. When I ordered a Shirley Temple and my brother a Roy Rogers, the waiter told us the cool way to order was as a Princess Leia and Luke Skywalker. My brother and I thought that was awesome.
Part of making a Shirley Temple is the grenadine, the dark red syrupy stuff usually at the bottom of the drink. Grenadine comes from the French word grenade, which means pomegranate, and it was usually made from pomegranate juice, sugar, and water. Nowadays, if you buy it in the store, it doesn't have any pomegranate juice in it, and it's made from high fructose corn syrup and dyes.
With some pomegranate juice and sugar (or an alternative sweetener like Truvia), you can totally do this yourself! I decided to make my own "skinny" grenadine syrup using Truvia, so I could make a skinny cocktail. Look for 100% pomegranate juice at the store. I easily found POM at Kroger. Since then, I've found it's pretty much everywhere. Just look for it in the refrigerated section. I think it's even at Walmart.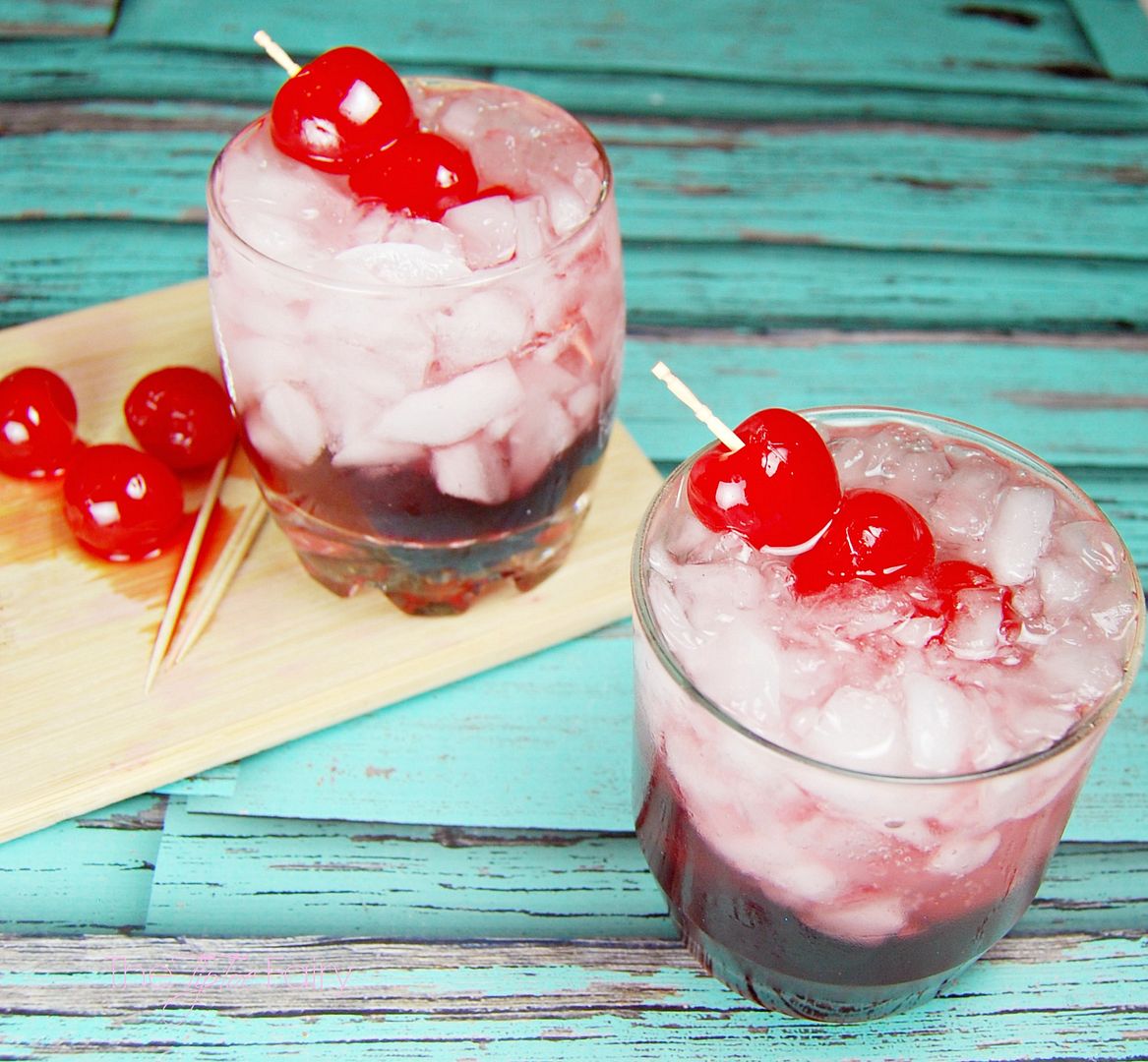 But wait! I added a secret ingredient — a touch of citrus flavor with the juice of a blood orange. You can skip this ingredient if you'd like and it'll turn out fine, or instead you could add the juice of a small lemon. I just like having a secret ingredient. It adds a bit of mystery to something so incredibly easy 😉 !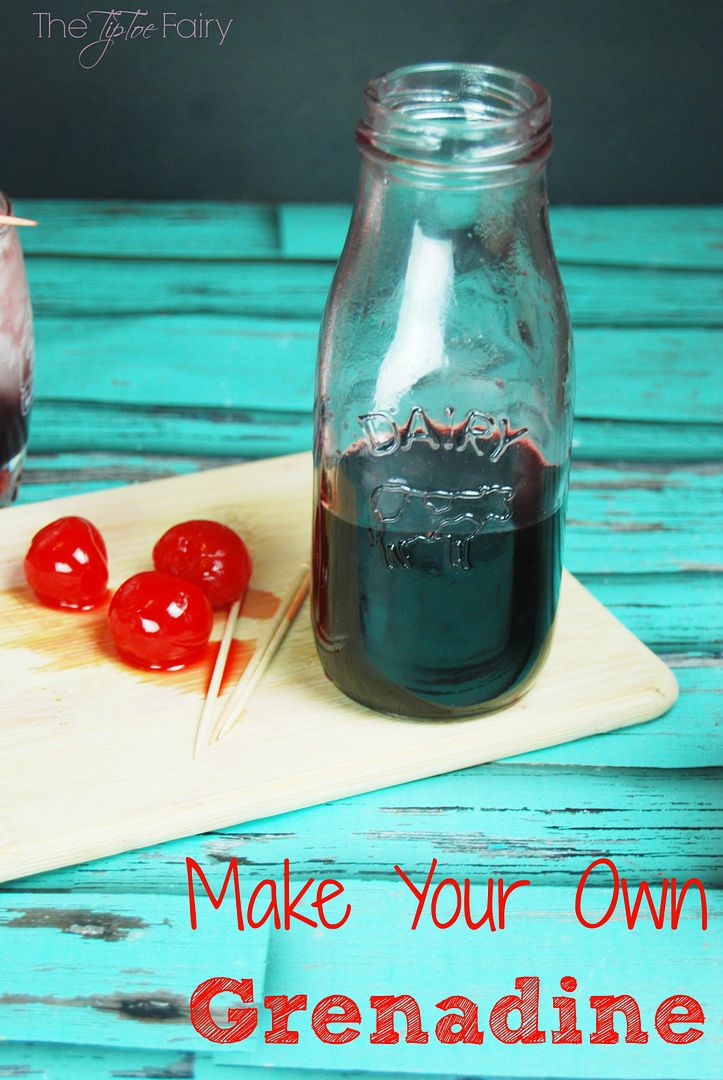 Print
Skinny Grenadine Cherry Bomb – Skinny Cocktail
---
Author:

Total Time:

2 minutes

Yield:

1

1

x
Description
Make your own grenadine the skinny way!
---
2 cups

(

16 oz

) 100% pomegranate juice

1/4 cup

Truvia
the juice of one blood orange (substitution can be the juice of a small lemon)

1/2 oz

grenadine

1/2 oz

limeade vodka

1 tsp

maraschino cherry juice

4 oz

low calorie lemon-lime soda (7UP TEN or Sprite Zero)
crushed ice
maraschino cherries to garnish
---
Squeeze the juice from one blood orange and set aside.
Combine pomegranate juice and Truvia over a medium fire.
Add the blood orange juice and stir.
Keep stirring occasionally.
Allow to come to a rolling boil and then let it continue to boil for an additional 4-5 minutes.
When stirring check the consistency and as it starts feel a bit thicker, remove from heat.
Store in a glass bottle in the fridge.
In a glass pour the grenadine on the bottom.
Add the crushed ice.
Then, slowly add the vodka.
Next slowly add the soda for a layered look.
Garnish with cherries on a toothpick.
Prep Time:

2 minutes

Cook Time:

5 minutes

Category:

Drink Alcoholic drink

Cuisine:

American
Recipe Card powered by
I'm not big on alcoholic drinks. I just don't like the taste of the alcohol. But, fear not, this is one of those drinks that you can't taste the alcohol at all, which makes it perfect for me!
This make a perfect Valentine's Day cocktail to make your sweetie. When you slide the cherries down the toothpick, they look like just like little red hearts.
You can still make this as a mocktail version, just leave out the vodka. In addition, you can make a regular version as well using sugar in the grenadine and regular lemon-lime soda. Here are the substitutions:
Instead of 1/4 cup Truvia, use 1/2 cup sugar in the grenadine recipe.
Instead of using low calorie lemon-lime soda, use regular.
So what's your favorite cocktail? Do you have a special one for Valentine's Day?