I thought I'd share some festive treats with all of you! Champagne Cake Pops! Perfect for your New Year's Eve party or even Valentine's Day. These are super easy to make, even if you've never made cake pops before. They are absolutely delicious with just a hint of champagne flavor. Plus, they will totally impressive your guests.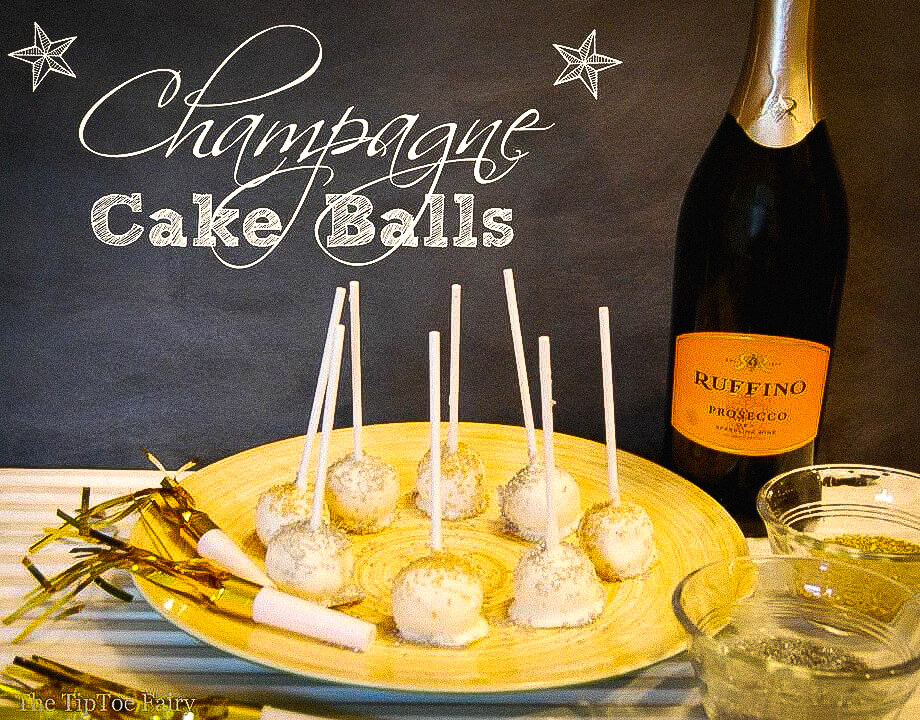 Free New Year's Eve Party Kit!
If you're hosting a New Year's Eve party, make sure you grab my FREE 25-page New Years' Eve Party Kit! It's makes it so easy for you. There's photo props, invitations, and so much more!
How to make Champagne Cake Pops
Guess what? Super easy means you can use a boxed cake mix and canned icing! I used a butter cake mix and cream cheese frosting from a can, but you can use a white or even strawberry cake mix and any flavor of icing. I just thought cream cheese would add to the richness of the flavor. Also, with this recipe, you can use Champagne, Prosecco or any sparkling wine.
Yield:

36 cake pops
Champagne Cake Pops
Additional Time:
45 minutes
Total Time:
1 hour
40 minutes
Make some champagne cake pops for New Year's Eve, Valentine's Day or any time!
Ingredients
1/2 cup whipped cream
1 Box cake mix - white, butter, or strawberry
1 stick of butter, softened
3 egg whites
1/2 cup of Champagne
1 can of frosting - any flavor (cream cheese is good)
1 pkg of melting candies - white
Gold and silver sugar crystals
White candy or cake pop sticks
Instructions
1. Preheat oven to 350 F degrees.
2. Whip 1/2 cup of heavy whipping cream and set aside.
3. Mix cake mix, egg whites, butter until moistened.
4. Add champagne to batter and mix for 2 minutes on medium speed until smooth
5. Fold in whipping cream into batter.
6. Pour into rectangle pan and bake 20-25 minutes until done in the middle.
7. Allow cake to cool, then break it up in a large bowl.
8. Add 1 can of frosting and mix well.
9. Lay wax paper on a cookie sheet. Then, take a small scoop of cake and roll into 1 to 1.25 inch balls.
10. Once the cookie sheet is full, cover with plastic wrap and freeze for 15 minutes (or put in fridge for several hours).
11. Pull cookie sheet out of freezer and place stick into each cake ball.
12. Melt melting candies per instructions, then dip cake balls into melting candy up to 1/4 inch up on stick. Allow extra candy to drip off.

13. Place coated cake ball on wax paper and quickly sprinkle with sugar crystals.
14. Allow to dry for a few minutes before serving.
Enjoy!! I hope you had happy holidays and that you have a wonderful New Year!!
More Cake Ball Recipes