This shop has been compensated by Collective Bias, Inc. and its advertiser. All opinions are mine alone.
#SleepAligned #CollectiveBias
What do you know about sleep cycles? In the past I've had infertility issues, so I developed quite the obsession with learning everything about ovulation. I've read studies where they've found women who sleep in total darkness will ovulate when a light is left on for 3 days. Isn't it crazy how important light can be for our bodies? This is why I was so excited to make a new lamp shade for my new GE Align™ PM light bulb!
The NEW GE Align™ PM LED Light Bulb helps to promote the body's natural sleep cycle. It's been engineered to produce a low amount of blue light versus an ordinary light bulb. Since this bulb contains very low amounts of blue light, it creates a very warm/yellow/orange color that will help you rest easier. Using this light in the evening 30 minutes before bedtime in place of other lighting can help your body maintain its natural sleep-wake cycle and help users maintain better sleep rhythms. It also helps you produce more melatonin in your body.
Right now, you can only get the GE Align™ PM LED Light Bulb on Amazon.com – find it HERE. What's easier than ordering from Amazon.com? I got my light bulb in just 2 days with their super fast shipping. Plus, they also have the AM LED Light Bulb, which helps promote the body's natural wake cycle.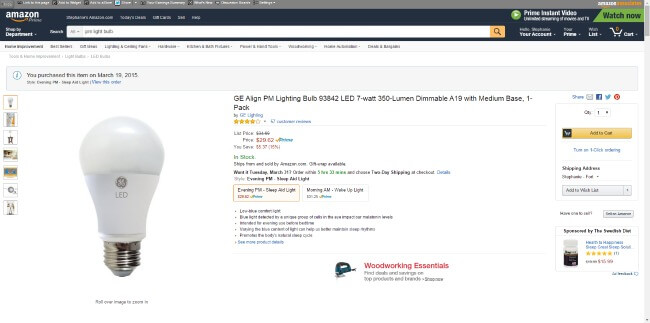 I decided to make a Shabby Chic lamp shade for my new light bulb. Nate has this table lamp he picked up at the thrift store on his nightstand, and it's just ugly. So, I decided to find one of our old lamps up in the closet and give it a makeover for my nightstand to use with my new GE Align™ PM LED Light Bulb.
This is so easy to do. You can watch a tv show or listen to a podcast while you make it. I was watching the latest Mad Men season on Netflix while I made mine.
Materials:
a lampshade
strips of fabric
glue gun
Optional: Crepe paper for rose embellishments
Directions
1. If you haven't already, make sure you strip off the old fabric from the lamp shade.
2. Next, make strips of fabric about 1-inch wide. This is the quick way I cut strips.
You'll want to rip your strips from selvage to selvage.
Make little cuts about 1 inch apart at the selvage like the picture.
Then, just rip each strip clean all the way to the other selvage. It makes cutting strips super quick.
3. Next, tie on a strip to one of the wires and wrap around the wires. I usually wrap it around 1-2 wires, then tie it off. I also overlap and stagger the tie-ons around the lamp shade. Then, just continue going up and up until you've reached the very top.
4. Once the entire lampshade is covered, snip off the tie edges to about 1/2 inch.
5. Next, take a strip of fabric and hot glue it around the top wire of the lamp shade. Then, do the same for the very bottom wire around the lamp shade.
To add a little extra touch, I attached crepe paper roses.
Here is a short video tutorial I made to make them:
Now here's your chance to win over $800 in prizes with GE!
GE Align #SleepAligned Sweeps – More than $800 In Prizes
Be sure to check out more great lighting options HERE. I'd love to know your favorite!