This shop has been compensated by Collective Bias, Inc. and its advertiser. All opinions are mine alone. #PalmoliveMultiSurface #CollectiveBias
Do you hate cleaning the kitchen as much as I do? It's the most used room in our house, so it gets dirty fast. Recently, I changed the way we clean it. I switched to Palmolive® Multi Surface because not only can it clean the dishes, it can clean so much more!
Usually I buy disinfectant wipes for the counters, a scrubbing cleaner for the sink, as well as dish detergent for everything that can't go in the dishwasher. Then, when I was at Walmart last week, I found Palmolive® Multi Surface dish soap. It can be used to clean the dishes and surfaces.
Palmolive® Multi Surface eliminates 99.9% of bacteria (*staphylococcus aureus, Salmonella enterica and E. coli ((157:H7)) from dishes and hard non porous kitchen surfaces. Now, I can use just one cleaner and clean the dishes, counter tops, the sink, and do some spot mopping all at the same time.
Every day after school, my kids and I do it together. In just 10-15 minutes the kitchen is sparkly clean. I've even created a little check list, and my kids get a kick out of checking it all off. You can download a copy and hang it on the fridge. Click the picture below: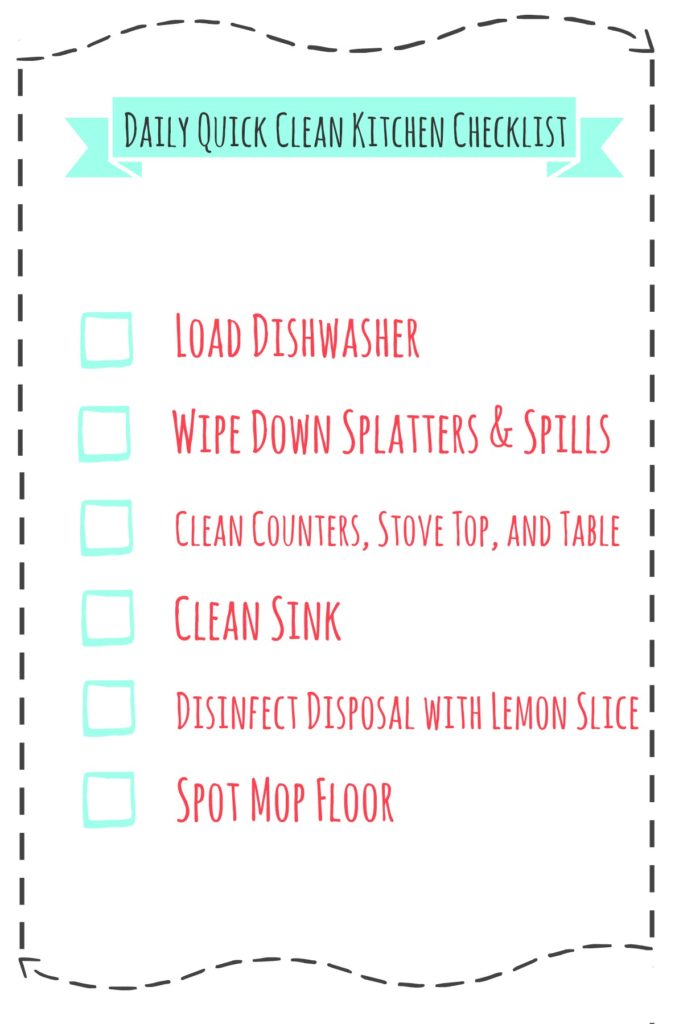 First, we empty the dishwasher and load it back up with dirty dishes and start the cycle. If all the dishes won't fit, I'll hand wash the biggest ones, and then stack remainder beside the sink.
Next I fill sink with warm, soapy water, and we all get a cloth wet. One person works on the splatters and spills, especially on the stove top.
The others work on cleaning the counter tops and table. Make sure you let them stay wet for at least 30 seconds to kill bacteria. I usually let mine air dry.
Once those are clean, we empty the sink water, and scrub it down for a sparkling shine. Look at that shine!
I also like to disinfect the disposal for any odors. I will drop in a cut-up lemon along with some cold water and run it for a few seconds. I love the smell of the lemon.
The last thing we do is take all the wet cloths and spot mop with them. By cleaning any problem spots on the floor, we don't need to floor mop until the weekend.
With me and my two oldest kids, we are done in 10 minutes flat usually. The littlest one's job is usually to help one of us. Her favorite is to clean the counter tops.
That's all there is to it! By using Palmolive® Multi Surface, we can use just one product to clean everything. And, a clean kitchen makes a happy mommy!
What tips do you have to clean quickly?