Do you hate cleaning the kitchen as much as I do? It's the most used room in our house, so it gets dirty fast. Recently, I changed the way we clean it. This is a sponsored post.
updated 8/21/2022
Get the Kids Involved in Cleaning the Kitchen
Every day after school, my kids and I do it together. In just 10-15 minutes the kitchen is sparkly clean.
I've even created a little check list, and my kids get a kick out of checking it all off. You can download a copy and hang it on the fridge.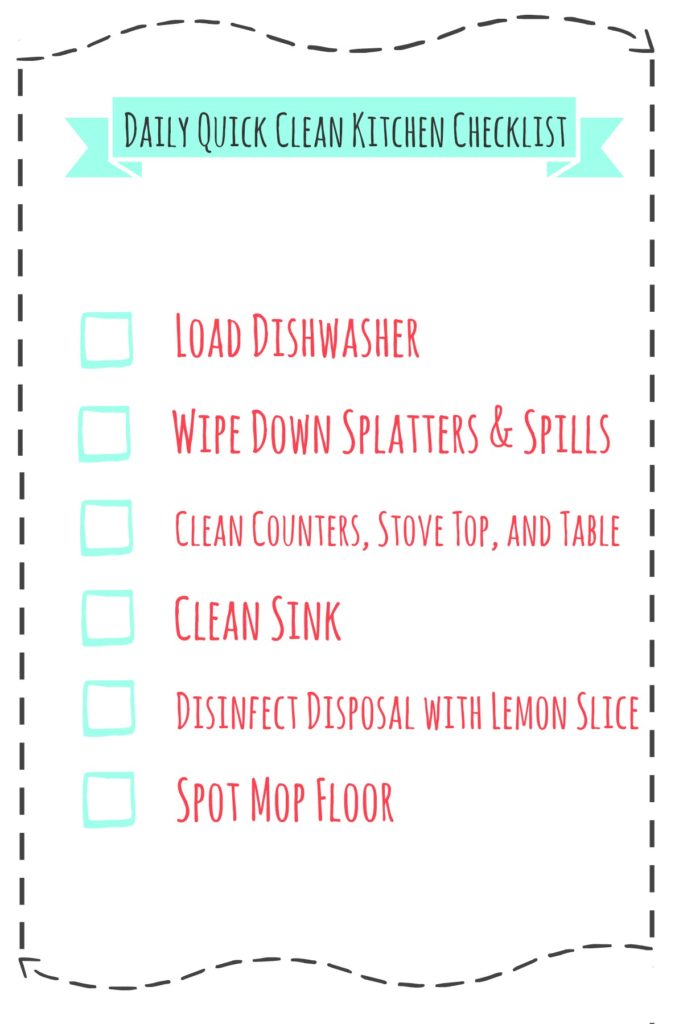 Download the Daily Quick Clean Kitchen Checklist
Our Method for a Quick Kitchen Clean up
#1 We empty the dishwasher and load it back up with dirty dishes and start the cycle. If all the dishes won't fit, I'll hand wash the biggest ones, and then stack remainder beside the sink.
#2 Next I fill sink with warm, soapy water, and we all get a cloth wet. One person works on the splatters and spills, especially on the stove top.
#3 The rest of us work on cleaning the counter tops and table. Make sure you let them stay wet for at least 30 seconds to kill bacteria. I usually let mine air dry.
#4 We empty the sink water, and scrub it down for a sparkling shine. Look at that shine!
#5 I also like to disinfect the disposal for any odors. I will drop in a cut-up lemon along with some cold water and run it for a few seconds. I love the smell of the lemon.
#6 The last thing we do is take all the wet cloths and spot mop with them. By cleaning any problem spots on the floor, we don't need to floor mop until the weekend.
With me and my two oldest kids, we are done in 10 minutes flat usually. The littlest one's job is usually to help one of us. Her favorite is to clean the counter tops.
That's all there is to it! By using Palmolive® Multi Surface, we can use just one product to clean everything. And, a clean kitchen makes a happy mommy!
More Free Printables You'll Love
Come Join Us!
Liked this article and want more? Follow along on Instagram, Facebook, Twitter, Pinterest, TikTok, and YouTube!
Come over and join us on Facebook in the group Recipes, Crafts, and more with TipToe Fairy or Sewing and Crafting with The TipToe Fairy!
Visit Our Other Blogs!