This is a sponsored post written by me on behalf of Tyson Foods, Inc. All opinions are entirely my own.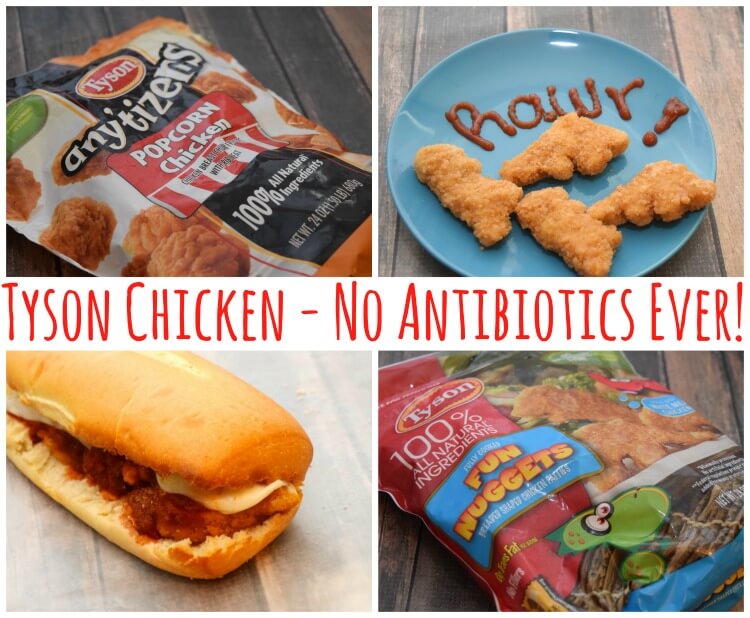 We are pretty crunchy and aware when it comes to our family. We recycle and drive an electric car, and our kids have all been in cloth diapers and breastfeed. Another important aspect is what's in our food. It's important to me that I serve wholesome meals. As a mom, I can feel good about serving Tyson® chicken products to my family for a few reasons.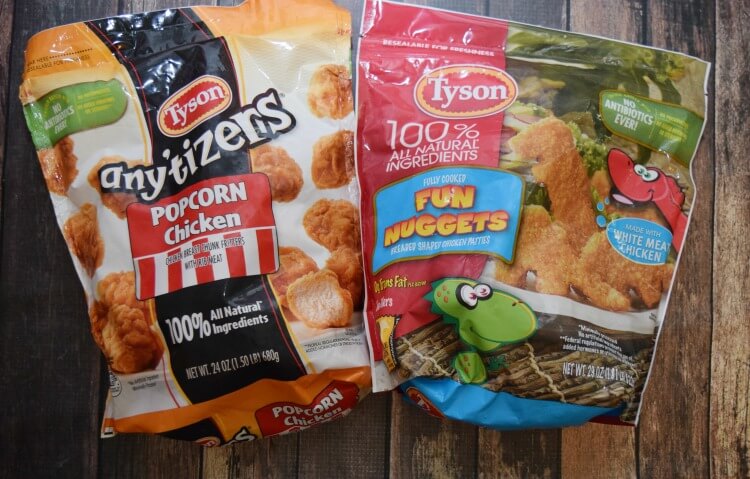 It's made the way we want to eat today. Did you know Tyson chicken products are raised with no antibiotics ever? They have a strong heritage and have been raising chicken since 1935 with a long-standing dedication to quality. Plus, Tyson chicken products are made with 100% all natural ingredients meaning no artificial ingredients and minimally processed. You can feel good serving your family Tyson chicken products. Check out this video to learn more!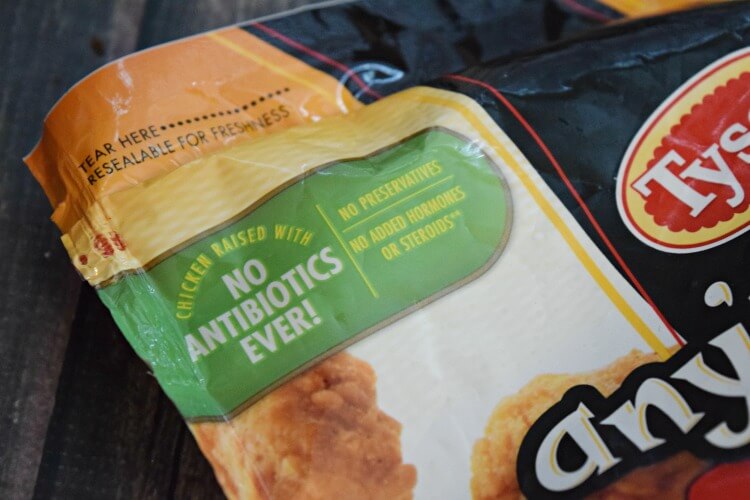 See that label? When you head to the grocery store look for the specially marked packages of Tyson chicken products, including nuggets, strips, Any'tizers® snacks, and drumsticks that say "with no antibiotics ever." You can find this special label on Tyson chicken products in the fresh, frozen, and refrigerated sections at Kroger stores.
My big kids are usually very hungry after school and a favorite snack is the Tyson® Any'tizers® snacks. I've been making it a point to buy the packages with the specially marked "no antibiotic ever" label to feed my family. Some of their favorites are the Any'tizers honey BBQ boneless Wyngz® as well as the Any'tizers popcorn chicken. These are just perfect for so many occasions from after school snacks to parties and even dinner.
My 7 yr old loves the fun nuggets like Tyson dinosaur chicken nuggets. I admit I don't mind her playing with her food when it comes to her dinosaur chicken nuggets because she'll actually eat them. They are a great kid food. Sometimes I even send them to school warmed up in her insulated food jar.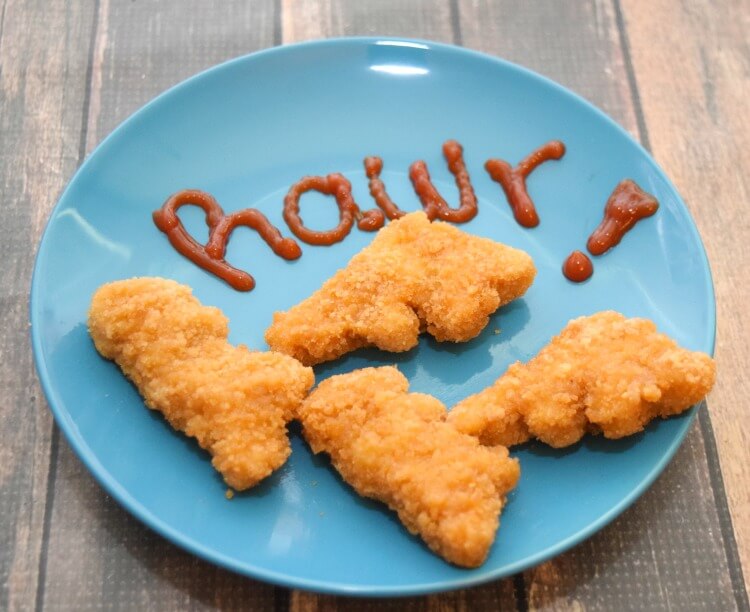 Today, I've got a quick little recipe for a hoagie or sub sandwich that you'll love. I make different hoagie sandwiches for my son to take to school every day, and this is a favorite for his school lunch. It's a Chicken Parmesan Sandwich made with Tyson® Any'tizers popcorn chicken.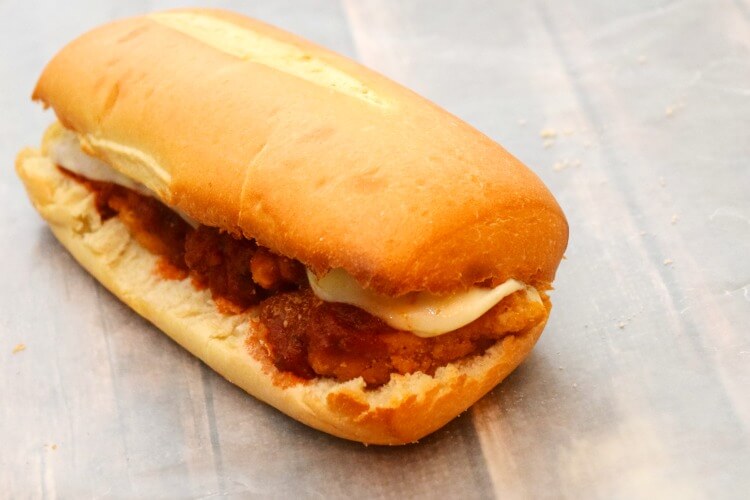 Usually when I make these sandwiches, I will make about a half dozen and keep them wrapped in foil or wax paper in the fridge. My son and my husband can easily grab one when they're busy and on the go. Or, I pack them in their lunches. Here's how I like to make them: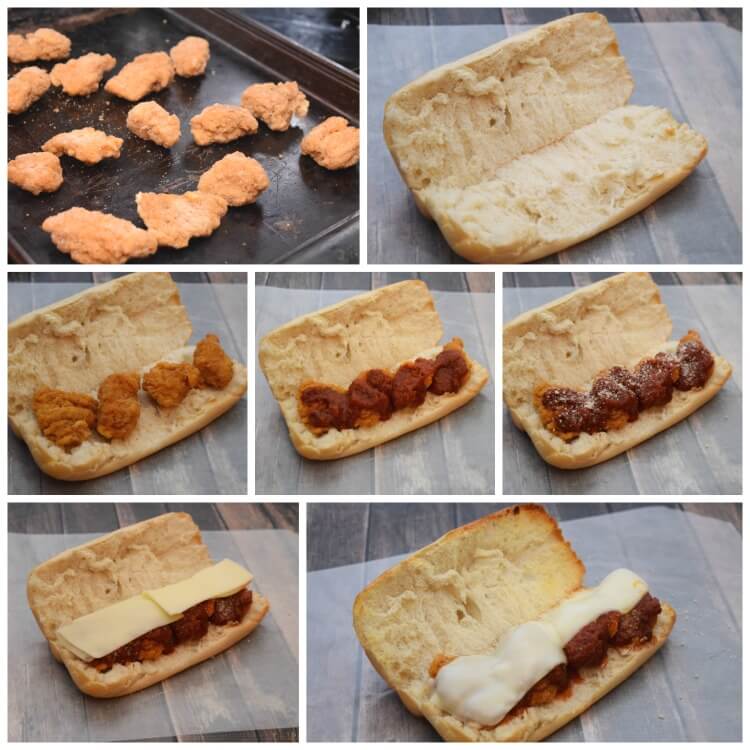 I heat up the popcorn chicken according to the directions. I find they like it better when I heat it up in the oven versus the microwave. It makes it crispier. While the chicken is heating up, I slice open all the hoagie rolls and get my cheeses and spaghetti sauce ready to go.
Then it's time to make them all assembly line style. First, I add the chicken, which is usually about 4-5 popcorn chicken pieces. Next I layer a couple of tablespoons of spaghetti sauce. My family usually prefers a traditional or marinara flavor spaghetti sauce. I sprinkle it all with parmesan cheese. Then, top it off with some provolone or mozzarella cheese.
I like to toast the Chicken Parmesan Sandwich to crisp up the hoagie roll and melt the cheese. Then, I wrap each one in foil or wax paper.
Ingredients
4-5 Tyson "No Antibiotics Ever" marked popcorn chicken pieces
spaghetti sauce
parmesan cheese
2 slices of mozzarella cheese
1 sub roll
Instructions
Prepare the popcorn chicken according to the package.
Slice open the sub sandwich roll.
Add 4-5 pieces of popcorn chicken.
Top the chicken with 1-2 tablespoons of spaghetti sauce.
Sprinkle with parmesan cheese.
Top off with mozzarella slices.
Toast for 3-4 minutes until cheese is melted.
Serve immediately.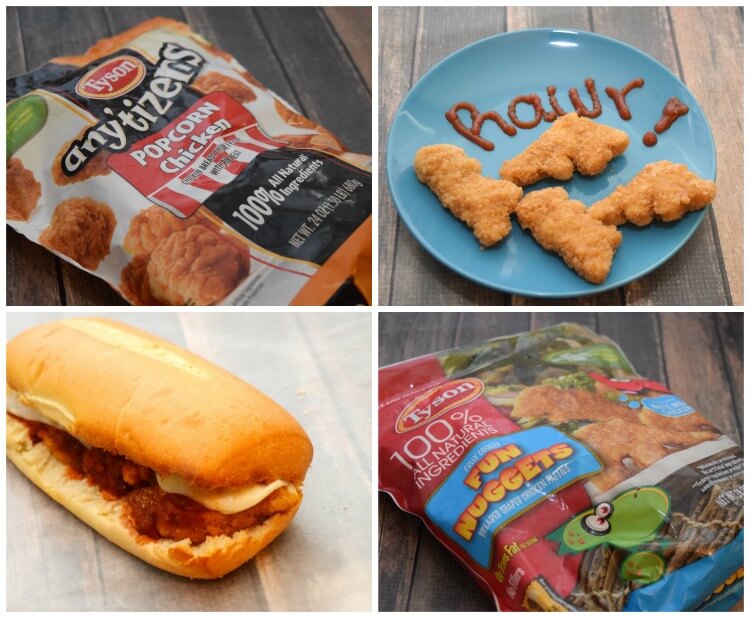 Next time you're at Kroger, look for the "No Antibiotics Ever" label on the packages of Tyson chicken in the fresh, frozen, and refrigerated sections so you can feel good about serving Tyson chicken products to your family!