[disclaim]This is a sponsored post written by me on behalf of Parrot. All opinions are 100% mine.[/disclaim]
As the kids get older, it can be harder to find that perfect gift. My son is almost a teenager, and the last few Christmases have been all about video games. But, this year I've found the perfect gift that's going to get him off the couch. I know he's going to love it! It's a Parrot MiniDrone.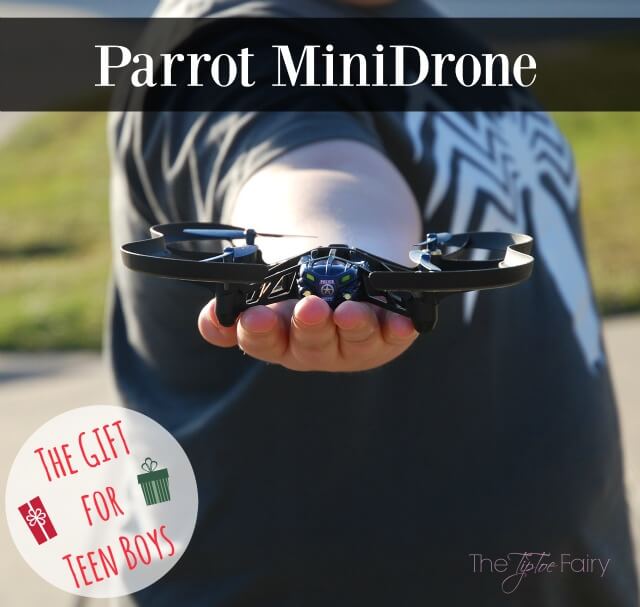 Parrot MiniDrones are available in 13 "ultra technological connected robots":
Jumping 'Night': Diesel, Buzz and Marshall
Jumping 'Race': Max, Tuk-Tuk and Jett
Airborne 'Night': Blaze, Swat and McClane
Airborne 'Cargo': Travis and Mars
Hydrofoils: Orak and Newz
I chose the Airborne Night McClane. It's very well made and comes with a removable shield for protection. It's also ultra compact and lightweight at only 1.2 lbs.
The McClane's body has police decals and detailing. I chose it because it has these bright LED lights so you can fly it at night.
As soon as it arrived my husband and son dove right in and opened it up. They were really impressed with how well it's made as well as the stability. We have other drones, but this one is by far the most stable. You don't have to constantly keep moving it around to stay in place.
You can pilot it in Bluetooth Smart with the FreeFlight 3 app. It's available on smartphones and tablets for iOS and Android. The app even tracks stats like landings, crashes, and flight time. Check out all the cool things it can do:
That great stability is because the Airborne is full of sensors with technology that is usually given to large drones.
It also features a vertical camera that determines speed, but can also take snapshots for aerial selfies.
It's very maneuverable and can do high speed flights and turn and do flips with ease. You just have to swipe and it can turn 90 or 180 degrees super fast.
Its also one of the fastest charging drones we've had. It only takes 25 minutes. Our other drones take up to an hour to charge.
During night patrols, you can modify the intensity of their headlights and, same as for their terrestrial counterpart, you can send signals with flashing lights!
You just toss it in the air and the sensors automatically detect it and the engines just come on. It stabilizes itself in the air!
My son's favorite feature is that it can land itself on auto pilot. How cool is that?
Here's where to buy a Parrot MiniDrone for your teen or tween!
Which of the 13 mini drones are you looking forward to?