This is so much fun!! It's a quick and inexpensive activity to do with your kids when it's 106 degrees and too hot to go outside or on a rainy day. While the colored chocolates are fun, you can also make this project using just regular milk chocolates like Hershey Kisses or chocolate bars so you don't have to buy a bunch of colors. Another tip to save on buying lots of colors that my amazing daughter came up with all on her own was to use food coloring with the white melting chocolate. The blue color in the very bottom mustache mouth
I've been an avid baker for years, but I've never really ventured into candy making. Then, a few weeks ago, Gramma came over and brought a mustache lollipop mold, some melting chocolates,and lollipop sticks. I put it up and didn't really think about it until all our summer activities were mostly over. The kids were restless and arguing, and I needed to find something fun for everyone.
So, one super hot day out came the mustaches and melting chocolates. At the time, we only had brown and pink melting chocolate, so our first foray into chocolate lollipops was some simple one color mustaches. The kids loved them! They made two batches, and played with them for at least 2 days straight. We kept them in the freezer on some wax paper while not in use.
I soon figured out putting a teenager or even older tween in charge is perfect for this project with the younger kids. My oldest is 13, and she did an awesome job helping the younger two, ages 3 and 9, make mustache lollipops. They can completely run the show, and you can have a little breather and catch up on the laundry or blogging. Miss Em also took pictures of the whole process so I could blog about it!
This is what worked for us:
1. Melting chocolates for 1 minute, then stirring, then melting for an additional minute and stirring until smooth.
2. Placing in freezer for about 15 minutes allowed them to quickly harden so the kids didn't have to wait too long for their project.
3. DO NOT wash them in the dishwasher with heat dry. (Ask me how I know, lol). It will totally melt into an unusable warped mold. I killed the mustache mold that way.
4. You can freeze these for a long time. I kept one of the monster mouths in the freezer, just sitting on wax paper for at least 3 weeks. No freezer burn, no cracking, and it tasted great 3 weeks later.
After Miss Em had such a blast making mustache lollipops a few times, I thought a new mold might be a nice challenge. Joann's was having a sale on Wilton supplies, so I found this cute monster mouth mold. I thought the multiple colors would be a nice challenge.
Then I realized we could use those squirt bottles from Wilton to do the different colors. Did you know you can melt the chocolate inside them? I did not realize that until I got them home. How convenient is that?
Here is an action shot. After they filled the teeth and inside the mouth, they spooned chocolate around and smoothed it out on the back. Then, popped them in the freezer for awhile.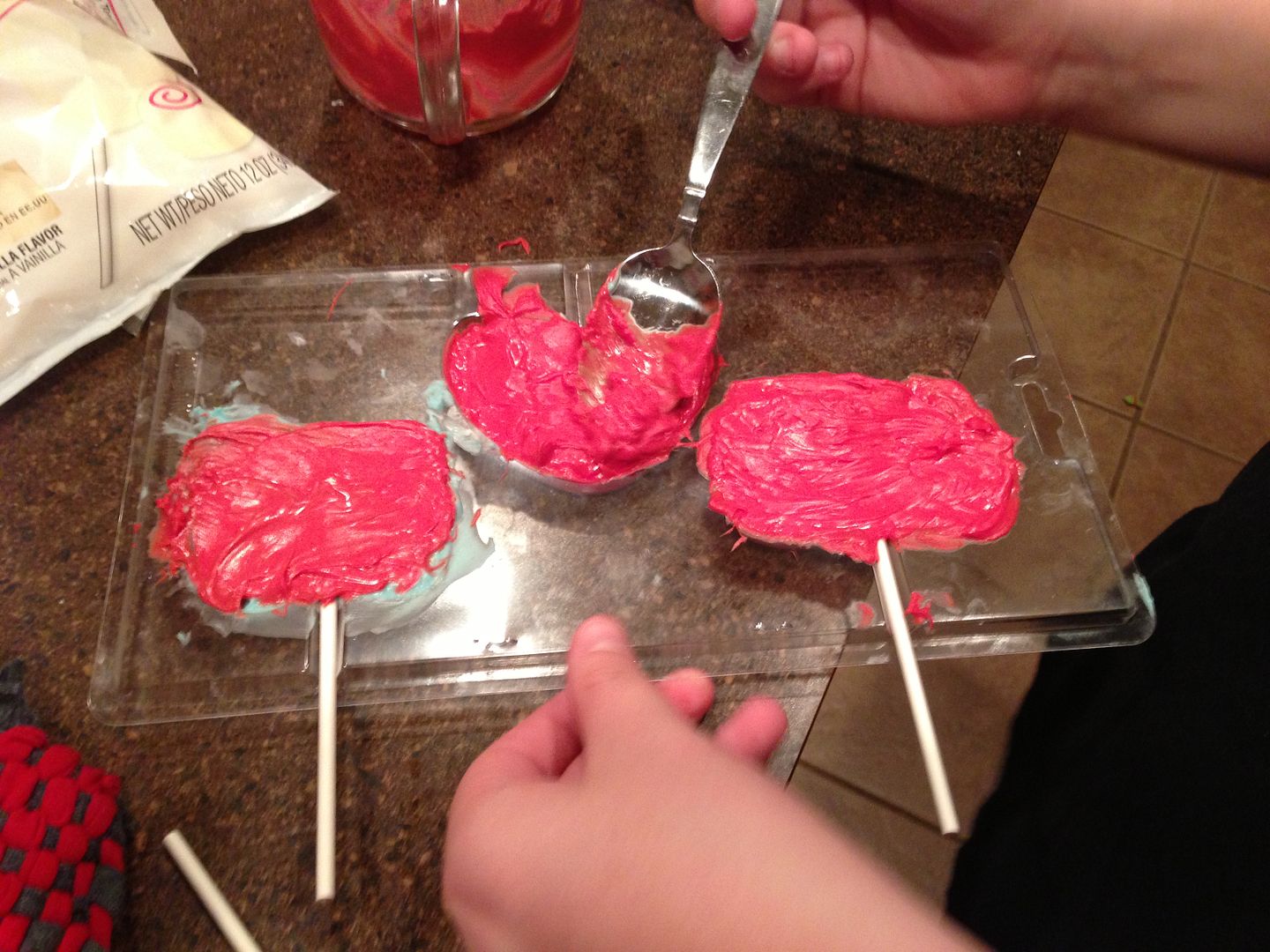 Here is the finished project of the monster teeth. Miss Em wasn't too happy that the red bled through into the white teeth, but then we decided it gave it a rather creepy "bloody zombie" look. Everyone was up for zombie mouths. This time around I let Miss Em completely do the project. Next time we pull out the monster teeth, I'm going to see if I can thicken up the white so that nothing bleeds through.
Try it out! The molds are really inexpensive. I've found a great selection at Joann's, Michael's, and Hobby Lobby, and if you use a coupon it's even cheaper. I think Walmart carries some as well.