This sponsored post was written by me in partnership with National Dairy Council and One2One Network. All opinions are my own.
Did you know February is Lactose Intolerance Awareness Month? Are you wondering what the heck is lactose intolerance, and do I have it?
Lactose intolerance (LI) is a type of food sensitivity and not a cow's milk allergy. People who are lactose intolerant don't naturally make enough lactase — the enzyme that breaks down lactose which is a sugar naturally found in milk. You can read more about it at the National Dairy Council here.
About 1 in 10 adults report having lactose intolerant symptoms which are usually gas, bloating or diarrhea. If you do experience these, it's best to consult your doctor for a proper diagnosis.
Having lactose intolerance does not mean you have to completely avoid dairy products and miss out on their nutritional benefits. Lactose-free dairy milk contains the same essential nutrients as regular milk. It's just had the lactose already broken down, so it may taste a little sweeter. Natural cheeses like Cheddar or Monterey Jack contain just a small amount of lactose, and live and active cultures in yogurt actually help to digest lactose – making them lactose intolerant-friendly, too.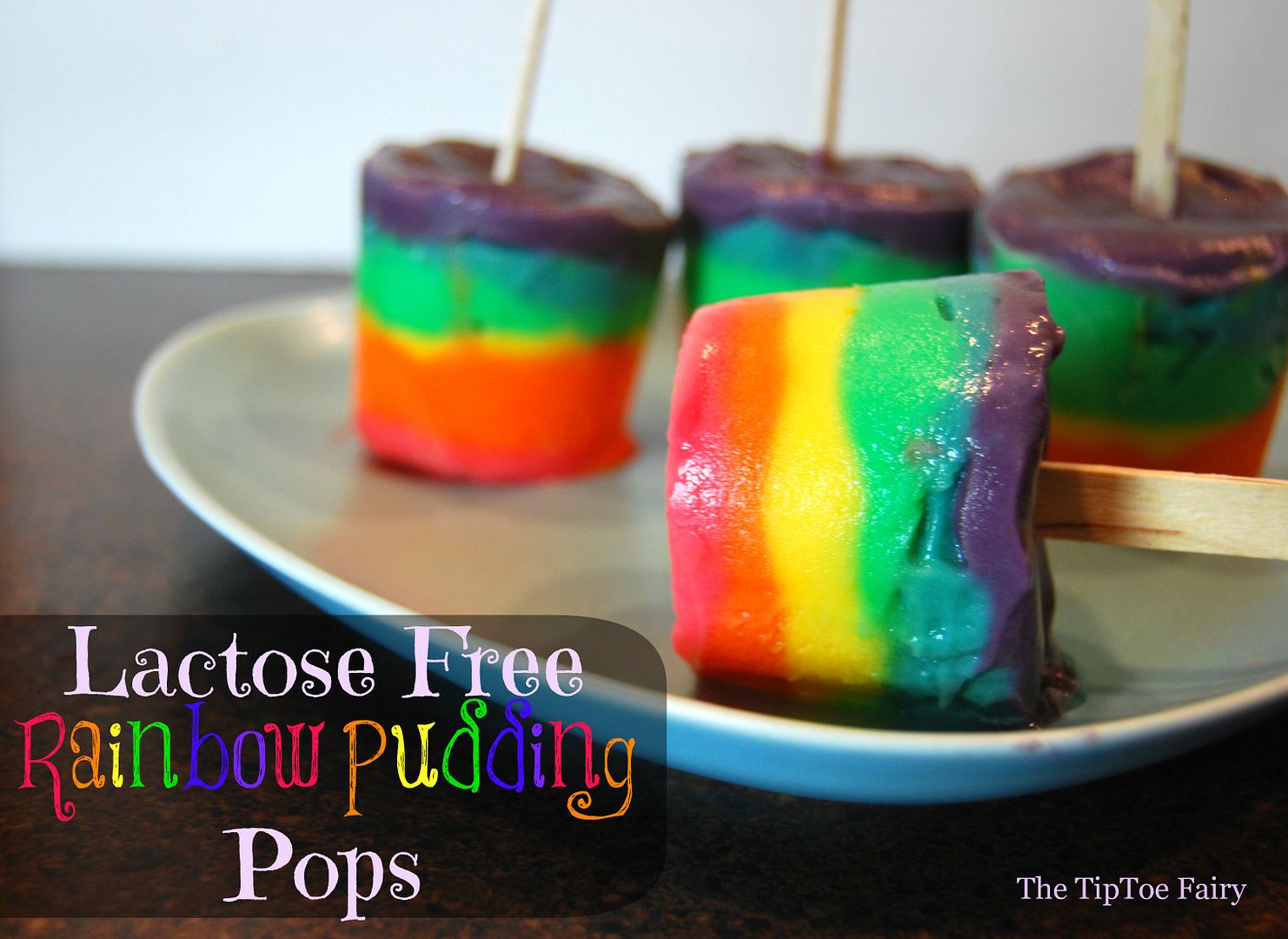 We have LI in our family, so I came up with a great snack and dessert recipe that is lactose free and fun, too. Rainbow Pudding Pops! You can easily make these with regular milk as well, but I used Lactose Free milk so they can be enjoyed by everyone.
Ingredients
2 packages of vanilla instant pudding - larger size
6 cups of milk
food coloring drops
5 oz wax lined cups
popsicle sticks
Instructions
In a large bowl, combine pudding and milk. Mix well.
Separate out the pudding into 6 bowls, about 1 cup each.
Place 16 cups on a cookie sheet.
Dye each bowl a different color - red, orange, yellow, green, blue, purple
Red - 20 drops
Orange: 20 yellow drops + 8 red drops
Yellow: 20 drops
Green: 20 drops
Blue: 20 drops
Purple: 12 red drops + 8 blue drops
Add about 1 tablespoon per color in layers. I used the color spectrum of red, orange, yellow, green, blue, purple.
Place a popsicle stick in the middle of each cup.
If the popsicle sticks will not stay upright, cover, the cups with foil and then insert the sticks.
Freeze for several hours.
Serve and enjoy!
The National Dairy Council has an amazing collection of LI recipes on their Pinterest page. Check it out for some great ideas!
Lactose intolerance is an individualized condition. Some people make little to none lactase, and others make enough to enjoy small amounts of dairy products. Start small and try mixing low-fat or fat-free dairy foods with other foods as part of a meal or snack. Find what works best for you.
For more helpful tips and recipes on Lactose Intolerance, follow the National Dairy Council on Facebook and Twitter.