This post was sponsored on behalf of K'NEX. All opinions stated are my own.
Are you looking for something this holiday season that your tween won't just toss aside after a few minutes? Then, you need to check out the K'NEX Wild Whiplash Roller Coaster. It will definitely keep them busy!
The Wild Whiplash Roller Coaster Building Set from K'NEX is a creepy carnival themed coaster that includes a motorized chain-lift that sends the coaster car through 14 feet of twisting, turning track! This set is available exclusively at Walmart.
There are a lot of small pieces. We found the most effective way was to sort them all ahead of time. This roller coaster took us an entire evening, but it was a great way to spend quality time together. My 12-year-old son and I put it together.
I thought this was a great toy for kids who love to build and are thinking about engineering. Both his grandfather and father are engineers, and his brain definitely works like theirs do. He is also a gifted kid, so most things don't challenge him. I loved that this took hours to put together, and it really did challenge him. He had to really think how to put things together as it grew and grew. It's over 2 1/2 feet tall!
There are over 40 pages of illustrated directions, so it's fairly straight forward how to put it together, but you have to also think about it as you're building. There were a few times we added a connection facing the wrong way, but it was easy to flip it once we were connecting all the pieces together.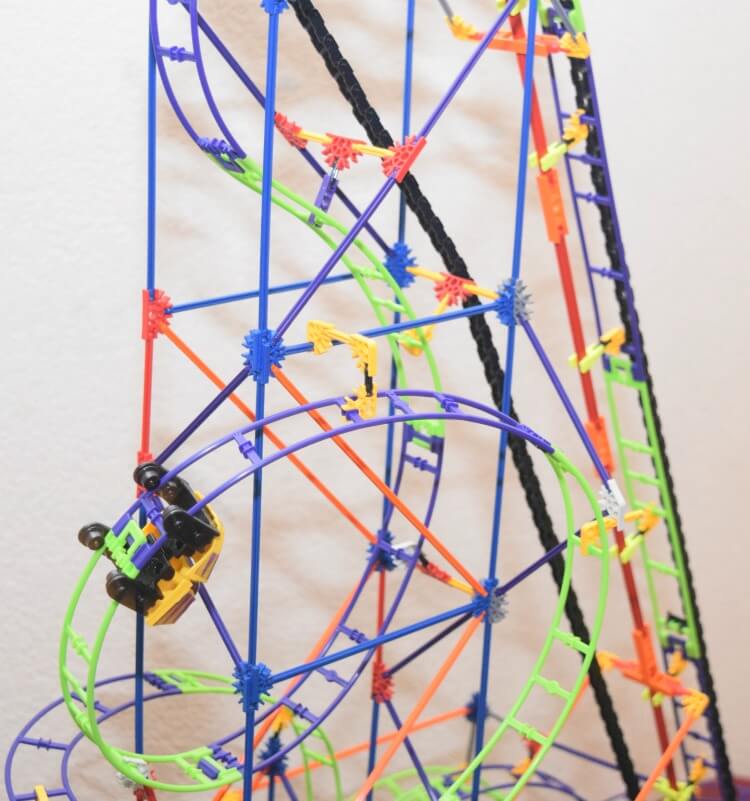 My 12-year-old started it alone, but he did require help. While the package says 9+, I would definitely say this is for the older tweens and even teens. It probably would have taken him days if I hadn't helped. We sat side by side and split the tasks, so he would build one part on the first page, and I would build the second part on the second page. Then, he'd put the two big pieces together and add them to the roller coaster. It was a totally fun challenge to put together.
Here's a video where you can see it in action:
When we finished and ran it through several times, my son was already planning how he could change the roller coaster with his own ideas. Plus, there is a photo on the back of the box that shows how to change the track into a different style coaster without all the loop-the-loops, and you can find those instructions on the K'NEX website.
Find it at Walmart for $32.97. If you need the perfect gift for a tween who loves to build and create, then head to Walmart and check out the K'NEX Wild Whiplash Roller Coaster! They will love it!