This shop has been compensated by Collective Bias, Inc. and its advertiser. All opinions are mine alone. #RadiantLaundry #CollectiveBias
I love hand-me-downs. Even though I've had girl-boy-girl, I've been saving hand-me-downs for years between all of them. I love being able to pass something down to the next one, especially my favorites, and even turn them into upcycle t-shirt dresses. It can be a challenge to protect colors, but I recently discovered all Radiant laundry detergent to help.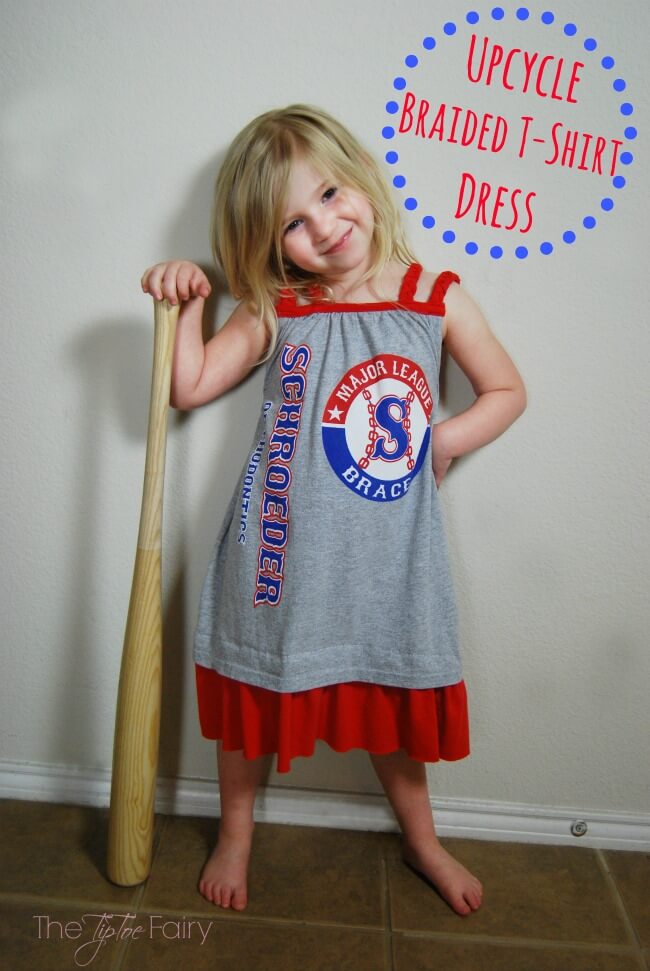 Recently, I was shopping at my favorite store, Target, and I discovered all Radiant. It has a patented fiber shield technology that attacks residue to help restore whites and protect bright colors. It takes stain lifting to the next level by turning back the clock on your favorite clothing. It revives whites that have started to look dingy, and it keeps colors looking bright over time with the patented fiber shield.
Did you know keeping whites white is one of the most frequently experienced laundry problems – second to only stain removal? It's something that drives my husband crazy. But, I think all Radiant just might be our solution!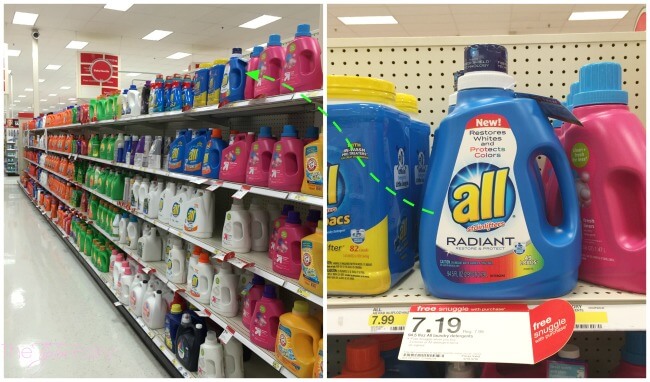 A few weeks ago, we had a big spring cleaning, and I had purged the kids' rooms of clothes that were too small. As I was making hand-me-down piles, a thrift store pile and a trash pile, I fond this adorable baseball themed t shirt from our orthodontist in my son's pile. Our orthodontist always has fun t shirts for every season and holidays. Sometimes I love to take a favorite t-shirt or two and turn them into something fun like pants or a skirt, or even a dress.
This particular shirt was still way too big for my youngest, so I got inspired to make her a baseball themed dress. Then, I found a coordinating red t-shirt from Nate's pile of old clothes, and I washed them in all Radiant. I can't believe how bright they came out. The baseball t-shirt looks practically brand new!
My daughter LOVES this dress. She lives in it. She sleeps in it. She wears it as much as possible. If you'd like to make one, here's how I made this fun little dress:
Braided T-Shirt Sundress
Molly wears about a 5T in clothing. This shirt was a Child's Medium, which I think is around a size 10-12. It was already like a dress on her.
Materials:
2-3 coordinating t-shirts
Matching thread
Directions:
1. Lay the t-shirt out and cut the sleeves off at the seams. Then, cut the shoulders and neckline in a straight line.
2. Cut the seams of the sleeves and lay them out flat as shown. Then from each sleeve cut a 2-inch strip.
3. Next, fold the shirt in half so that the sleeve seam area is in the middle as shown in picture #2 below. This way the front and back are folded in half. Then, cut about 2 inches off the top of the back, so it will hang further down on your child.
4. Now we are going to bind the arm openings. Next, fold in half one of the 2-inch strips you cut off the sleeves and pin to the WRONG SIDE of the arm opening. Then, you will sew it to the wrong side so that the seam will show up on the right side.
5 . Now fold the folded edge over that raw seam, pin it, and top stitch it down, just like the last two pictures. You'll do this for both arms. Snip off the excess of the binding to be even with the top of both the front and back.
**At this point, you might need to stitch up the arm openings if they go down too far. I did not take a picture of this, but I did have to sew them up about 2 inches for a better fit.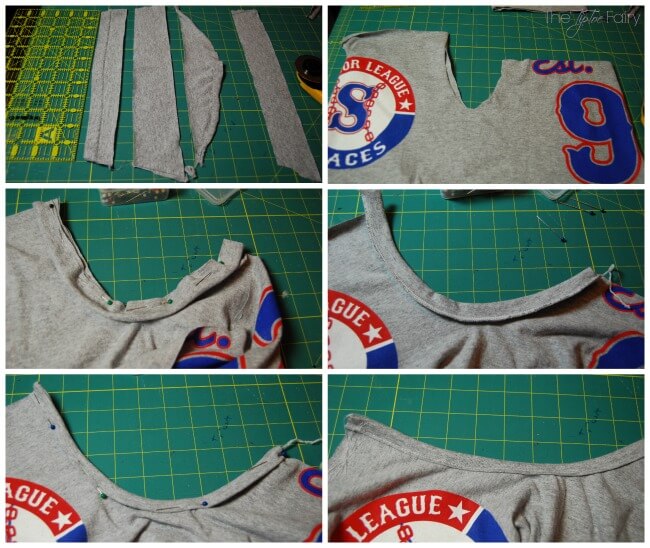 6. Take a larger t-shirt, such as a man's XL, and cut the sleeves off. I used my husband's coordinating red t-shirt. Open the sleeves and cut 2 more 2-inch wide strips.
7. Sew 2 gathering stitches along the top of the front of the shirt, and do the same for the top of the back as well. Then, pull the stitches to gently gather the front and the back.
8. Now you will bind the front and back exactly like you did the arm openings. You'll fold it in half and attach it to the WRONG SIDE so the seam faces the right side. Then, you'll fold it over again onto the right side, pin it, and top stitch down. Do this for both the front of the dress and back.
*Make sure to pull out the gathering stitches after you've sewn the binding.
9. Do not snip off the excess of the red binding until later.
10. Take the red t-shirt and cut about 3 or 4 1-inch strips off the lower part of the t-shirt. This is where we will make the braid straps.
11. Cut 3 strips from the t-shirt, and then, cut each strip into 4 pieces, so there's a total of 12 pieces. Layer 3 pieces together and sewed one raw edge of the layered pieces. Then, braid them all the way to the end and pinned the raw edge. Do this 4 times for all strips.
12. Pin the two outside braids to the very edge of the arm binding. Then, pin the second braid about 1 inch inward.
13. Next, I tried it on my daughter and pinned the braids to the back of the dress the same way so that they weren't too loose.
14. Then, fold the raw edges of the top and back binding around the braids (the ones we never cut off). Tack each braid at the topstitching line as well as at the top of the front and back binding for a secure fit.
15. This is optional, but when I tried it on my daughter it was just a little too short for my liking since she is so active and loves to play. So, I cut a piece of the red t-shirt about 5 inches wide to add length.
16. Sew two rows of gathering stitches at the top and gathered it to fit just to the gray shirt's width. On the wrong side of the dress, pin and then sew it about 2 inches above the hem of the gray t-shirt, to give it a layered look.
Here is the back view as best as I could do. She refused to let me move her hair.
It came out so much better than I imagined. Both Molly and I love it!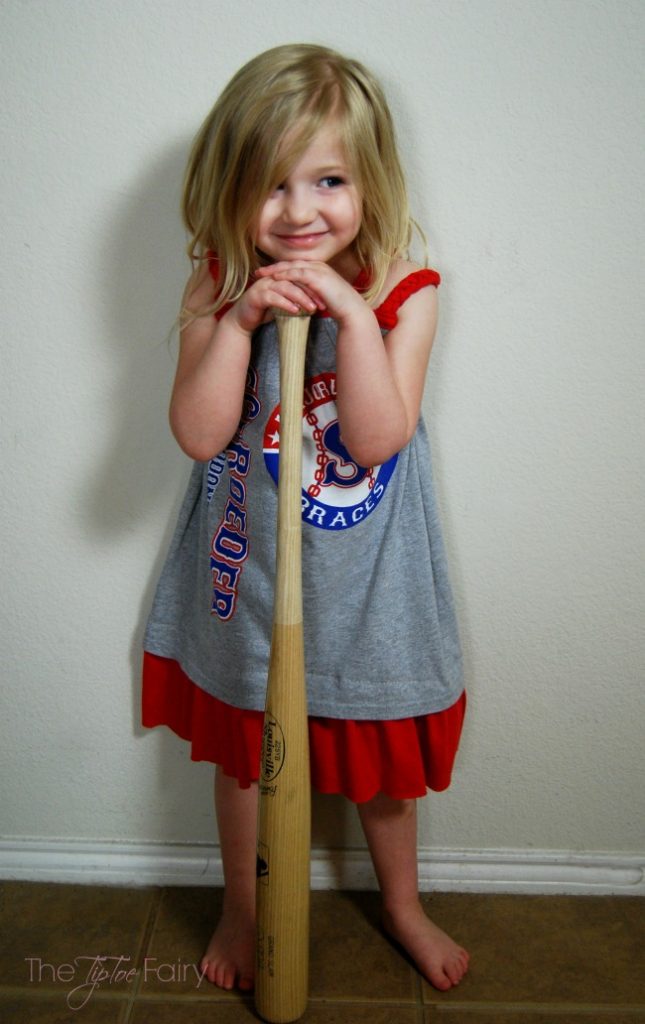 If you like to keep hand-me-downs for your kids, then check out all Radiant. It restores whites and protects colors so everything can look like new again!
Do you ever upcycle hand-me-downs?