If you've been reading lately, you'll know I have a wee bit of an obsession with Bulleye's Playground over at Target. I was there again and found these adorable little jars in the middle of all the Easter stuff. I knew immediately what I had to make – Easter Nest Jars.
These mini Easter Nest Jars are just so cute and so much fun to make. They are just perfect to give as Easter class party gifts, as take home gifts, or even as place cards for Easter dinner!
Supplies:
Candy coated egg chocolates
Chocolate eggs
Chocolate bunnies
Edible Easter Grass
Twine
These FREE PRINTABLES
Directions:
These are very similar to the jars I found at Target.
Begin by looping strands of the edible grass in your hands and then shoving it to the bottom of the jar. I used about 3-5 strands per jar.
Next, cover the grass with the candy-coated chocolate eggs. These will help hold it down.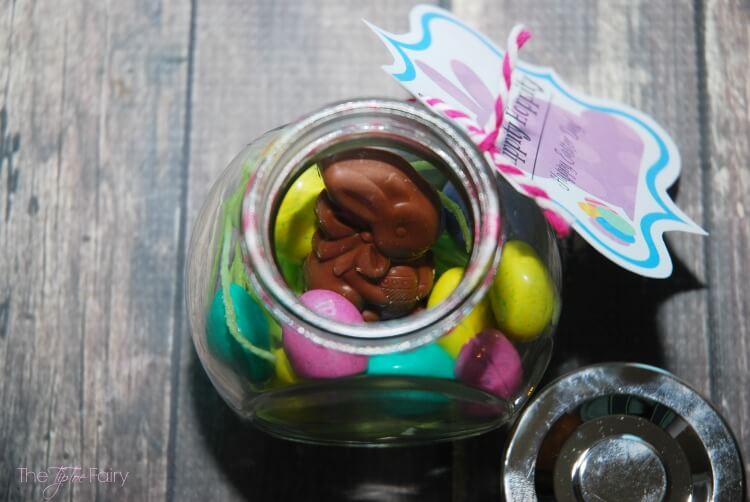 Then, between the candy eggs, insert either larger chocolate peanut butter eggs or chocolate bunnies. Just make sure they are small enough to still screw the jar lid on tight.
Once you've got the jars sealed, cut out the printables. Then, punch a hole in each one and attach it with baker's twine to the neck of the jar.
One of the songs my parents always used to sing to me when I was little was "Here Comes Peter Cottontail." When I became a mother, I started singing it to my own kids. It's always so cute to hear them sing it back to me when they're little bitty. I took one of the lyrics from that song and made it into a printable to go along with the Easter Nest Jars.
Here Comes Peter Cottontail,
Hopping Down the Bunny Trail.
Hippity Hoppity,
Happy Easter Day!
Do you like to make any fun crafts for Easter?