Do you ever wonder if you're really getting your money's worth when you rent a carpet cleaner? My husband and I rented both the Rug Doctor and the BISSELL Big Green to see which one really one really does a better job.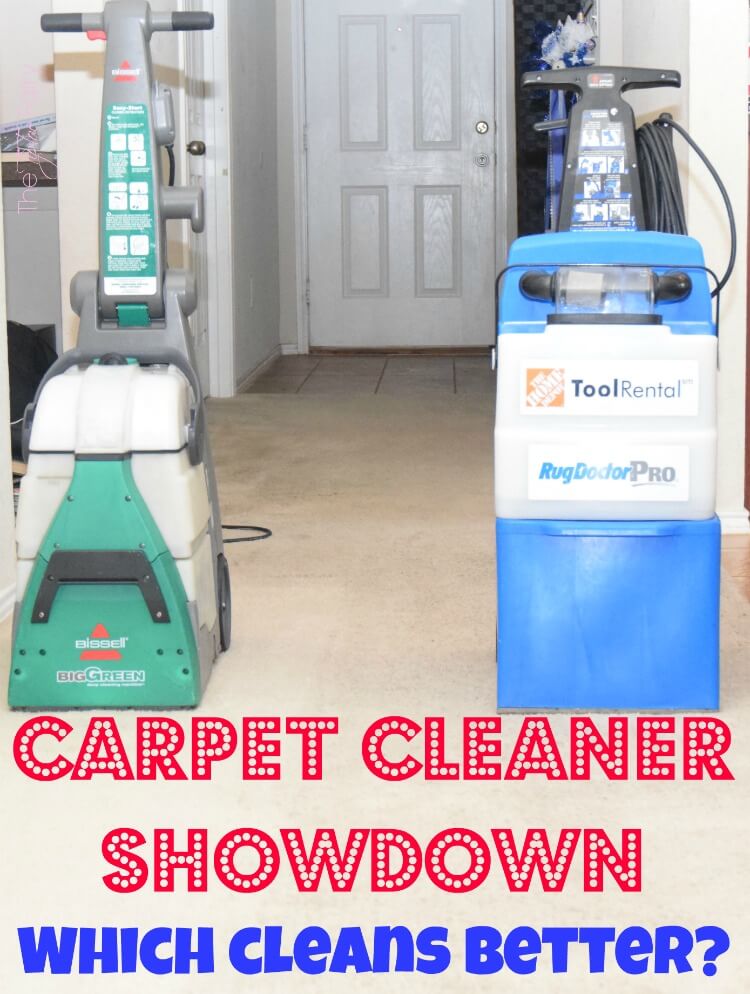 We have often borrowed my parents' carpet cleaner. Having kids, they are a mess. We probably clean our carpets every couple of months. It's always amazing when my husband is finished, and I see how clean they really are.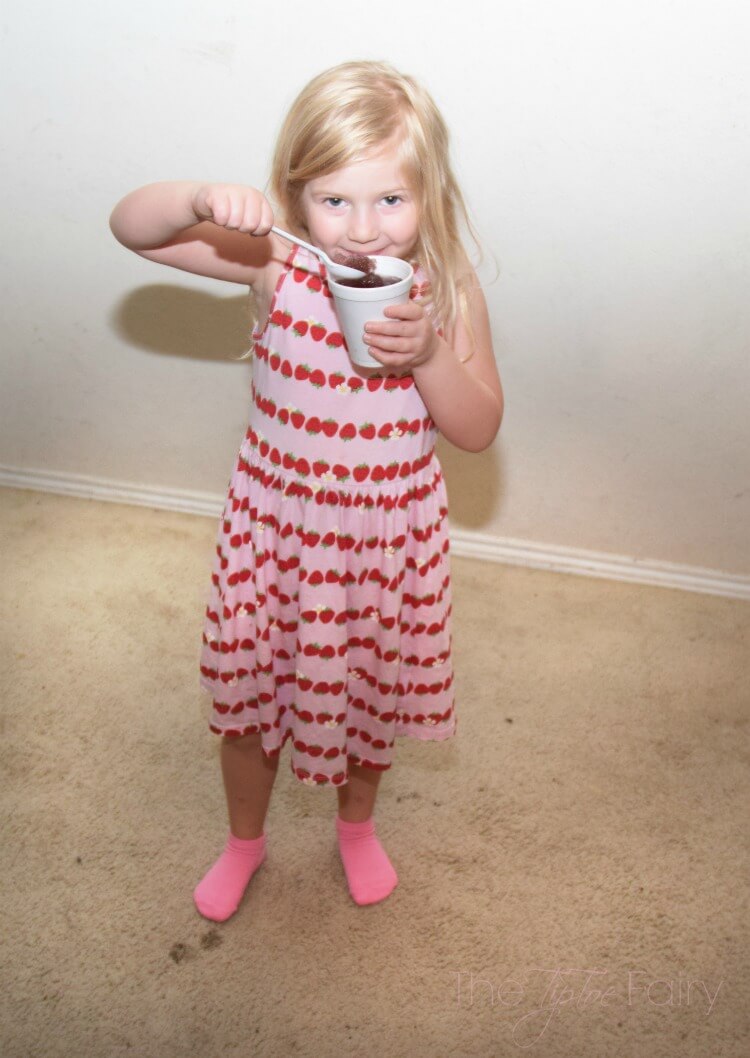 I honesty thought there wouldn't be much of a difference. We got similar "oxy" cleaning solutions for both, and I really assumed I wouldn't be able to tell a difference. I was totally wrong.
I rented the BISSELL Big Green at Lowe's, and it could not have been easier. They were so nice and just explained the process and what I needed to clean before returning it. The machines were right at the entrance by customer service. I was in and out in 5 minutes.
Now the Rug Doctor was another story, I'm not sure if this is all places that rent Rug Doctor, but The Home Depot acted like we were criminals planning to tear up the machine. The "Tool Rental" was on the far end of the store, full of all kinds of tools and very cluttered. The employee who helped us was rude and basically threatening when explaining what needed to be cleaned before we returned it. I was really worried about missing a single spot when I cleaned and returned it. I did not feel that way when I rented the BISSELL Big Green.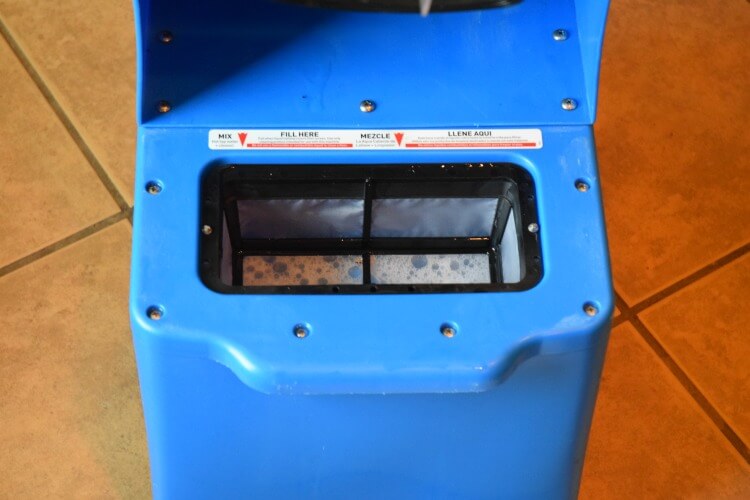 First, the Rug Doctor is a pain to mix up. You have to do a lot of measuring with so many gallons of water to a so many cups of solution. You have to use your own separate bucket to mix the water and solution before pouring it into the machine directly. I made a huge mess pouring the water solution into the machine that had to be cleaned up.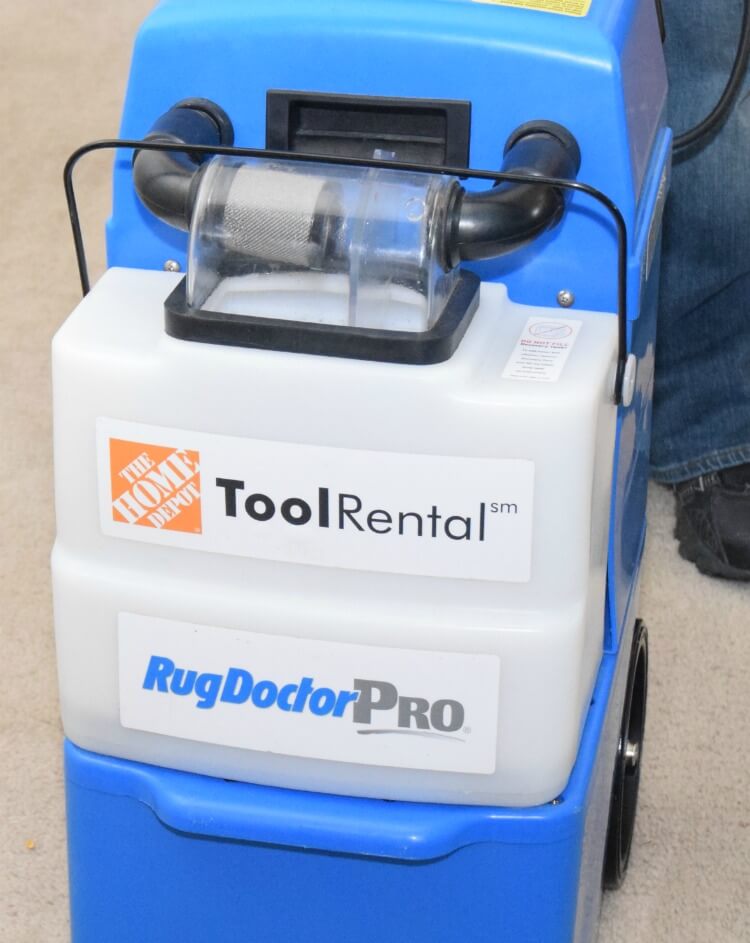 Once, you've done that, you replace the top part that catches the dirty water. I was amazed the filter was just held on by this pressure from this little metal bar.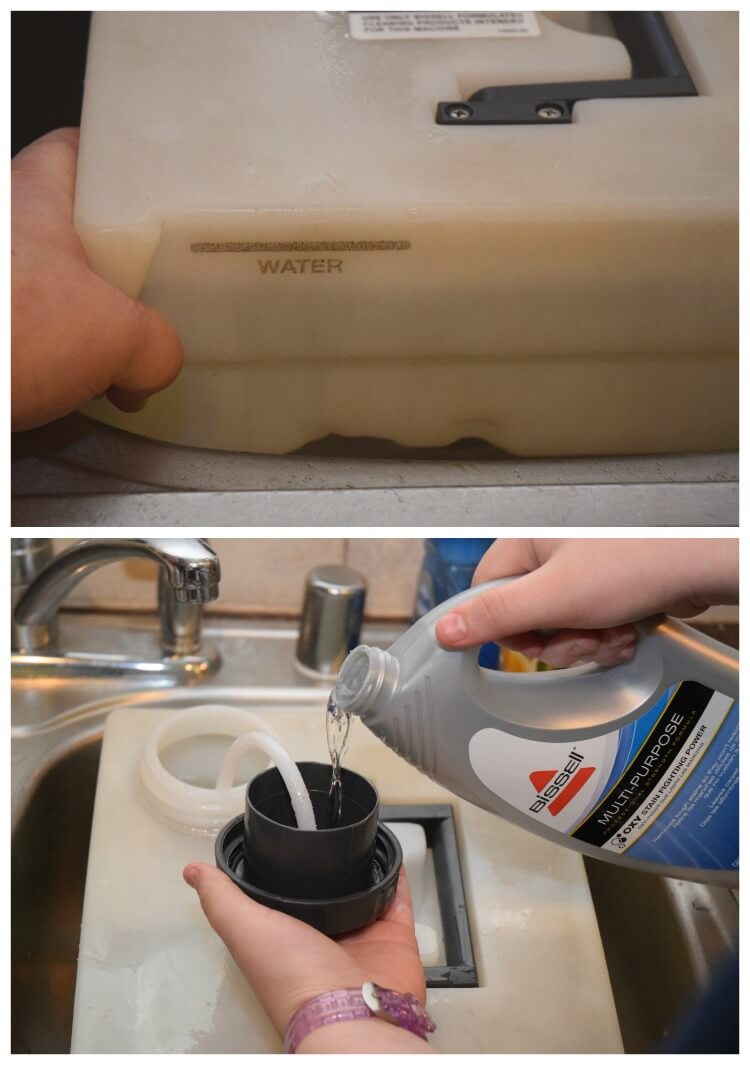 With the BISSELL Big Green it was easy. You can easily remove the clean water tank from the machine and take it to the sink. No separate mixing bucket needed. You just fill the water to a certain line and pour in two caps of solution. No measuring!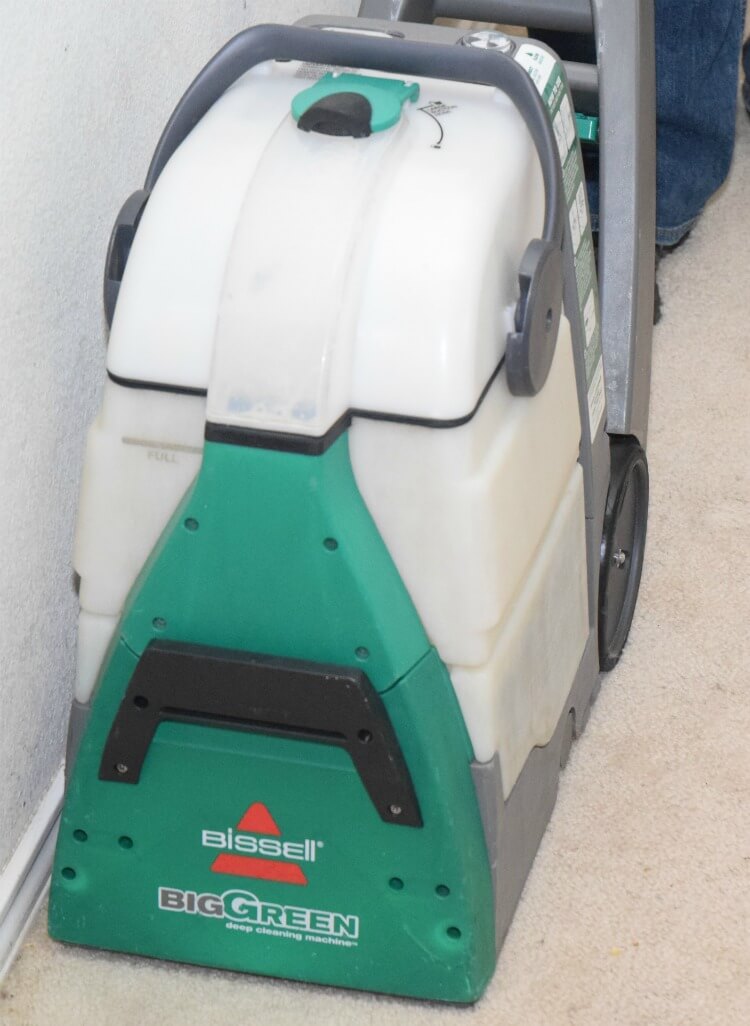 Then, everything fits together nicely, and it's ready to go.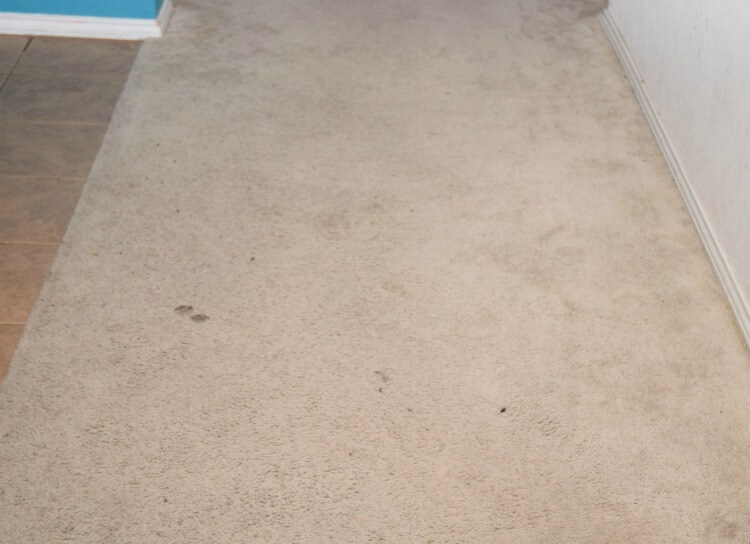 To test them out, we used our most heavily trafficked hallway right in front of the kitchen. You can see how bad it is in all its glory. Just yuck! We did one half with the Rug Doctor and one half with the BISSELL Big Green.
Check out this video of them in action:
Who was the clear winner? These photos are untouched. Can you see the difference?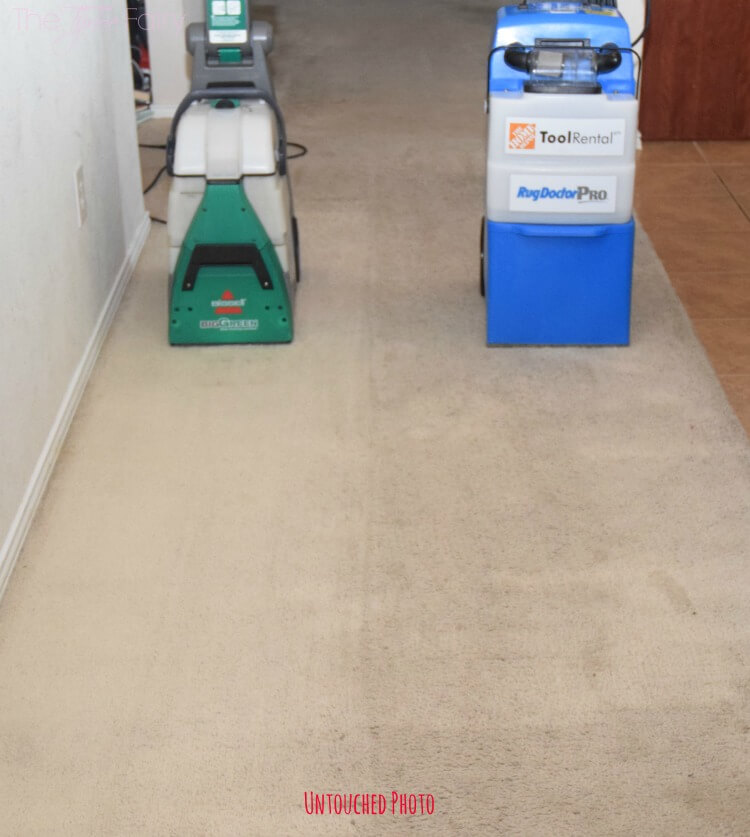 My husband went over with the Rug Doctor several passes, and it would not get clean. With the BISSELL Big Green he only did two passes. I was astonished there was such a difference.
The clear winner was The BISSELL Big Green Rental Carpet Cleaner!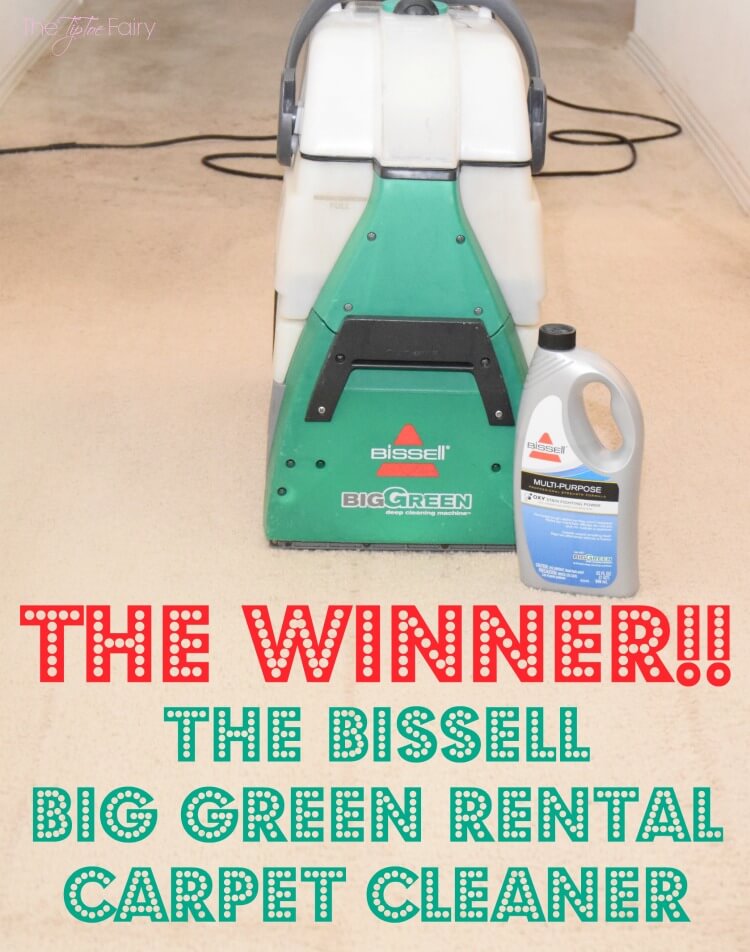 You can get professional-grade carpet cleaning any time you want with the BISSELL Big Green Deep Cleaning Machine. It features both a large capacity clean-water tank and dirty-water tank, so you can get a good deep cleaning without so many trips to the sink to change out the water. Plus, it's rotating DirtLifter® PowerBrushes remove that deep down dirt fast from carpet and clean both ways with forward and backward passes.
The deep down powerful clean you want is now available in your home.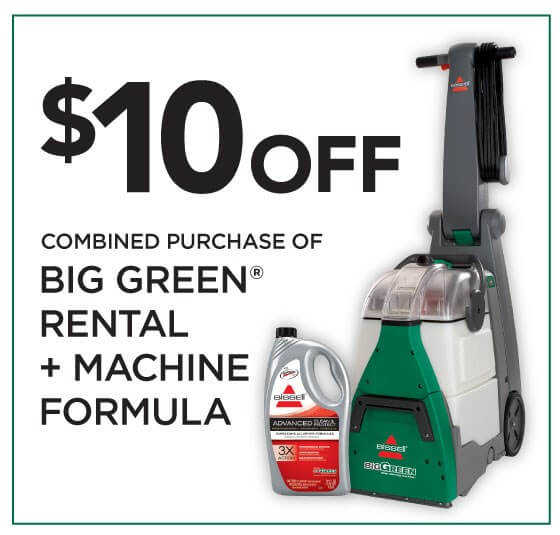 Want to rent a BISSELL Big Green? You can find a location near you. Click HERE to grab a $10 OFF Coupon for your Rental of BISSELL Big Green!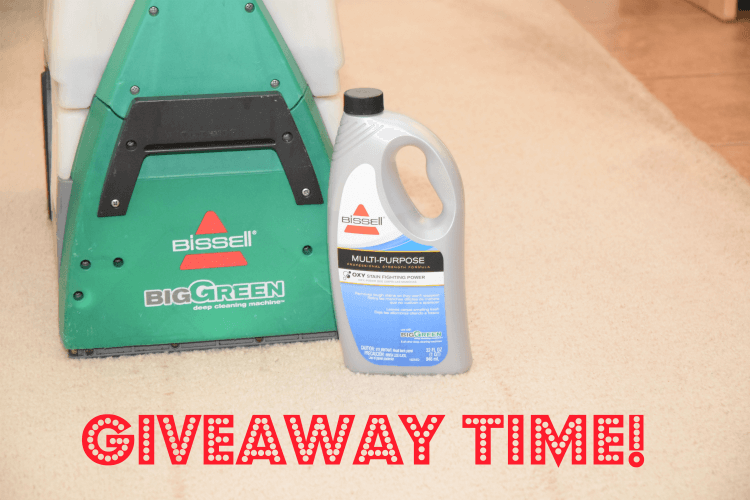 You can WIN a FREE RENTAL COUPON for a BISSELL Big Green! All you have to do is leave a comment below and tell me What do you look forward to most about renting the BISSELL Big Green?