This post contains affiliate links. I earn a small amount of money on purchases made through these links to help offset the costs for offering free content on this site. Thanks!
Can you believe the new school year is almost here? I swear summer just started and now I'm already making supply lists and looking for new backpacks.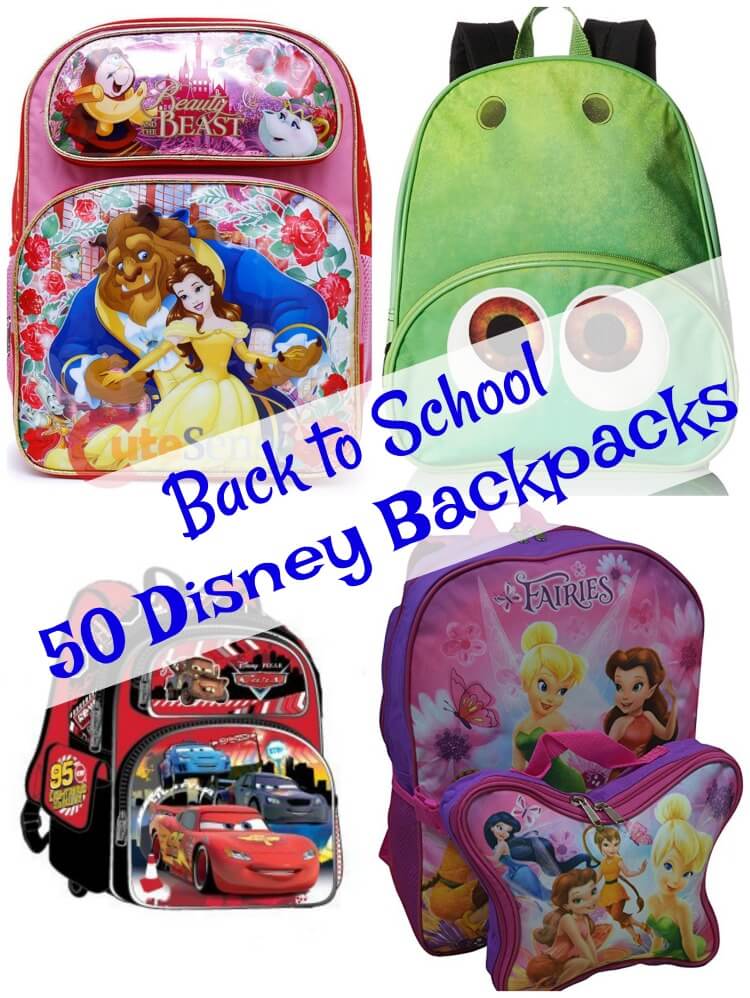 Do your kids love Disney? Here are some of my favorite Disney Backpacks just in time for school!
1. Disney Girls' Minnie Polka Dot Backpack with Lunch
2. Minnie Mouse Face Backpack – 12 Inches
3. Disney – Mickey Mouse w/ Friends 16″ Backpack
4. Disney Girl's Inside Out Deluxe Backpack with Lunch Kit
5. Disney Beauty and the Beast School Backpack 16″ Large Belle Girls Book Bag
6. Walt Disney World Exclusive Mickey Mouse Color Icon Backpack
7. Disney Fairies Tinkerbell & Friends 16″ Backpack W/ Detachable Lunch Box
8. Loungefly Disney Aristocats Backpack
9. Walt Disney World Multi Color Mickey Mouse Backpack
11. Disney Boys' Finding Dory Mesh Backpack
12. Disney Moana Backpack with Pencil Case
13. Disney Big Hero 6 Backpack
14. Disney Princess Backpack Pink
15. Disney Boys' Good Dino Toddler Backpack
16. Disney Cars Kids 16 inch Deluxe Backpack
17. Vans Women's Backpack – Dalmatian – Black/White – One Size
18. American Tourister 74727 Disney Minnie Mouse Children's Backpack
19. Disney Boys' Good Dino 12 Toddler Backpack
20. Disney Boys' Lion Guard Backpack with Lunch Kit
21. Disney Store Finding Dory Backpack
22. Disney Girl's Minnie Mouse Backpack with Lunch Kit
23. Disney Minnie Mouse Junior Backpack
24. Disney Cars Shaped 12 Inch Toddler Backpack
25. Disney Store Ariel – The Little Mermaid – Backpack
26. Disney Big Hero 6 16-Inch Backpack
28. Disney Junior PJ Masks Owlette, Gekko and Catboy Its Time To Be A Hero! Backpack
29. Disney Descendants Backpack with Lunch Bag Combo
30. Finding Dory Nemo All-over Print Sublimated Backpack
31. Disney Pixar Inside Out Riley's Emotion Kids 16″ School Backpack Bag
32. Lungefly Disney Alice in Wonderland Backpack
33. Disney's Frozen Elsa Backpack with Clear Pocket Lunchbox Bag
34. Disney Finding Nemo 3D 15″ Large Backpack
35. Disney Tsum Tsum All About The Ears 16 inch Backpack
37. Disney Lion King Simba Print Backpack
38. Disney Mickey Mouse 16″ All Over Printed Backpack School Book Bag
39. Loungefly Disney Ariel Photo Real Backpack
40. Disney Girls' Elena 5 Pc Set Backpack
41. Disney Finding Dory Pink 16″ Cargo Backpack
42. American Tourister Disney Frozen Backpack
43. Disney Girls' Minnie Mouse Print Backpack
44. Disney Girls' Tsum Zipper Pull 16 Backpack
45. Disney Peter Pan Tinkerbell All-over Print Sublimated Backpack
46. Disney Lilo and Stitch 16″ Large School Backpack
47. Fast Forward Disney Princess Backpack
48. Disney Girls' Princess Backpack with Lunch Window Pocket
49. Disney World of Disney Emoji Backpack
50. Disney Boys' Finding Dory 16 Inch Backpack