This post may contain affiliate links.
Even though it feels like summer has just arrived, school starts back in just a few weeks. We've got just a few short weeks until school starts, and that means it's time to start buying school supplies.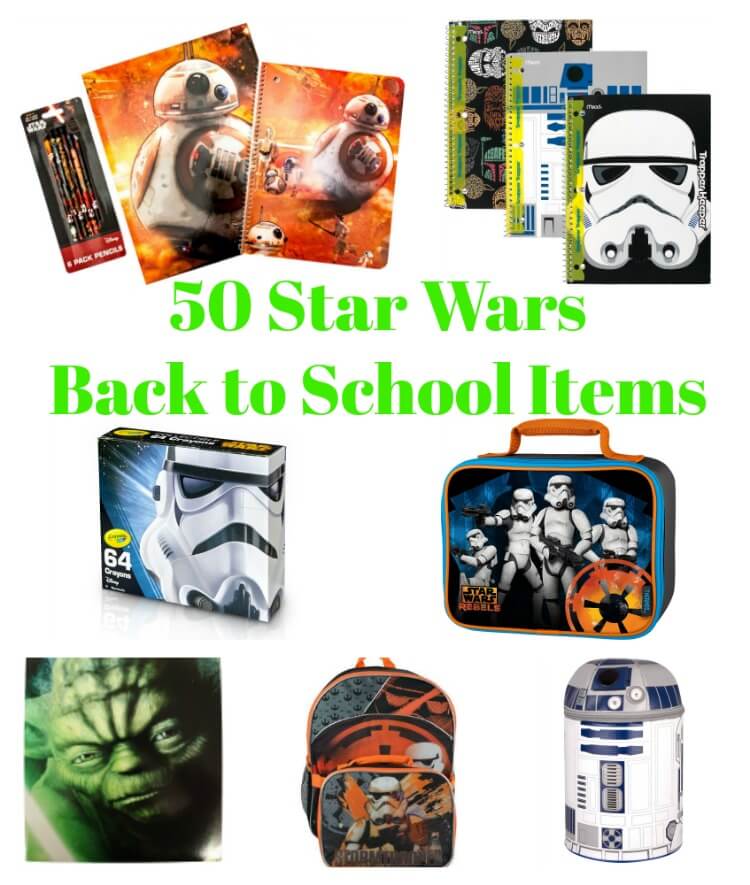 If your kids love Star Wars as much as mine do, check out these awesome Star Wars Back to School items they won't be able to live without that you can get right on Amazon without having to head out to the stores.
1. Star Wars VII Episode 7 The Force Awakens Backpack, Lunch Box and School Supplies
2. Thermos Star Wars The Clone Wars Insulated Lunch Bag (Yoda)
3. Star Wars Force Awakens Trapper Keeper 5 Tabbed Dividers by Mead
4. Disney Star Wars Classic All Over Print Kids Backpack 16″
5. Star Wars The Force Awakens Backpack and Back to School Supplies 16pc Bundle
6. Thermos Star Wars Episode VII Dual Compartment Lunch Kit, Kylo Ren
7. Star Wars Robot BB Character Authentic Licensed Single Zipper Pencil Case (Black)
8. Star Wars Episode 7 BB8 Backpack
9. Inkworks IW4100 Star Wars Projector Pen
10. Disney Star Wars Blue Bb-8 Lunch Bag with Water Bottle & Adjustable Shoulder Strap
11. Star Wars Trapper Keeper Notebooks with Snapper Trapper by Mead, 1 Subject, Wide Ruled, 3 Pack
12. Disney Star Wars 15″ Back Pack
13. Loungefly Star Wars the Force Awakens Ship Blueprint School Pencil Case
14. Star Wars The Force Awakens 3-Ring Pencil Pouch
15. Disney Star Wars Episode 7 BB8 Dual Compartment Lunch Kit
16. Star Wars VII Episode 7 The Force Awakens Backpack, Lunch Box and School Supplies
17. Star Wars Luggage Kylo Ren Light Up 16 Inch Backpack
18. Thermos Funtainer 12 Ounce Bottle, R2D2
19. Crayola Limited Edition Crayon, Star Wars Storm Trooper Toy (64 Count)
21. Disney STAR WARS "The Force Awaken" Blue Storm Trooper Pencil Case Pouch Bag
22. Star Wars Tattoo Flash Print Backpack
23. Disney Star Wars "The Force Awaken" 12 Wood Pencils Pack
24. Star Wars R2-D2 Sublimated Backpack
25. Inkworks Star Wars The Force Awakens Colored Mechanical Pencils (5 Pack)
26. Non-woven Cooler bag Star Wars
27. Star Wars School Supplies Bundle
28. Star Wars 7 Portfolio The Force Awakens – Set of 3 Portfolio 2 Pocket School Folders
29. Star Wars 16 Backpack With Stationary Set
30. Disney Star Wars Character Authentic Licensed Single Zipper Pencil Case (Red)
31. Star Wars R2-D2 Pencil Case
32. Loungefly Star Wars Baby Character Aop Print Backpack
33. Disney Star Wars Episode 7 Backpack, 2 Folders and 1 Pencil Case School Supply Kit
34. Thermos Soft Lunch Kit, Star Wars Rebels
35. Star Wars Fierce Yoda Pack ~ Folder & Notebook
36. Loungefly Darth Vader 3D Molded Nylon Backpack
37. Star Wars Rebels Zip-up Stationery Kit/set for Kids – 30+items
38. BB-8 School Supply Set with Star Wars pencils, BB-8 eraser, BB-8 notepad, & 2 folders
39. Star Wars Boys' Disney Chew Bacca 3D Plush Furry Arms and Legs 16 Inch Backpack
40. Star Wars Chewbacca Deluxe Lunch Bag
41. Disney Star Wars Storm Trooper Lunch bag – Black
42. Star Wars Boba Fett 3D Backpack
43. Star Wars the Force Awakens 16 Inch Backpack with Detachable Lunch Kit
44. Disney Store Star Wars: The Force Awakens Backpack
45. Thermos Novelty Lunch Kit, Star Wars R2D2 with Lights and Sound
46. Thermos Soft Lunch Kit, Star Wars – Clone Wars
47. Loungefly Star Wars Baby Characters All Over Print School Pencil Case
48. Star Wars 16″ Storm Trooper Backpack with Lunch Box Bag Kit
49. Star Wars 11 Piece Stationary School Supplies Set
50. Star Wars 16″ Backpack Resistance The Force Awakens Episode 7 BB8 Chewbacca