This is a sponsored post written by me in partnership with Ibotta. All opinions are my own.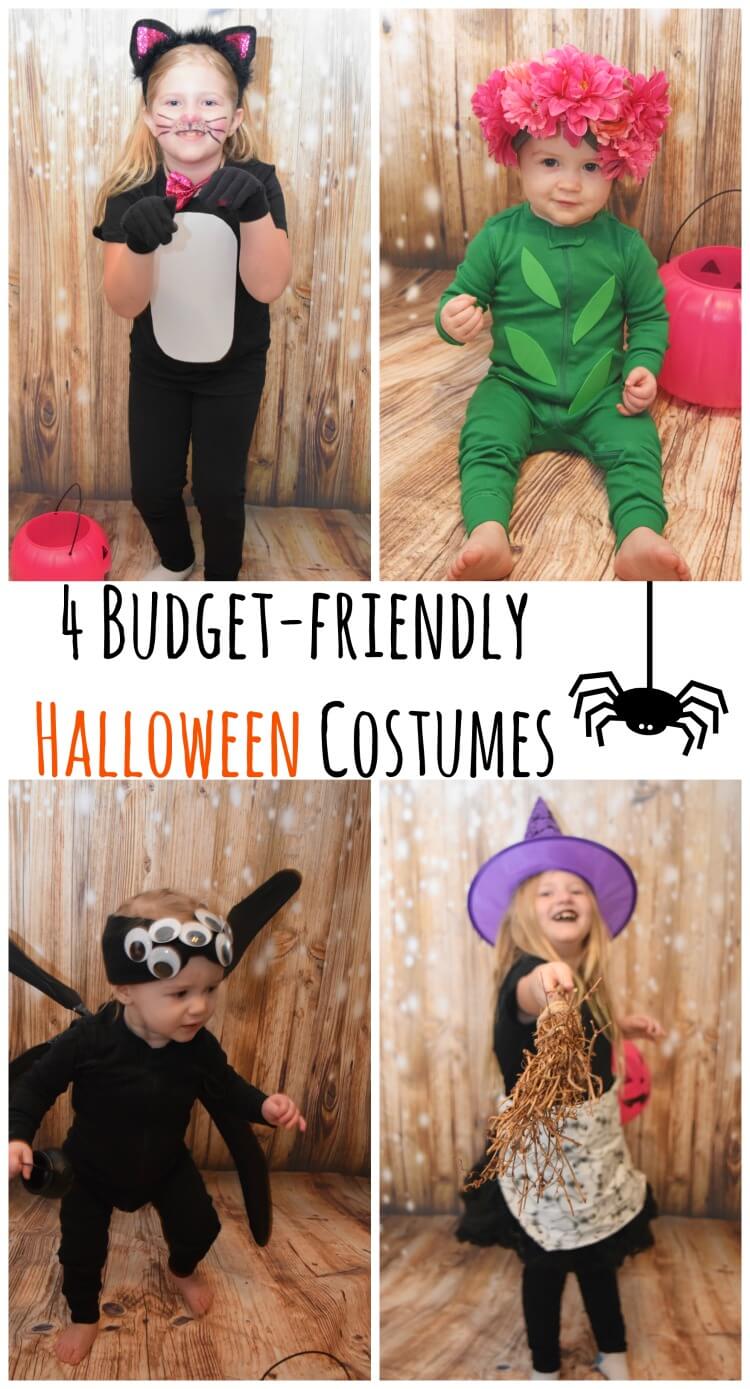 With four kids, costumes for Halloween can easily get expensive. One way I save money is making their costumes. Often, I get most of the supplies for their costumes at stores like Walmart, Target, and JOANN.
Luckily, all these stores are on my Ibotta app, so I can save even more when I go pick up supplies for their costumes. Just download the Ibotta app, choose the store you'll be shopping at, and pick the deals for what you're going to purchase. You can save on all kinds of things from groceries to craft supplies to Halloween treats.
I can't wait to show you how to make these easy and adorable budget-friendly costumes. They each take less than 30 minutes to put together. We'll be making:
a witch
a cat
a spider
a flower
For the witch, cat, or spider, all you need is a black t-shirt and leggings which your kid probably already has or you can easily find at Walmart or Target. My youngest had a solid black pair of zipper pjs, which worked perfectly for her baby spider costume. For the flower, I did the same thing with a pair of solid green zipper pjs we already had.
Witch Halloween Costume
Supplies:
black t-shirt
black leggings
black petticoat
witch's hat
apron (DIY made from rectangular shape vinyl Halloween tablecloth at Walmart)
black lipstick
broom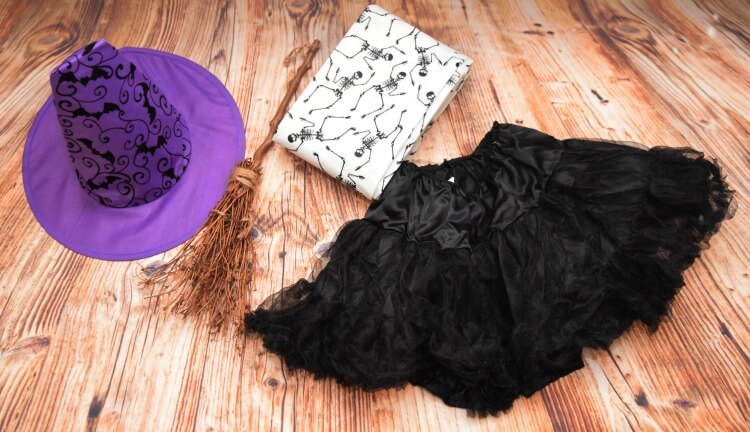 Directions:
A witch needs an apron, but I did not want to sew one. So, I picked up a cheap Halloween skeleton vinyl tablecloth to make an apron. I chose vinyl because I knew I could just cut it into an apron shape, and it would not fray. To make one for an 8 yr old girl size, I eyeballed how long her petticoat skirt was and then cut a rectangular piece of tablecloth that was 12 inches long (as that was about the length of the petticoat) by the entire width of the vinyl tablecloth. Then, I folded the rectangle in half lengthwise and cut it into the shape of an apron with ties.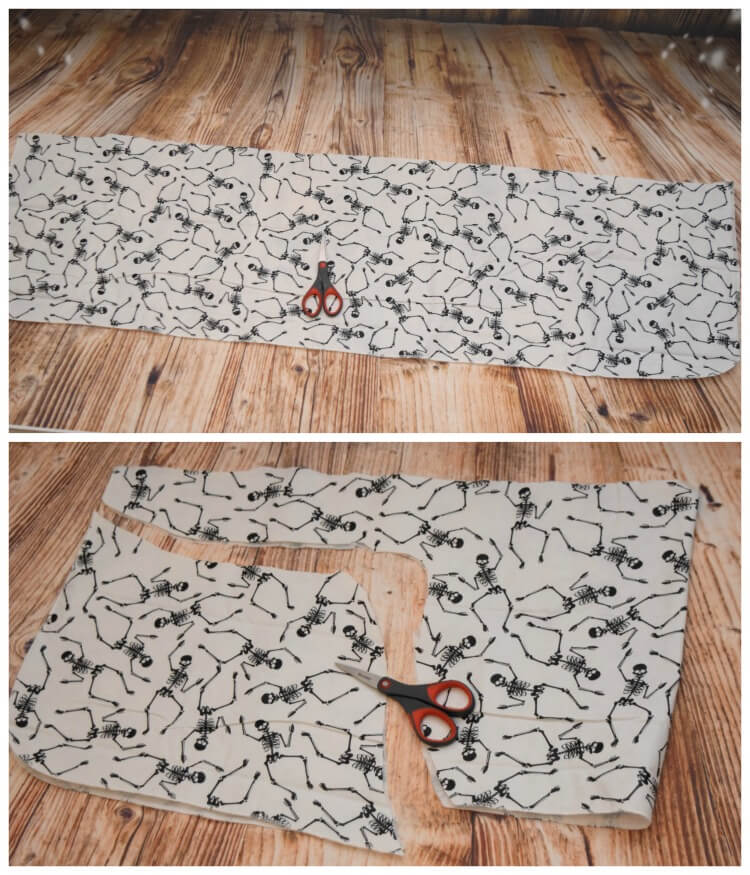 Now let's make our witch! Put on black t-shirt, leggings, and petticoat. The petticoat is less than $5 at Walmart in the Halloween costumes. Then, tie on the freshly made apron.
Put on some black lipstick, top off with the witch's hat (just $1 at any local dollar store), and accessorize with a broom. We got the cute little mini broom for $3 at Target.
Black Cat Halloween Costume
Supplies:
black t-shirt
black leggings
black gloves
1 sheet of adhesive-backed white foam
cat ears, tail, bow tie set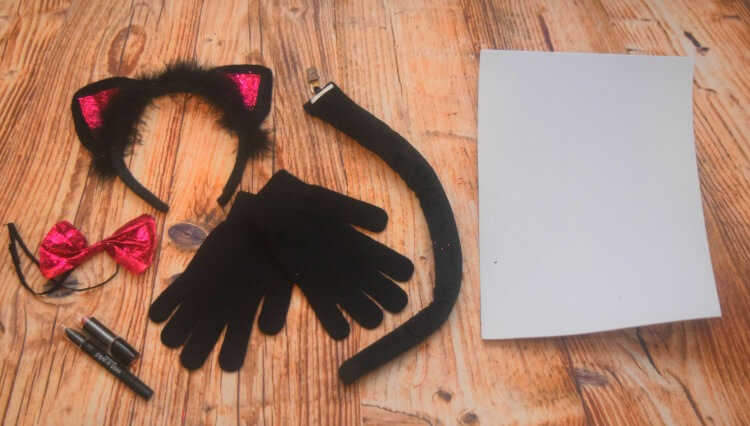 Directions:
Cut the white foam to a rounded oval shape to go on the front of the t-shirt like a white patch of fur. Put on the t-shirt, leggings, gloves, cat ears, tail, bow tie, and finish off with the white patch on the front of the shirt.
Finish off with some pink cheeks and nose with the lipstick and add some whiskers, cat lips and whisker dots with the black eyeliner.
Pretty Flower Halloween Costume
Supplies:
green pajamas or t-shirt and leggings
1 sheet of adhesive-backed green foam
2 fake flower bushes
green ear warmer
hot glue
glue gun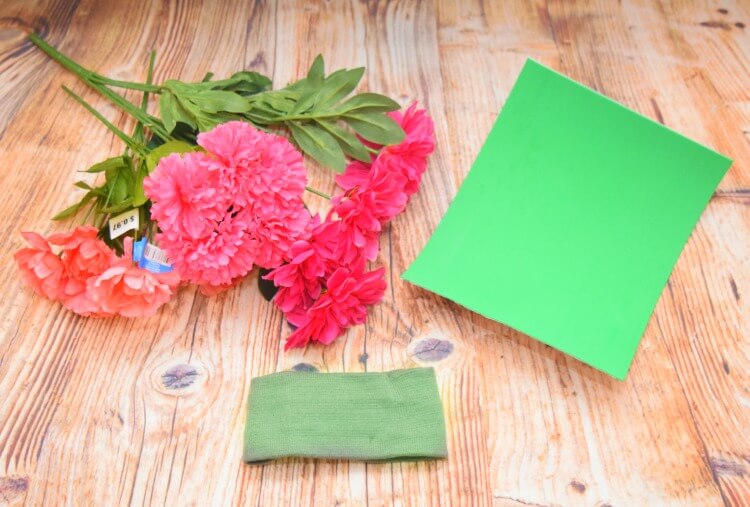 Directions:
Cut 4-5 leaves from the green foam and stick down the center of the shirt or pajamas. I used the zipper on our pajamas like a stem.
Take the flower bushes and pull off the flowers. Using the glue gun, hot glue several flowers to the entire front of the ear warmer until it all looks like flowers.
Dress your child in the pajamas and add the flower ear warmer and you're ready for trick or treating. I chose a ladies ear warmer because it fit and was less bulky for a toddler than a knit hat, and it was less than $3.
Baby Spider Halloween Costume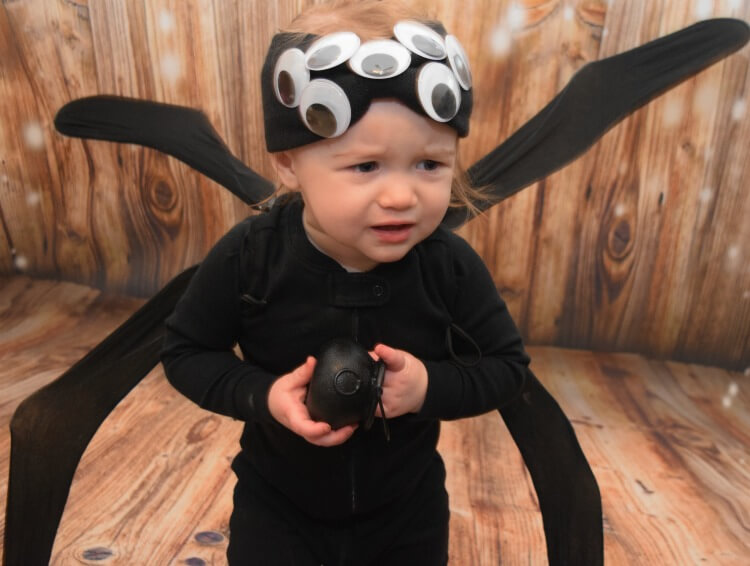 She might look unhappy, but she's not. We were actually singing one of her favorite songs — Go Away Scary Monster Go Away — and this was the part where she yells "Go Away!" as loud as she possibly can. It's a very serious thing to do.
Supplies:
black pajamas or t-shirt and leggings
6 1-inch google eyes
black ear warmer
4 wire coat hangers
2 pairs of black knee highs
1 yard of thin black elastic
black duct tape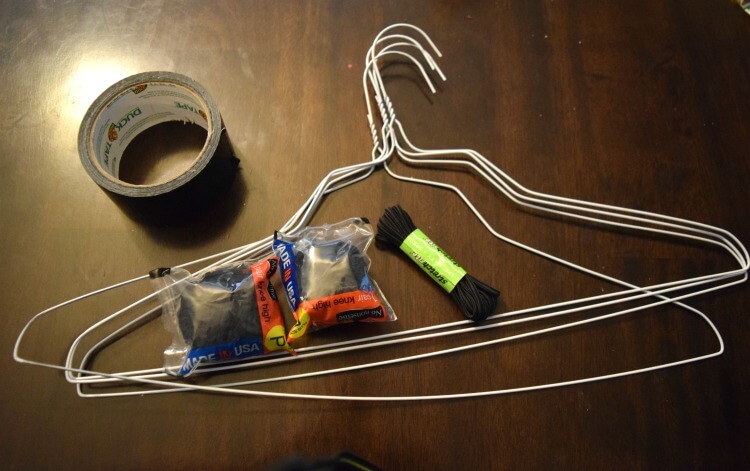 Directions:
Take the black ear warmer and hot glue six google eyes in and around the center. Set aside.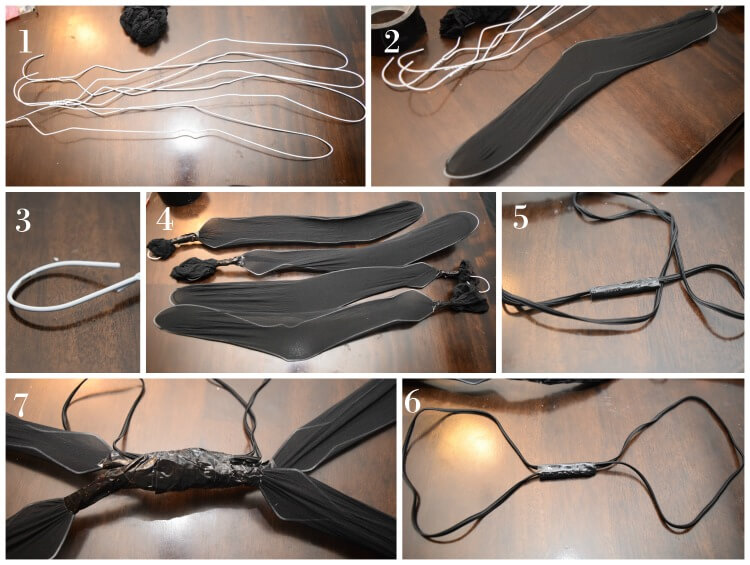 Bend out each hanger to make each one look like a slightly bent spider leg.
Cover each spider leg with a black knee high pulled taut. Gather the excess of the knee high at the hanger hook and tape with black tape. Do this 4 times.
Lay out each spider leg flat with hooks together and wrap black duct tape around all of them securely.
Take an 18-inch piece of black elastic for big kids or a 12-inch piece for toddlers and tape the ends together so it forms a circle. Then, tape that with the other side of the circle to form 2 loops.
Then lay the taped part of the elastic on the taped center of the legs and wrap more duct tape to secure the elastic.
Dress your child in black pajamas or t-shirt and pants. Slide the elastic to the spider legs up their arms and top it all off with the ear warmer covered in googly eyes on their head.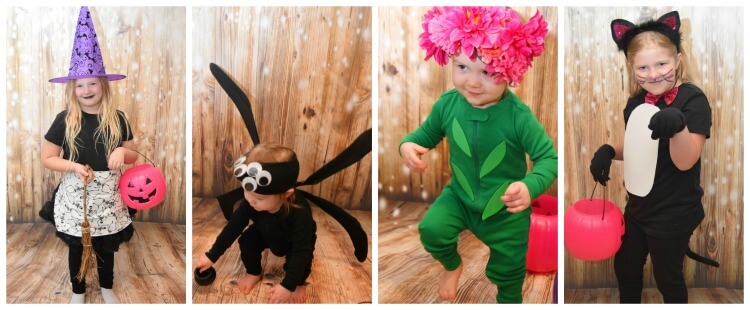 I hope you can use some of these simple ideas to make budget-friendly Halloween costumes this year. These four took no time at all, and I just love how they came out. After we made the costumes, my girls decided they're going to be the Black Cat and the Flower for Halloween this year.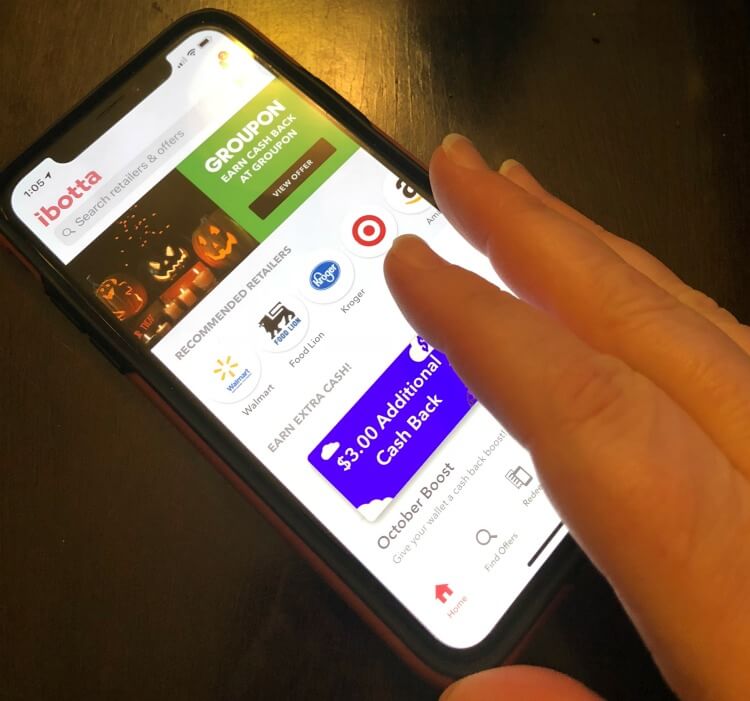 You can get some cashback finding the items you need for Halloween this year with Ibotta! Ghosts and ghouls alike can earn gobs of cashback this Halloween! Download the app and start earning today.
All offers were valid as of publish date. Don't forget to check your app for details as offers change frequently and may not be available in all areas.