I received complimentary admission to Water Works for my family as well as a cabana rental in exchange for an honest review. All opinions are 100% my own.
Are you local to the Dallas/Ft. Worth area? Looking for a fun activity for your staycation? Then, you just might love a trip to Denton and the Water Works water park. We've been coming for years. It's a great place to relax!
It's one of the few water parks were you can bring your own cooler and food!
Water Works has a few new things this year! This is the first year that they have cabanas you can rent for 3 hours. You'll get your own private, shaded area with a table, chairs, and lounge chairs.
They are set up right in front of the kiddie area, so you can relax in your own lounge chair while the kids play.
They each come with a plastic basket of 4 chilled waters.
You can easily modify the sides of the cabana to give you privacy or let the breeze blow through. We were able to change the wall flaps around so that the sun was blocked.
Water Works now has a great concession stand called The Pineapple Delight.
The prices for combo meals are pretty cheap, and they include drinks. Nate tried the Pineapple Delight burger, and rest of us got hot dog meals. Mine was delicious!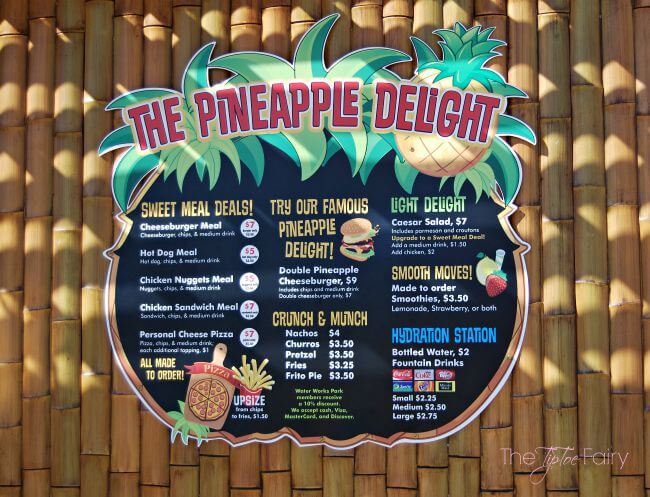 Another favorite for my kids is the snow cone stand. They always want one!
The slides are all conveniently located in one part of the park.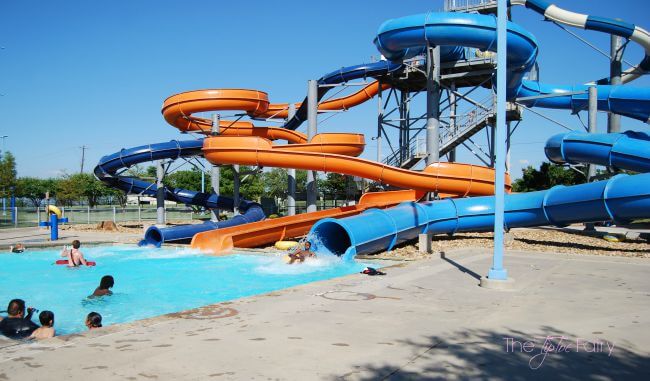 My family's favorite is the lazy river. There are two entries into the lazy river. My 5 yr old's favorite part is a section of the river filled with jacuzzi type jets that bubble up as you pass through. There's always tons of tubes so you can grab one.
When you're just arriving or leaving, there are nice changing rooms with several stalls. There's also lockers to keep your personal belongings.
If you forget any of the necessities like sunscreen, swim diapers, etc, the gift shop at the front of the park will have what you need at reasonable prices. This is also where you'll get your cabana rental. They even have delicious homemade ice cream from a local popular ice cream store!
You can even have a birthday party or event and rent this pavilion right by the lazy river.
Don't forget to grab a coupon HERE for $2 off admission!
This is one of our favorite places to visit! What kinds of things do you like to do for your staycation?