In exchange for an honest review, I received complimentary admission to Schlitterbahn Waterpark Galveston Island, Texas. All opinions are 100% my own.
We've been to our fair share of water parks, and I have to say without a doubt, Schlitterbahn is our hands down favorite. My older two kids had been to the original Schlitterbahn waterpark in New Braunfels, TX, but my husband and I had never visited before this trip.
Everyone in our family agreed the best part was the river around the park, but it wasn't a lazy river. The river actually split. In one part, you had to be on a tube, and it was full of rapids. Then, the other split was somewhat more gentler. You didn't have to be in a tube, but when the two rivers came together, and the rapid one spit everyone out on their tubes, the HUGE waves came along with it. We LOVED that part. I think we spent more time in the river than any other part of the park.
My littlest one loved all the kids areas. There were several all around the park with gentle slides just for her size. She had never been on a water slide before this visit, and she absolutely loved it. She cannot wait to go back.
Even though we visited on a Friday, there was plenty of parking and plenty of covered areas with tables. We took over a picnic table right in front of the wave pool. There were even huge indoor areas with tables and lounge chairs in a couple areas of the park.
Our other favorite part was the wave pool. It fed into the river on one side, and the river let back out into the wave pool on the other side. You could pull a lounge chair right up to the water and lay around while the kids played.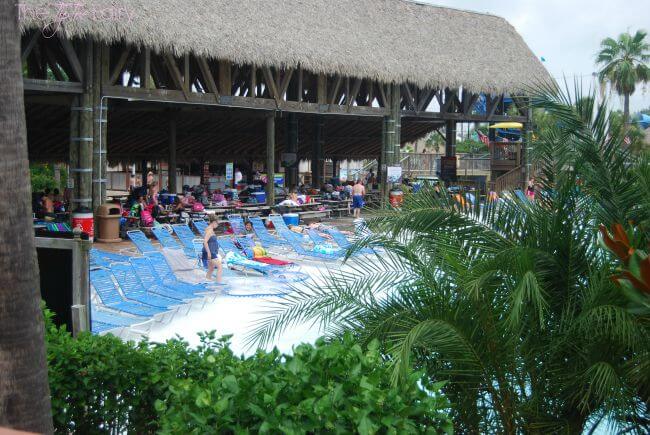 I loved that they had life jackets for the less experienced swimmers and the tubes were all around the park for free. Plus, you could bring your own cooler and food into the park. We brought our own picnic, but when we heard about the ginormous funnel cakes at Schlitterbahn, we got the kids the World's Greatest Funnel Cake – it had 3 funnel cakes on it!! Check it out:
My son was the only one brave enough to try the Boogie Bahn. I thought he did a great job. There were so many people who just flew off immediately, but he held himself there and was able to boogie board for quite awhile, and this was his first real try at it.
There were lots of slides all around the park for big kids and grown ups. My son and I went on the Wolfpack, which was a giant tube and the slide was huge with huge bumps all the way down. We laughed ourselves silly on it.
We definitely can't wait to take another road trip down to Galveston and come back to the Schlitterbahn. It was so much fun!! If you're ever in the Houston / Galveston, TX area, head over to Schlitterbahn.