[disclaim]This is a sponsored post for SheSpeaks/P&G. All opinions are my own.[/disclaim]
My husband loves to invite friends over for the Big Game. With three kids, we usually have a some cleaning to do before everyone arrives. I can buy everything I need from cleaning products to the food at Walmart! They have everything you need to keep your Game Day Traditions going.
Before the party, I stock up on all the things we need for food and cleaning. Here's a few tips to get ready for guests!
Always keep extra toilet paper like Charmin Ultra Strong Mega Rolls in the guest bathroom. I do not want to worry about running out of toilet paper with party guests. Not only is Charmin Ultra Strong super soft, but it's clog free and septic safe!
Before guests arrive make your home smell great with Febreze Air Effects Linen & Sky. It does a wonderful job at eliminating odors, and the scent is subtle and not overpowering. Make sure to keep an extra bottle on the back of the toilet for your guests!
Keep those game day jerseys stain free with Tide PODS Spring Meadow. Tide does such a great job and gets things 6x more clean. I love that it targets tough stains.
With lots of guests, parties can get messy, so always have extra paper towels around the party table! My favorite are Bounty Select-A-Size. They are so absorbent, and they have a unique Trap & Lock Technology. Plus you can always find them in cute prints!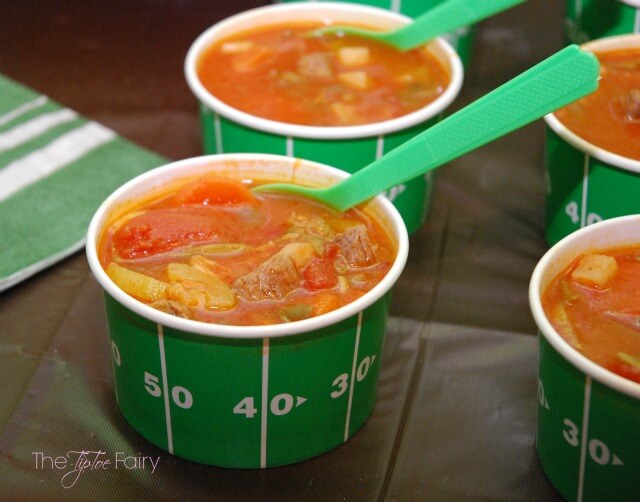 I like to make easy recipes that are hearty and filling for football watching. One of my favorites is my Easy Hearty Beef Stew. You can simmer it on the stove or use the slow cooker.
Print
Game Day Recipes
---
Beef Stew Recipe:
1

pound of stew meat cut into

1/2

inch pieces.

1/4 cup

flour

16 oz

vegetable juice

1

can french style grean beans

1

can stewed tomatoes

1

can sliced carrots

1

can diced potatoes

1

medium-sized zucchini, peeled, and chopped into bite-sized pieces.

1 tablespoon

minced garlic

1 tablespoon

Worcestershire sauce

1/2 teaspoon

salt

1/2 teaspoon

garlic powder

1/2 teaspoon

onion powder
Ranch Guacamole
4

ripe avocados

2 tablespoons

ranch dressing

2 tablespoons

any salsa

1 1/2 teaspoons

of lime juice
---
Beef Stew Stove Top Instructions
Cut large pieces of stew meat into smaller pieces.
Combine stew meat with flour and mix.
With a little bit of olive oil, brown the stew meat in the dutch oven over medium heat.
After it's browned, add the zucchini, stewed tomatoes and vegetable juice. Let it come to a simmer.
Add all the canned vegetables. Make sure you DON'T drain the cans before pouring them into the stew.
Add the garlic, Worcestershire, salt, garlic powder, and onion powder.
Stir it all up and let it reach a boil.
Turn the fire to medium low and let it cook down and thicken for at least 30 minutes.
You can set the fire even lower if you want it to simmer for an hour or so.
Beef Stew Slow Cooker Instructions
If making this in the slower cooker, brown the stew meat ahead of time in a skillet.
Combine all ingredients in the slow cooker and set it to high for at least 4 hours.
Ranch Guacamole Instructions
Scoop out the avocados into a medium bowl.
Combine with the rest of the ingredients and mash and stir.
Chill for at least 30 minutes before serving.
Recipe Card powered by
Another favorite for easy football-watching food is chips and dips. This Ranch Guacamole dip is so easy to make and your guests will be asking for more!
When it comes to Game Day Traditions, we can't forget the drinks! I love to make themed beverage tubs for our parties. This time I made a football tub from a plastic tote I was no longer using.
The tote was originally red, so while I was at Walmart I picked up some brown spray paint and a mini roll of white duct tape.
After the spray paint was dry I made the "football laces" with the duct tape.
I cut one piece of tape about 10 inches long. Then, I cut seven more pieces about 2 inches long each.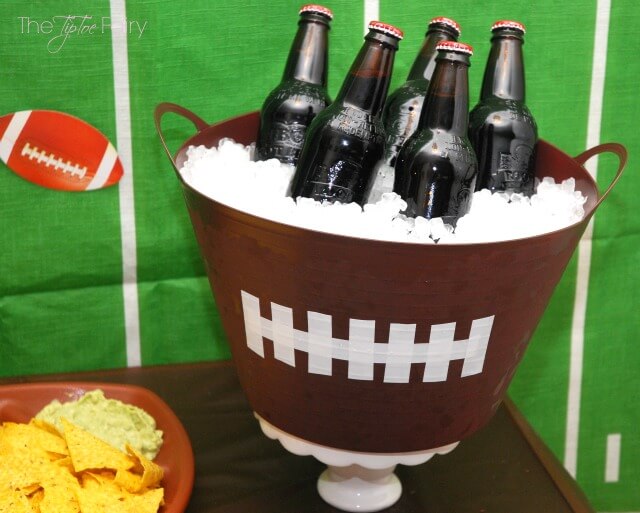 Once it was done I filled it with ice and drinks for the party!
Everything you need to keep your Game DayTraditions going is available at Walmart! What are your favorite Game Day Tips?