Halloween is my FAVORITE holiday. I drag my husband outside every year, and we decorate the yard. So, here are a few of my decorations. Some of them I got from Pinterest, others were our own thrift store creations, and others my own ideas.
This idea came from a great picture I found on Pinterest of a ghost circle. I had one last year with wooden dowels, but the rain bent them. This time I used 2 foot rebar and it's so much better. I used lunch sack's stuffed with the sheets from last year's ghost circle. Then I used clear duct tape and cut plastic drop cloths. Next, I used two sets of our old orange Halloween lights as the fire. I love how it looks like glowing embers at night, and it's a great way to creep my neighbors out. My husband put one of our broken skeleton's head as the centerpiece.
I spent about $12.50 for the rebar and a 3 pack of plastic drop cloths. Everything else I had at home.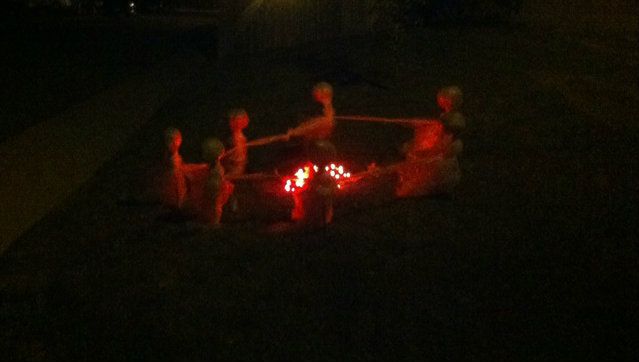 This is our thrift store find. We found a brand new spider web, spider, and a two pack of barbie dolls (though this one is technically Midge). I wrapped her like a mummy in yarn, and we made the sign. This one is over one set of windows. We live on a corner lot, so I have a second one up now on another part of the house with another barbie who is completely wrapped up, even her head with another spider, but it wasn't up yet while I was taking pictures.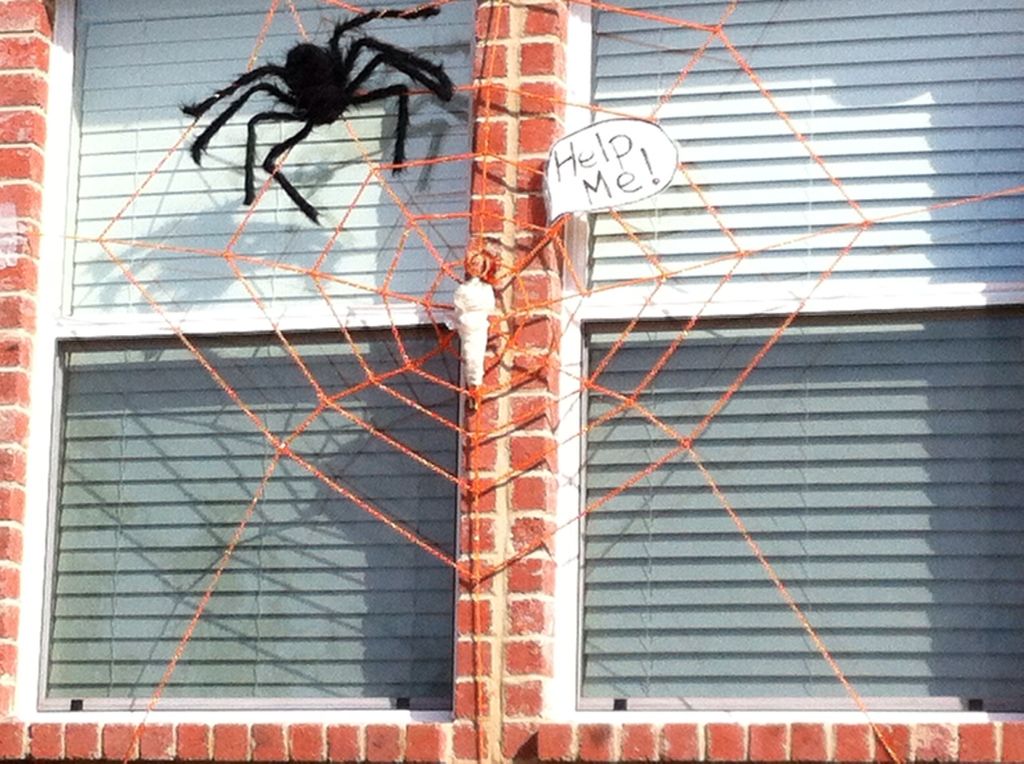 Next is our tree ghosts. This is a composite of several ideas I've seen on Pinterest and other blogs. These are cheesecloth and paper lantern ghosts. I bought two packages of the rolls of cheesecloth in the Halloween section at Walmart. I think they were less than $3-4/ea. It was 6 yds x 36 inches wide. I purchased a 3 pack of white paper lanterns from Hobby Lobby for $4.99. They are in the party decoration area. Then, I used our battery operated flickering tea lights (the ones for your jack o'lanterns). You can get a 2 pack of those with extra batteries for about $2.99.
First, I cut out ghost eyes and mouths from duct tape and stuck them on each lantern. I used purple because my children's rainbow of duct tape colors was conveniently missing the black. Then, I cut varying lengths of the cheesecloth (around 2 yds each) and threaded it over the hook on the top of the paper lanterns. I had enough to do 2 layers on each ghost, to give it a ripped up look. Then I taped up the bottom of each lantern so the tea light would not fall out.
I love the way they blow with the wind and flicker at night. They came out better than I expected. And, even in a torrential rainstorm, they came out perfectly fine.
These are some of our decorations. I have other regular ol' decorations like lights around trees, light up bats, the messy spider webs with giant spiders coming off our garage lights, etc. You can find some great cheap stuff at thrift stores in Aug/Sept before Halloween. I get practically new decorations for cheap, like my latest zombie bride door hanging that was probably $10 or more in a store, I paid 1.99.
We also have various small 3-ft skeletons climbing our house. Those we put up with clear duct tape. If you open the daylight paper lantern ghosts picture, you'll see on our skeletons climbing up the house. These were purchased at Target for $9.99/ea I think? I can't remember the price.
Oh! I found a picture of the one climbing the street lamp in our yard.
I do have some special decorations that are "one night only" that will go up on Halloween. I'll take pictures of those and share next week.