Did you know Kraft Macaroni and Cheese has been part of American family dinners since 1937? It's a brand I've grown up with since the 1980s. And today, I serve it to my own family. I know when it's Kraft Mac & Cheese night, they can't wait to get to the table for dinner!
Early last year Kraft Macaroni & Cheese announced that they were going to take out artificial flavors, preservatives and dyes, which I thought was awesome. I was also hoping it wouldn't change the taste my kids love.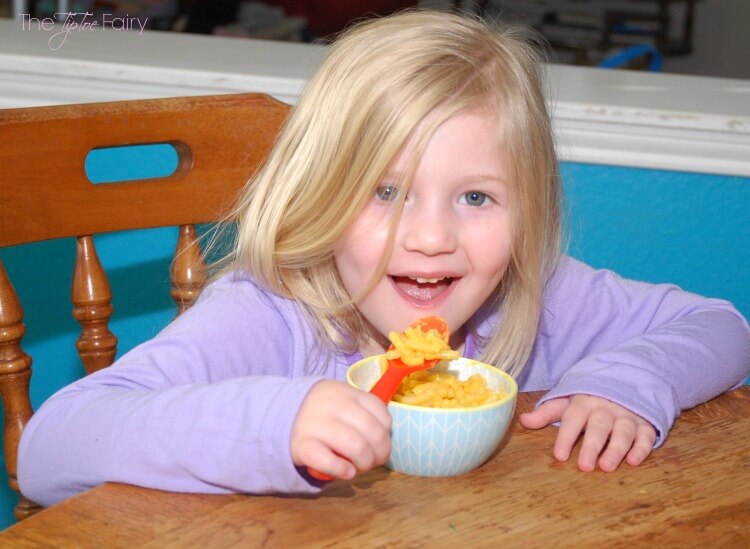 However, I just found out a big surprise! For the past three months Kraft Mac & Cheese has been having a blind taste test by selling their new recipe without announcing it yet. My family did not even realize it! It still tastes just like it always has — delicious!
Here's a quick and easy way to make dinner time fun time with your kids by making Octadogs! They are a snap to make.
Cut a hot dog in half.

Take one of the halves and cut it into fourths lengthwise just halfway up the dog.

Sit the dog upright and cut each of the fourths in half again, and now you have an eight-legged Octadog.

You can pan fry them in a little bit of water until they plump just a little, or we like to grill them for 4 minutes on two sides.
For a balanced meal, I cut watermelon into star shapes with a cookie cutter to include with dinner. We end up with a little "under the sea" theme with octopi, starfish, and we pretend the Kraft Mac & Cheese is the "sand." Having a fun dinner theme like this always encourages my kids to actually eat their dinner.
Now that the news is out, Kraft Macaroni & Cheese is thanking fans for participating by surprising them with thank you gifts like free products, T-shirts and my favorite — an oversized macaroni-inspired body pillow.
Does your family love Kraft Macaroni & Cheese? Did you notice the change? Share your story on Twitter with the hashtag #didntnotice as well as on the Kraft Mac & Cheese Facebook page for a chance to win some of the thank gifts from Kraft!
I was selected for this opportunity as a member of Clever Girls and the content and opinions expressed here are all my own.