There is just nothing like a good book, especially when it's cold and raining or snowing outside. I love nothing more than to cuddle up to my iPad under an electric blanket and spend a few hours reading.
Have you read any great books lately? Since my parents gave me their old iPad at Christmas, I've been reading up a storm. I couldn't wait to share some of my favorite reads with you.
These are my reviews for some of my latest favorite books I've read in the last couple months. Just click on the image or title of the book to find out more.
The Girl on the Train: A Novel
My rating: 3 of 5 stars
It was a good read, but the best part was the build up. You're looking at all the characters and suspecting everyone. But, when you find out whodunnit, and it seems like kind of a let down. I don't think that particular character was really fleshed out enough for the reader to give a rat's patootie. I sure wasn't thnking "wow" that's the one? I was just thinking…typical.
I think it needed way more back story with the author giving little glimpses of things that make you go "huh?" about that person so that we could wonder if they were truly a sociopath or just a screwed up person. There just wasn't anything to make you totally shocked who it was or to make you think wow they hid it so well.
Repeat
My rating: 4 of 5 stars
I was given a copy of this book from NetGalley for review purposes.
This is the story of Brad Cohen, who on his 40th birthday gets stuck in an infinite time loop and relives his first 40 years in what seems like forever.
Brad is a failed Hollywood writer who hates his life, and it seems like the day before his 40th birthday, he has a little bit of a breakdown. So his wife, who is a witchy herbalist, gives him something to drink and puts him to bed.
Only he is awoken by his birth and entrance to the world in 1970. But, even as a baby, he has the thoughts of a grown man. He totally creeps out his parents, and learns to live a life full of riches. For many times, he relives his life over and over with all this knowledge of the future which is good in some ways and bad in others. He goes on a very long journey to determine what really is success and happiness.
The story kept me reading. I wanted to know what else would happen to him. If he would come to some realization and finally figure out how to end this. Or if it was all a dream. My only wish was that it continued more to see if he took what he learned in all those lifetimes.
I think this might make a great movie – sort of A Time Traveler Meets It's a Wonderful Life.
The Martian: A Novel
My rating: 5 of 5 stars
loved it!!
This is the story of Mark Watney – astronaut extraordinaire. This is in the not too distant future, and he's one of 6 astronauts on Mars. Then, a horrible wind storm happens, and the mission is canceled. As they're running to the ship to get back into the big ship in space, he gets impaled on an antenna. The captain looks for him, but his vitals are flat, and they are running out of time. The rest of the crew assumes he's dead, and hurry to the ship and leave.
Unfortunately, he's not dead, and the next mission to Mars is about 4 years away. Not only does he think no one knows he's alive, that mission is going to land 1000s of miles away! With some planning, he is on his way to surviving those 4 years and planning how he's going to get himself to their rendezvous point at that time.
But wait…there's more! NASA was checking Mars' satellites and notices something weird near the camp. Then, they realize he's alive! They keep this information from the crew on their way home from Mars, but America is all about saving Mark Watney.
This is for total science nerds who love math and calculations. I loved reading along as he figures out each problem that comes his way. And, many problems come his way that could just kill him. Yet, he manages to keep himself healthy and alive. Down the end, you aren't even sure he's even going to make it after surviving Mars.
I read this book in 1 day and could not put it down. I thought it was excellent and fast paced. I couldn't get through it fast enough.
I just found out it's going to be a movie! Matt Damon is playing Mark Watney. I can't wait to see it!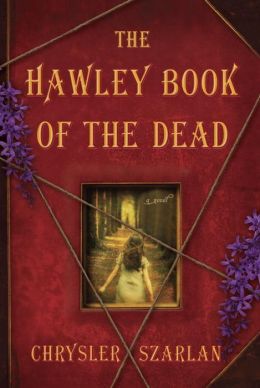 The Hawley Book of the Dead: A Novel
My rating: 4 of 5 stars
I loved this book up until the ending. I could not put it down for 3 days straight. It's a great premise. A husband and wife are magicians who are fairly famous and perform together in a big show in Las Vegas. Then, during their bullet trick, she shoots him. It's not a spoiler that you learn just a few pages in someone switched the fake gun with a real one.
Then you learn she's not just a magician, but comes from a long line of women with real magical powers. What's not to love about this? This is totally my thing. So she runs away back to her hometown with her daughters to protect them from whoever is after her.
I loved it, and it was quite the page turner until the end. The ending just shows up so quickly, which is the reason for my 4 stars. I just felt like there's not enough explanation. I need more! I need a back story to the women who came before her with magical powers, and the secret book they all must keep. When she finds the book and things happen with it, it just seems very disjointed.
There is another magician who appears to have real magic as well, but the flashes to him seem so cryptic and don't explain much at all. I would have loved to have more of about him and his grand magic show he was creating.
I heard this was book 1 in a series. I hope so! Because I can't wait to find out more.
Modern Rituals: The Wayward Three
My rating: 4 of 5 stars
I received this book for free in exchange for a review from NetGalley. This is like Hunger Games meets Cabin in the Woods. There's even a funny little "cabin in the woods" inference toward the ending.
This begins as seven strangers end up at what they think is a Japanese school grounds. But, as they try to figure out where they are, they quickly figure out this is one strange place. There is a knight, a virgin, 3 fools, and succubus (the usual slut of a group), and a loki.
Right off the bat you know there is a huge secretive company that makes "selections" of people to be thrust into rituals to appease the old gods, who are real.
As the story progresses, you learn a little back story on each of the strangers, and some of them are more dangerous than anyone knows. Two of them can hear and see things that others can't, and they start receiving messages for how to win the ritual.
As you're reading you can't tell if the ritual is going to succeed or if this is the end of the world. But, even as the ritual has received enough blood sacrifices to appease the certain god, all hell breaks loose in the company that runs these rituals. You think it's coming to end, but the story is still climaxing, and you're not sure what's going to happen next.
As I was reading, I didn't realize this was the first in a series, but as I was getting closer to the ending, I began to realize it was being set up to have 3 "warriors" defeating the seven gods throughout these books.
I really enjoyed it! It was a fun story to read that I had a hard time putting down. I hope that the books in the series continue to be just as good.
View all my Goodreads reviews. Are you on Goodreads? Let's connect and be friends. Click HERE!
Read any good books lately? Let me know your latest favorite! I love finding a good book from word of mouth!