This shop has been compensated by Collective Bias, Inc. and its advertiser. All opinions are mine alone. #CycleSurvival #CollectiveBias
Do your kids visit their dad on weekends? We are a happily blended family, but my older two kids head off to their dad's home every other weekend. During that time, they have to fend for themselves without Mom around. When my teenage daughter started her period a few years ago, I decided to always keep a "period kit" in her bag to take to Dad's because it can be embarrassing to ask him to buy supplies.
You can make a DIY period kit for your teen daughter, too! I found all the supplies for my daughter's kit with a quick trip to Walgreens. I like to include both U by Kotex Curves® and U by Kotex® Lightdays Liners, which she prefers, as well as a few goodies like chocolate.
Don't forget your deals! Right now you can get $0.75 off Kotex liners through Ibotta:
My daughter can be quite the worrier. She is the oldest and takes on a lot of responsibility. When I'm not there, she always takes charge of her younger siblings, which means she goes into mom mode when it's just her and her brother at her dad's house. To help keep her confident even when her period arrives, I always keep her prepared with Kotex and a kit full of what she needs in her bag.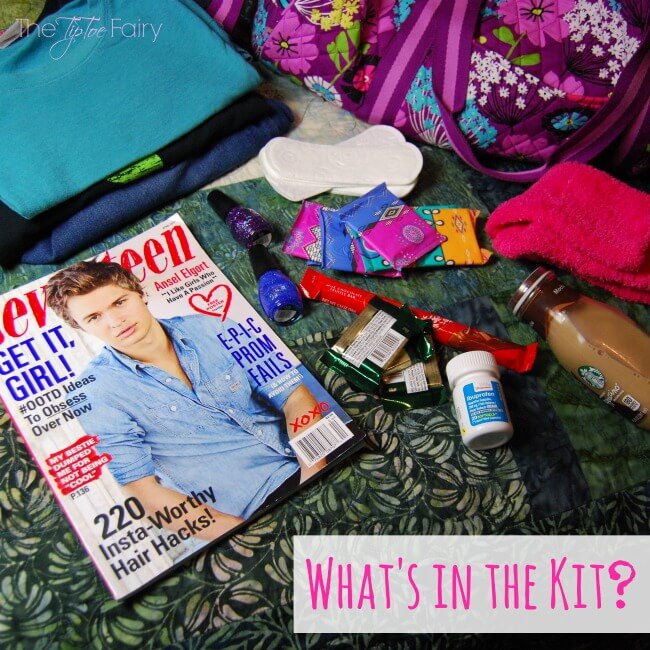 So what's in the kit? I make sure she has a variety of products whether she has light days or heavier days. Plus, I include some pain relievers, and I add a few things that make her relax like magazines with her favorite actors on the cover and chocolate! The easiest method for me is to use a gallon size freezer bag. This way she can easily see what's in it and where to find what she needs. Here's what I like to include:
Walgreens pain relievers like Ibuprofen liquigels
Magazines
Chocolate
Cold coffee drinks
Fun nail polish
Fuzzy Socks
You can find more great Cycle Survival inspiration HERE. Check it out!
How do you survive your cycle?