This post is part of a social shopper marketing insight campaign with Pollinate Media Group® and Universal Pictures Home Entertainment, but all my opinions are my own. #pmedia #TrainYourDragonAtWalmart http://my-disclosur.es/OBsstV8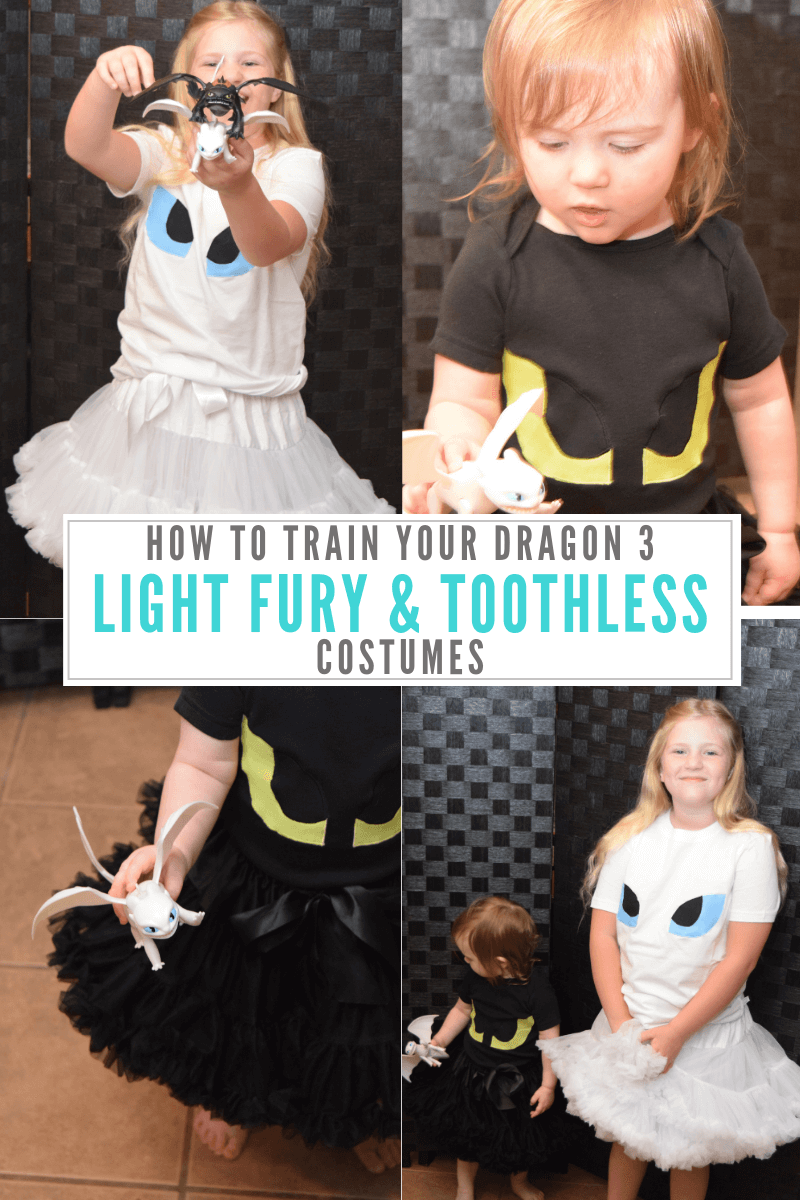 Did you know the newest movie in the How To Train Your Dragon franchise is now out on DVD? My 9 year old was so excited for this movie because it features Light Fury — a new female dragon! She just LOVES her. She has been practicing drawing Light Fury and Toothless from the movie for months now.
How to Train Your Dragon The Hidden World
When the movie came out on DVD last week we got the How To Train Your Dragon 3 Walmart Exclusive DVD Gift Set. It comes with a DVD, digital, and Blu-ray of the movie and two adorable Funko keychains — one is Toothless and one is Light Fury. My daughter could not wait to put them on her backpack.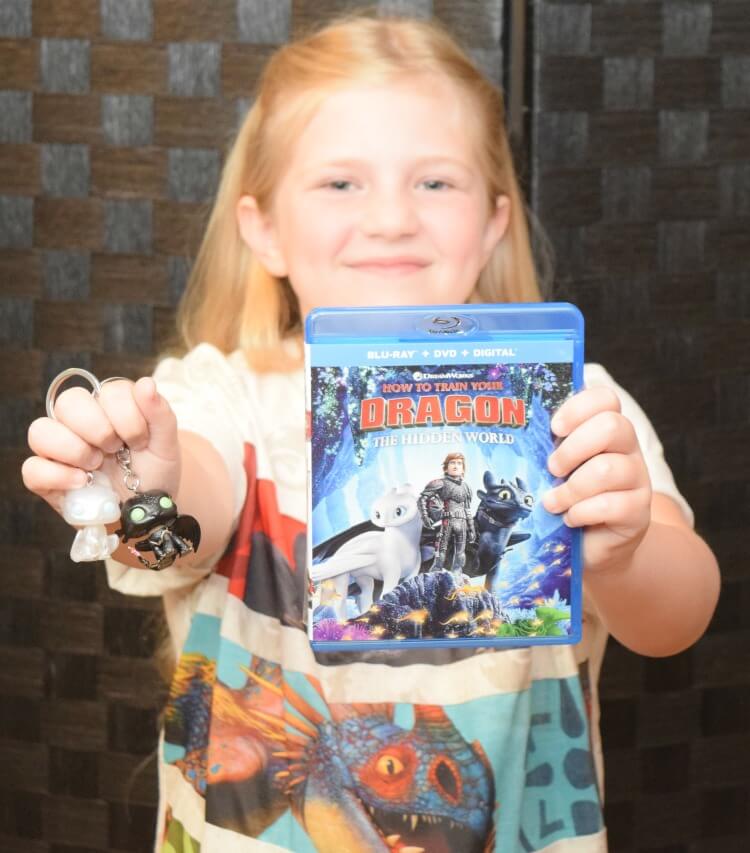 Walmart has lots of toys and clothes for the new movie. My daughter picked out this adorable shirt, and we had to get both Toothless and Light Fury dragon toys. If your kids love the movie, then they will love all the How to Train Your Dragon clothes and toys available at Walmart.
Movie Thoughts
We just loved it! It's a great end to the trilogy. I liked that the people of Berk live in a peaceful utopia and rescue captive dragons. I don't want to give anything away if you haven't seen it, but I do think the ending is a great little epilogue to the whole story (set in the future!).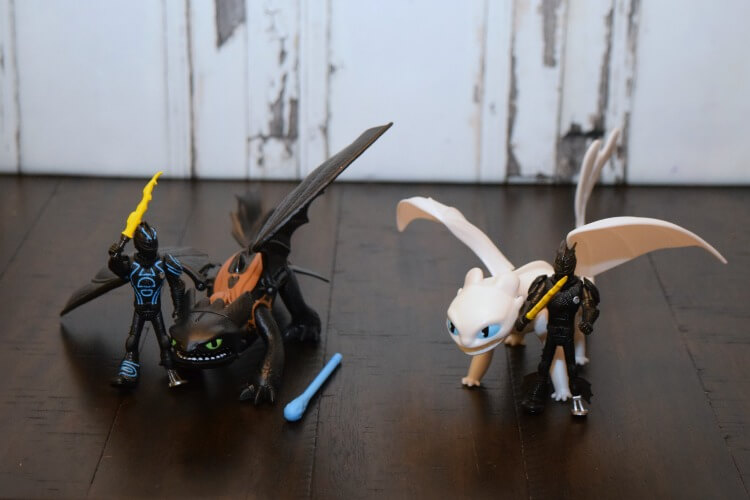 My kids love to dress up, and Light Fury has become my daughter's favorite movie character lately, so I could not wait to make a Light Fury costume that wasn't too "costume-y," so she could wear it a lot. Since my 2 year old wants to do everything her big sister does, I knew we needed a Toothless costume, too.
Light Fury and Toothless Costumes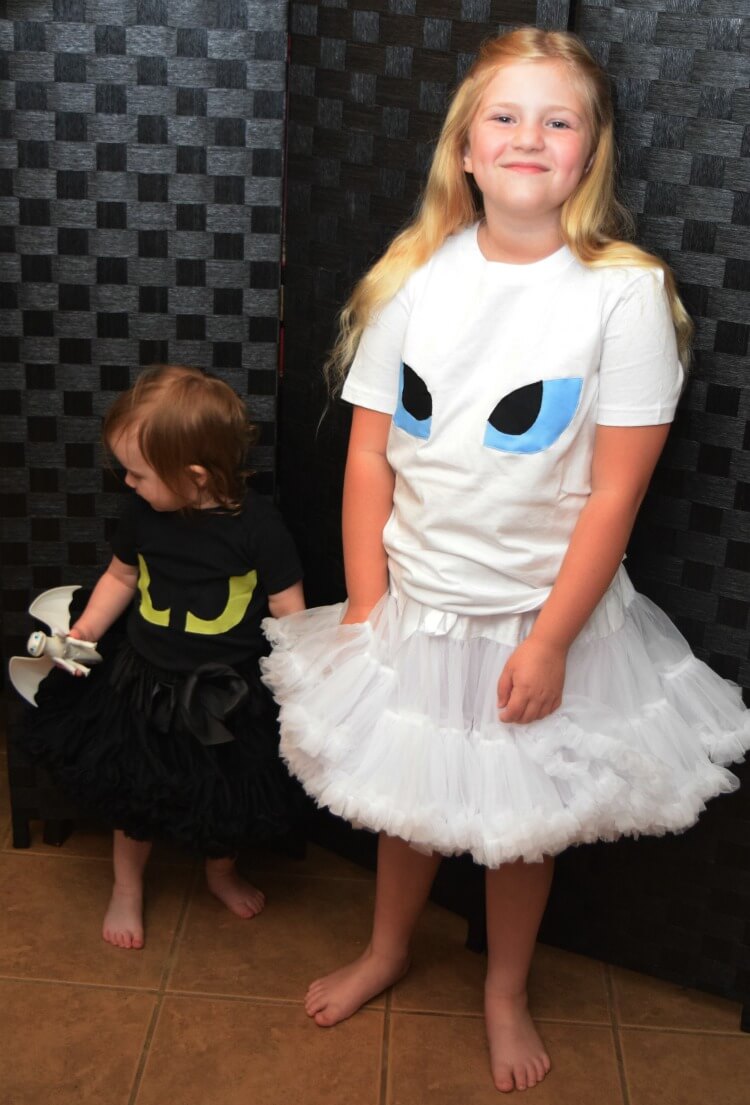 Supplies
Large scraps of fabric – light blue and black for Light Fury / neon green and black for Toothless
Lite fusible webbing
Microtex Sharp sewing machine needles – 80/12 or 70/10
Thread to match as closely or one shade lighter to fabrics
Stabilizer – I like the perforated ones, but paper towels work great
White t-shirt for Light Fury / Black t-shirt for Toothless
Tutu tulle skirt to match in black or white
Applique Tips & Tricks
I love to applique. I used to think it was daunting, but after having a professional show me her tips and tricks for a couple of hours in an afternoon, it is really quite simple and fun. You can draw anything and turn it into an applique.
1. First and foremost, do not applique without a stabilizer under your fabric. This will make or break your applique. If you attempt to applique without a stabilizer you will be extremely frustrated with the puckers and the sewing. Paper towels are the easiest thing you can use, and they work great. I used a double layer of paper towels for this tutorial.
2. Try to match your thread as closely as possible to the fabric. Sometimes you can go a shade darker because it actually looks lighter once the thread is in the applique. If you use a completely different color thread, it is more likely to show flaws and look home sewn.
4. Machine settings – I set my machine to zigzag with a stitch width of 2 and a length of about 0.4. You want a nice thin zigzag. If you use a wide zigzag, it can show flaws and look wonky. Depending on your machine, you might need to tweak those settings to get a nice zigzag.
5. Go fast around curves. This sounds completely counter intuitive, but it works. The faster you go around curves, the smoother and nicer they look.
Directions
Print off and cut out the Dragon Eyes pdf pattern.
For the colored part of the eye, you'll need a scrap of fabric about 8 x 10 inches. For the black part of the eyes, you'll need about a 5 x 3 inch piece of scrap fabric. First, iron the fabric onto the fusible webbing. The easiest way is to cut pieces of the fusible webbing to fit the scraps of fabric, and then iron them on.

Once the fabric is completely ironed to the fusible webbing, flip the fabric over so the paper backing from the fusible webbing is facing upward. Then, trace the pattern pieces on the backs of each fabric.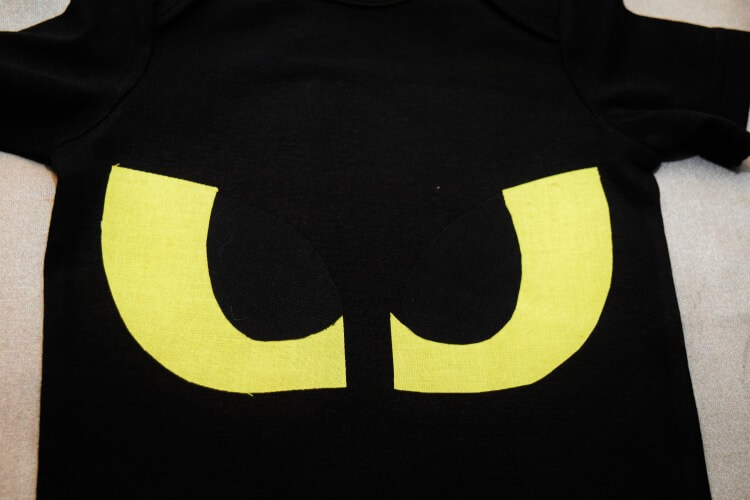 Cut out your designs, remove the paper backing and place them your clothing. Lay them out to get your best placement. Make sure you have it the way you want it.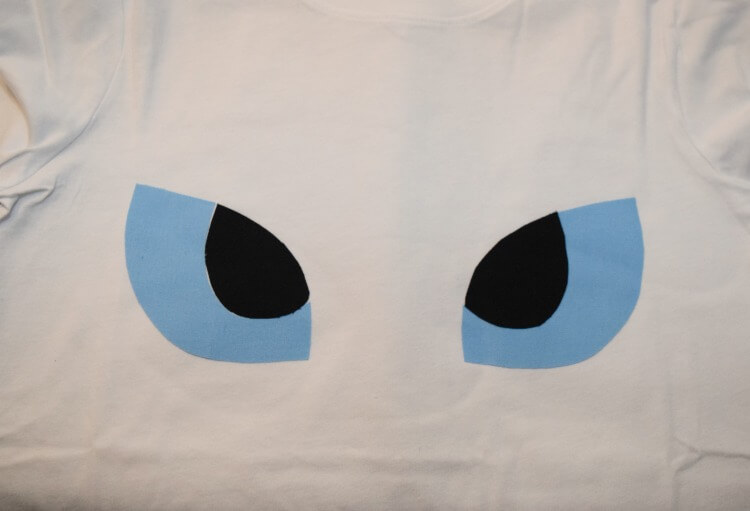 Make sure you like how the appliques look before ironing. Then, iron the appliques into place. Just set the iron on each section, do not move the iron as you applique or can move your designs. I count 5 seconds before moving the iron from applique to applique. Also if your iron is dirty, use thin tea towel to cover the appliques so you don't ruin them. Check and make sure you fused each applique securely to the clothing.
Now, place your stabilizer behind the applique and set your machine up to zigzag and about 2 width and 0.5 length.
You will sew the appliques in a series of what will be covered by another zigzag stitch. For example, you will sew the green or blue part of each eye. Then, you'll finish up and sew around the entire black pupil of the eye.
Remove the stabilizer. This is why I like using paper towels. It's super easy to just tear it away from the fabric.
Now that you're done, it's time to put on that costume! We got a tulle tutu skirt to match each t-shirt. One is in black and one is in white, and the costumes came out exactly as I imagined.
Head to Walmart and purchase the new release of How to Train Your Dragon 3 Walmart Exclusive DVD Gift Set today for your family movie night today!